36.020994391892, -78.929751027372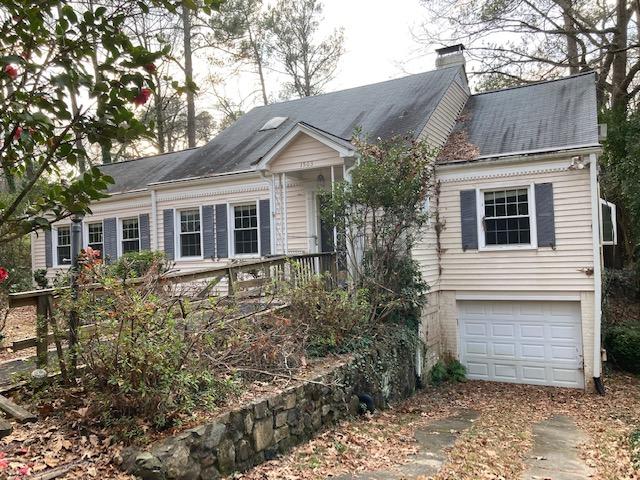 December 2021 (Photo by Tom Miller)
This unassuming cottage on the unpaved northern portion of Virginia Avenue was the longtime home of Dr. Clotilde Schlayer, and the epicenter of a fascinating group of emigres, many of whom fled Nazi Germany to create new lives in Durham.
Though German by background, Clotilde Schlayer was actually born in Barcelona.  Her father, Felix Schlayer, had gone to Spain as an engineer developing agricultural machinery, though it is his later career as a diplomat when the country devolved into Civil War for which he would largely be remembered (not without controversy given his written account focusing on Republican atrocities in the conflict and later return to reside in Francoist Spain).  By the mid-1930s, Dr. Schlayer was a physician practicing in Berlin, where she met and befriended a Jewish colleague who must have begun to read the writing on the wall as the Nazi government imposed anti-Semitic legislation restricting professional activity.  On the other side of the world, this timing coincided with the significant expansion of Duke Univeristy using lavish endowment funds; Walter Kempner - later of Rice Diet fame - secured a two-year appointment as part of a wave of international talent hired at the medical center.
Kempner's connections to fellow researchers back in Europe began to pay off immediately, and April 1935 Clotilde Schlayer would sail for the US from Bremen to join her friend at his Duke laboratory for a working visit.  Her stay over the summer seems to have been productive, with a paper Schlayer produced on the behavior of pneumococci - bacteria associated with pneumonia and meningitis - being shopped around to top publications by her host, Dean of Medicine, Professor Frederic Hanes.

Header for Dr. Schlayer's article in the February 1936 issue of the Journal of Bacteriology (online via the American Society of Microbiology).
For the time being, at least, travel to and from Europe remained fluid.  Nazi government had not dethroned Germany as a center for medical research; not personally subject to the professional limitations imposed on her Jewish friends and colleagues, Schlayer deferred an invitation from Kempner and Duke to extend her stay in Durham.  She wrote Professor Hanes from Berlin in September 1935, explaining that while she "found it impossible to get away from my work here at the moment, I still hope that I may be able to do so some day and to continue for a while my research so happily begun in the undisturbed quiet of room 58 at the Medical School."
In the meantime, Dr. Schlayer recommended top publications for potential English-language translation, shared 18th-century German prints about America, and reminisced with fondness about an evening hosted by Dr. and Mrs. Pearlzweig in their Hope Valley home during her recent visit.  The connection forged on that first trip proved lasting, as Schlayer listed Kempner and Duke colleagues as her host contacts on at least six transatlantic trips between 1935 and 1939.  On the last - the day after the German invasion of Poland - she and Kempner traveled together from Sweden, with Durham now appearing as their permanent destination.
The two were among several emigres listed as residing in the Washington Duke Hotel downtown in the 1940 census.  By then, however, their circle had grown and begun to settle in.  The first to move to this part of the Watts-Hillandale neighborhood was Edit Glaser, who hosted others in her home at 2110 Wilson St.  Kempner and Schlayer bought neighboring lots on this then-undeveloped section of Virginia Ave in 1942 and moved into what were originally very similar homes at 1503 and 1505 the next year.

At left: Dr. Clotilde Schlayer as pictured in her June 1940 'Alien Registration Record', collected by the Durham County Court (available online through State Archives of North Carolina). At right: Dr. Schlayer's naturalization certificate from late 1946, showing her address as 1503 Virginia Ave (National Archives, digitized by Ancestry.com).
Dr. Schlayer found work with Kempner and others at the growing Duke Medical Center, where she worked for decades.  Meanwhile, the core group of German medical-intellectual emigres continued to expand in the years after the war.  A longtime neighbor describes Schlayer's house on Virginia Avenue as "home base - the kitchen and living room of the group."  The sense of home was quite literal in some cases, like the couple Ruth and Ernst Peschel - both doctors - who resided with Schlayer on their arrival in 1947 before building a house of their own nearby at 2306 Pershing St.  Members of the tightknit community purchased several surrounding lots, preserving them as undeveloped natural spaces.  Among these, two would later be passed to ownership by the City and Ellerbe Creek Watershed Association, forming what's now known as Indian Trail Park.
Modifications made to the original house over the years reflect its continued use by this extended German-American family, with added rooms, an enclosed basement, and eventually an accessory building - said to be a combination of office and guest house - at the rear of the lot.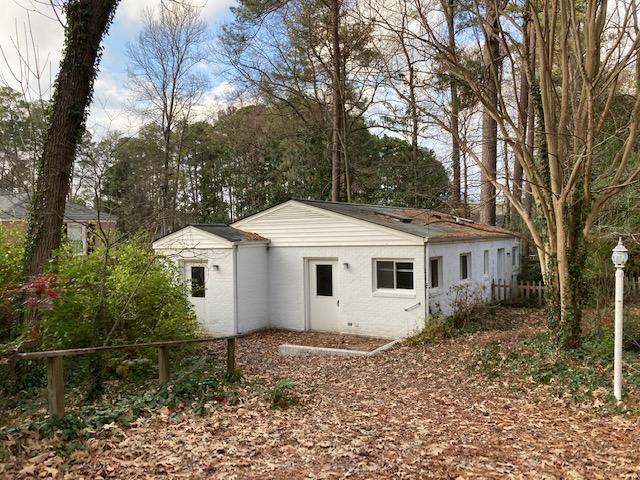 Accessory structure on Dr. Schlayer's former property, December 2021 (Photo by Tom Miller).
Like others in the group, Schlayer took advantage of opportunities for return travel to Europe, visiting friends and relatives who survived the war, but never left the home she adopted here in Durham.  Theirs was a seemingly permanent, hybridized space, the fond nickname of "Neu Dahlem" a reference to an affluent Berlin suburb where some shared roots, adapted for a small corner of a southern city where they quietly recreated something of their lost lives from interwar Germany.  Dr. Schlayer lived to the remarkable age of 104, and the property passed to other owners in 2004.