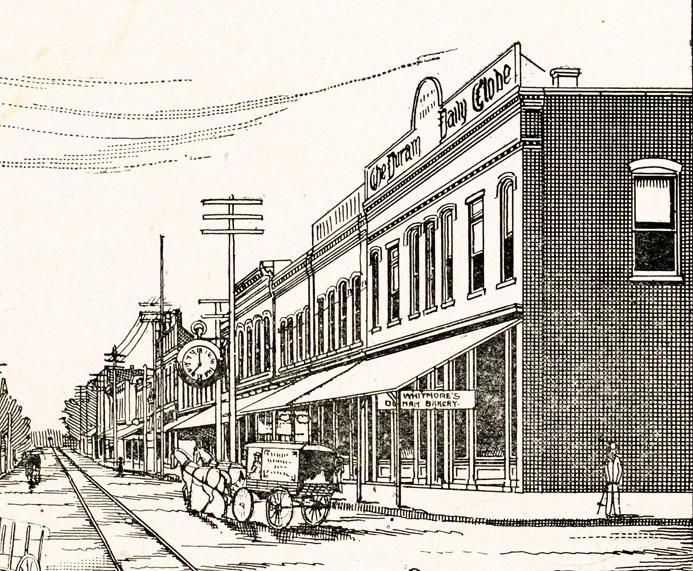 Looking west-northwest from Church St. and East Main St., 1895.
(Courtesy Duke Archives)

The 100 block of East Main St. was part of the central core of downtown that developed during the 1880s, with early frame structures transitioning to brick by 1890. Clothing and drugstores were common tenants, and another of Durham's early newspapers, the Durham Globe was located on the northwest corner of Church and East Main Sts. Another notable element in this drawing of the street is the large version of a pocket watch, mounted over the street from an electric pole. I thought that this might just be artistic license until I found the photo below.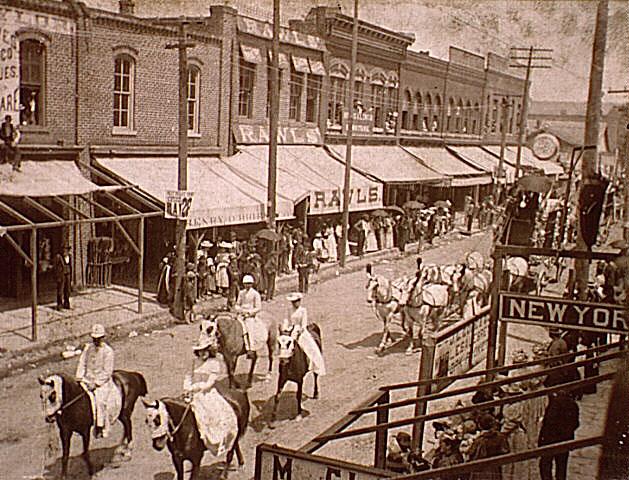 Looking northeast from the south side of the 100 block of East Main St., 1890s.
(Courtesy Duke Archives)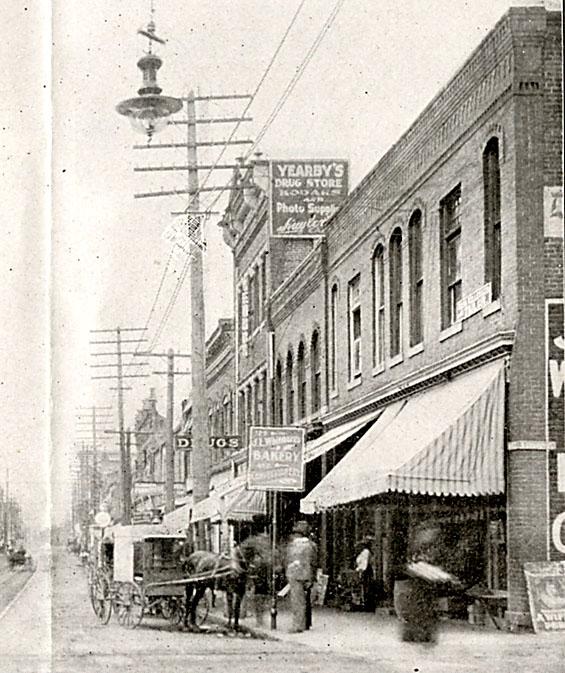 Looking northwest, 1905.
(Courtesy Durham County Library)
By 1908, 125 East Main had become the location of the Edisonia Theater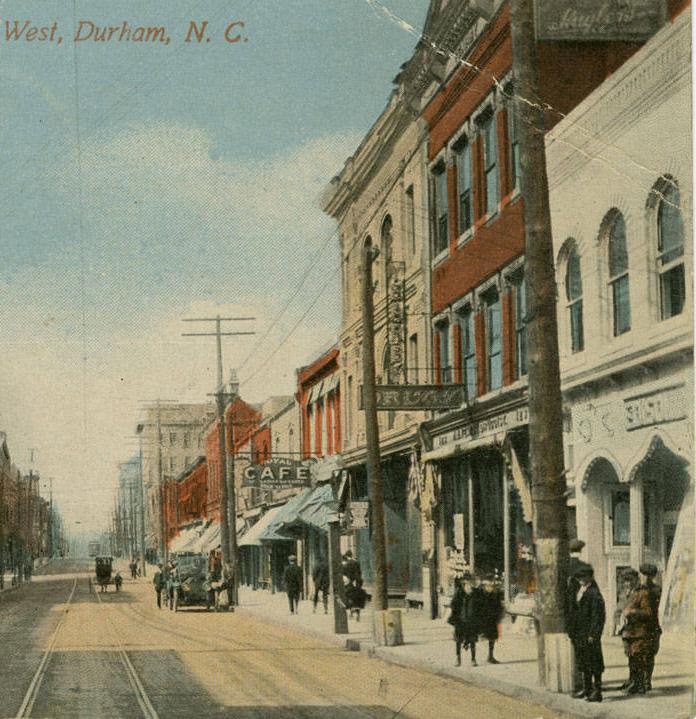 125 East Main, the Edisonia, at far right. The first floor has been given a Moorish architectural treatment, likely to emphasize its 'exoticness.' (Courtesy UNC)
James Leyburn recounted the experience of seeing movies at the Edisonia soon after it opened:
"When we went to the Edisonia in 1908-9, for 5 cents as children and 10 cents as adults, we could spend an hour of novel exhilaration. Ushered in a dimly lighted hall to a straight chair, we eagerly awaited the dimming of the lights. Thereafter we watched the miracle of pictures that moved – two or three films that revealed a train robbery or another single episode, accompanied by piano music – usually quite irrelevant to action on the screen, except occasionally when a chase was in progress. At the end of each reel, while the operator changed and rewound his film, we were treated to a succession of "stills," asking ladies to remove their hats and men not to spit on the floor, followed by notices of bargains at local stores. Within a few years, we had become much more sophisticated; now the Paris and Grand had opened, stills had been eliminated, and standard fare had increased to four reels."
By the 1920s, the Edisonia had disappeared, and a more conventional storefront returned to the first floor.
Looking north, 1925. The Bon Ton Tailor is upstairs, Masters and Agee downstairs. I can only assume they were a clothing store - their specialty is listed as "men, women, and children's head to foot outfitters in installments."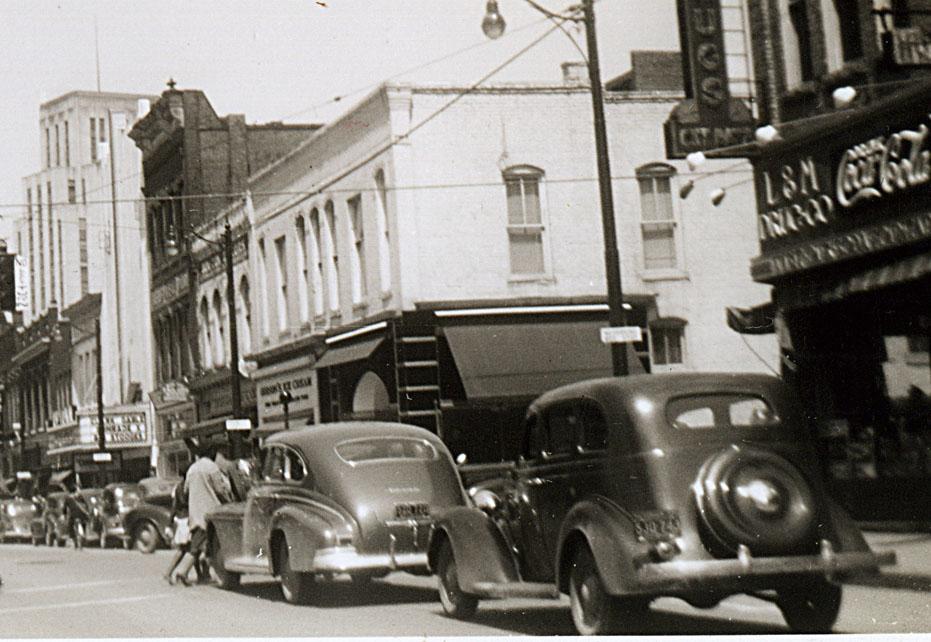 Looking west-northwest, 1940. 
(Courtesy Duke Archives)

By the 1960s, 125 E. Main was a pawn shop.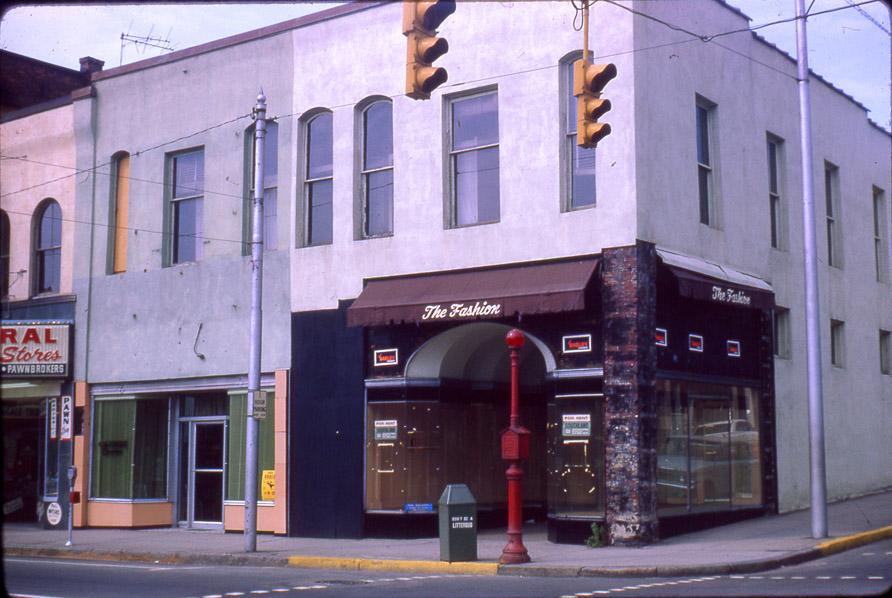 Looking northwest, 1966.
(Courtesy Durham County Library)

In April, 1969, fire broke out on this end of the block - I don't know in which building, but it eventually spread to at least 3 of the buildings.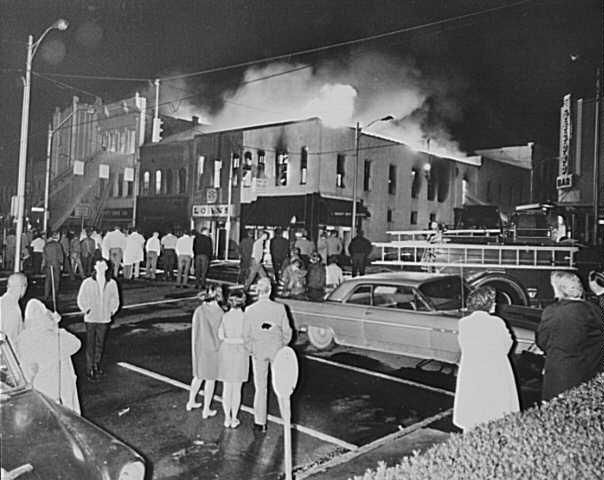 Looking northwest, 1969.
(Courtesy Duke Archives)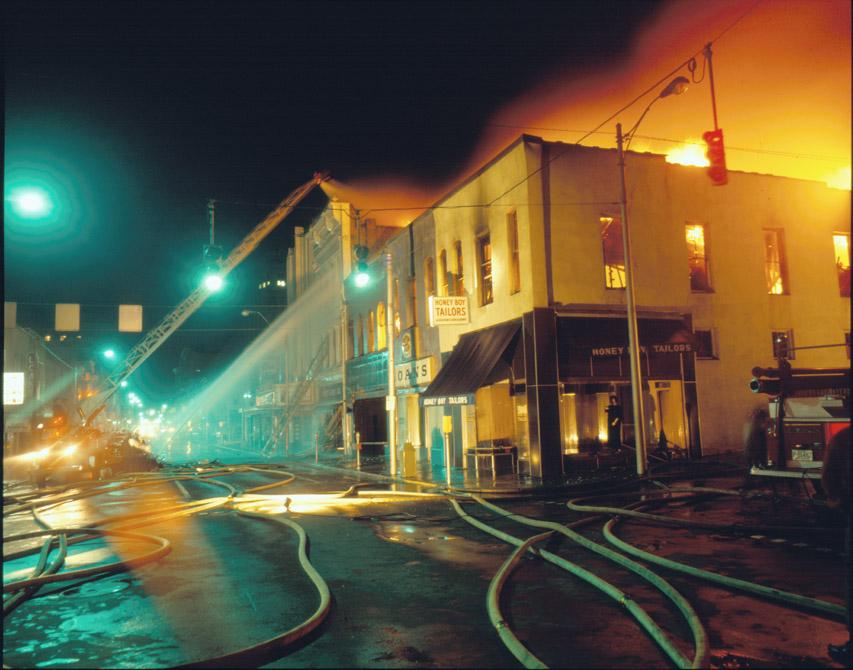 (Courtesy Herald-Sun)



(Courtesy Herald-Sun)


The fire decimated these buildings, leaving only shells.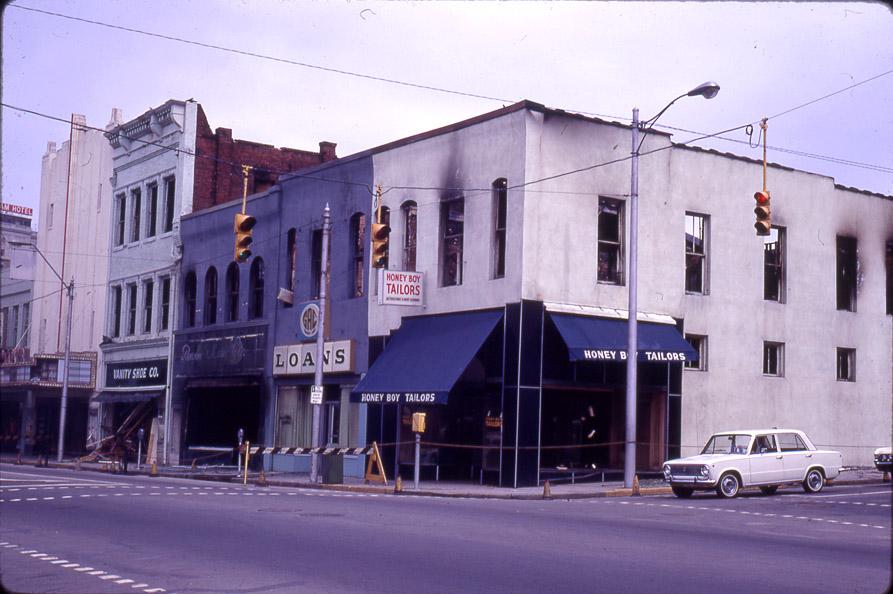 Looking northwest, 1969.
(Courtesy Durham County Library)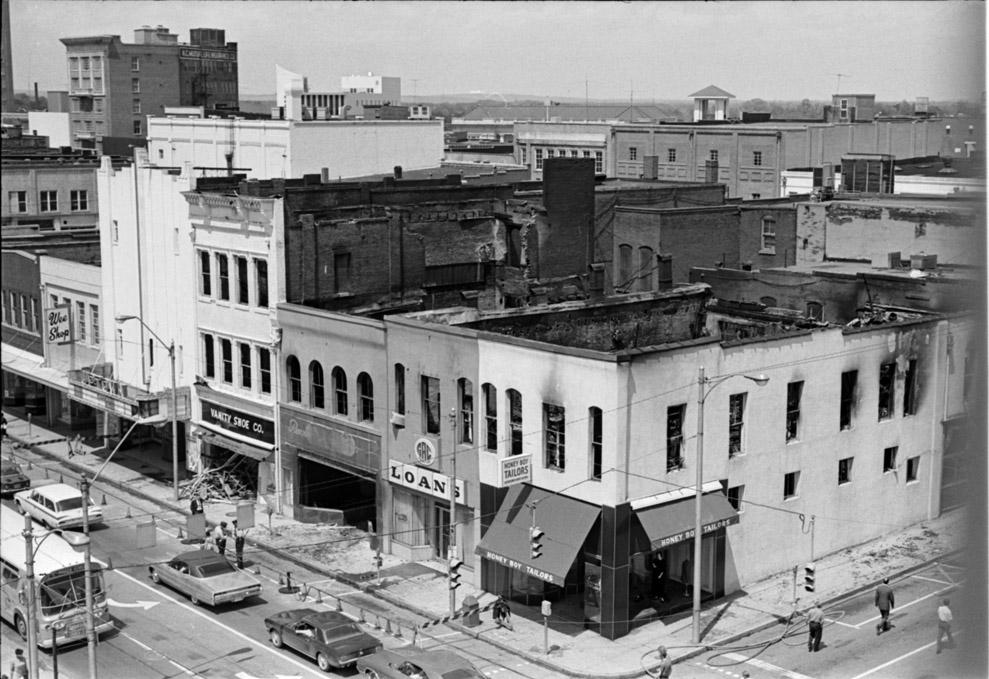 Looking northwest, 04.19.69.
(Courtesy Herald-Sun)

The four closest to the corner were torn down soon thereafter.



The Uptown theater, the side of which appears in the above photo, does not appear badly damaged by the fire. But whether or not it was, it too was torn down soon after these three.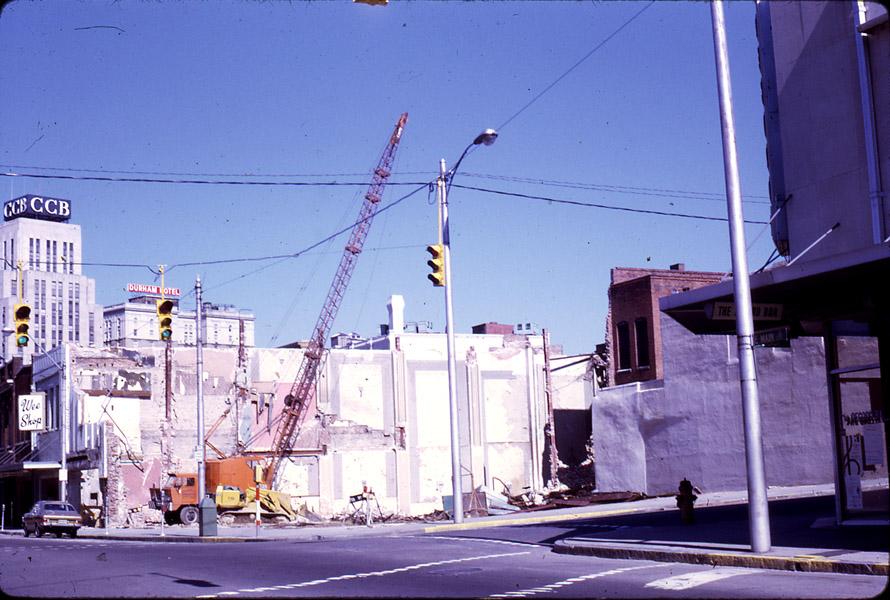 Looking northwest, ~1970
(Courtesy Durham County Library)

The vacated space became a surface parking lot which it remains.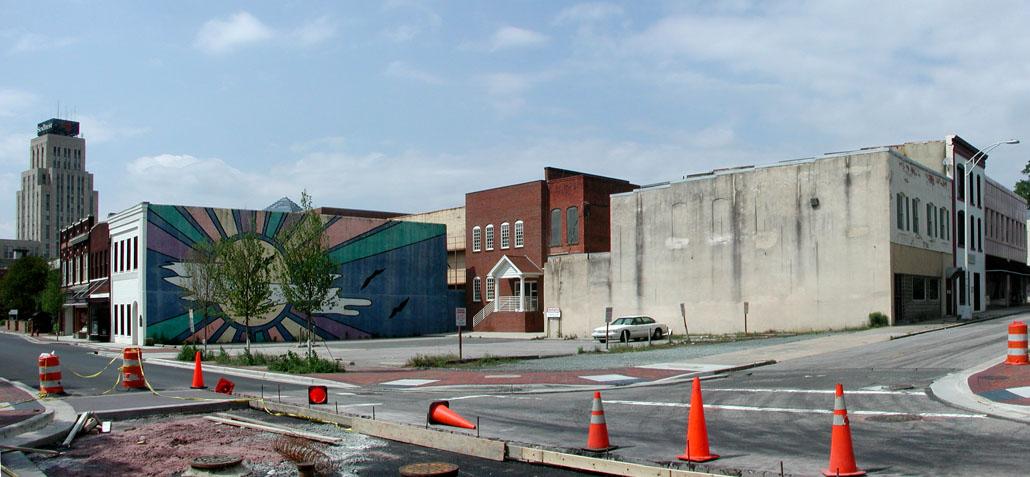 Looking northwest, 2007.

This is one of the many sites in downtown that screams infill. It is owned by, I believe, a law firm on Parrish St., which uses it as parking for their business, so it is unlikely to be redeveloped soon (unless they do it themselves.)

I had planned this post prior to the fire at the Snow Building yesterday, but, as I said in that post, we can't assume that if we 'only knock down X buildings' that the generously spared ones will survive. As NIS requests $1.2 million solely for demolition in the upcoming budget, will there be anything left of our historic, but more impoverished neighborhoods once the ravages of time and nature have taken their toll as well?