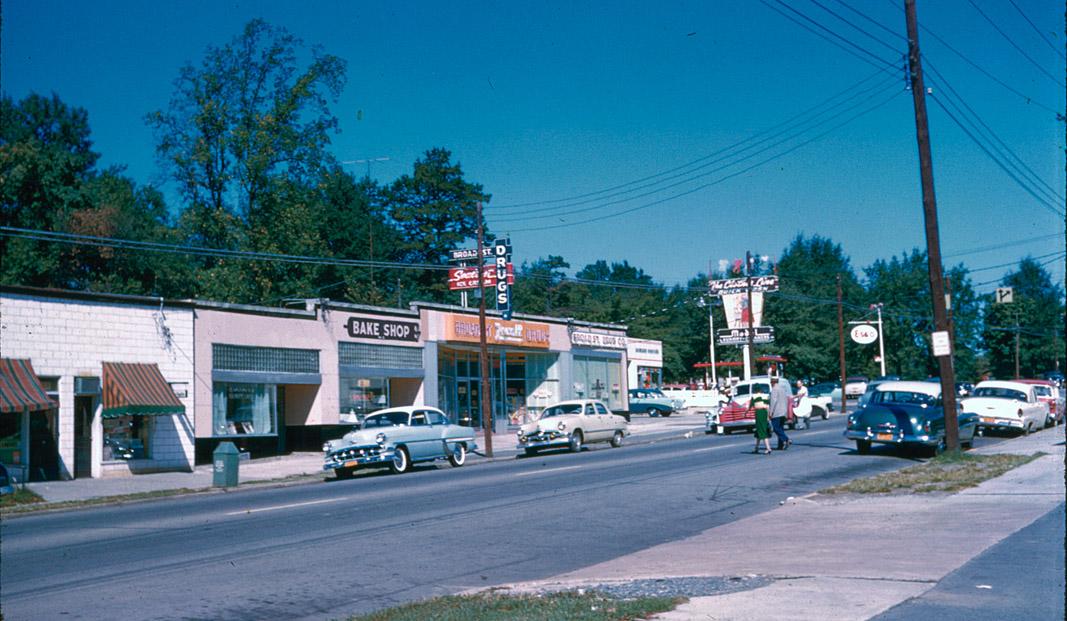 1113-1117 Broad, late 1950s.
(Courtesy Barry Norman)

1113 Broad St. was a frame commercial structure built in the 1920 as Callahan's Drug Store. The Hospital Barber Shop shared space with Callahan's by the 1930s. By 1941, 1113 housed The Owl - which is listed as a "confrs" (confectioners.) I'm not sure if this means pastries or candies or both - perhaps someone can enlighten me.

In the mid-1940s, what is now 1115-1117 Broad was built adjacent to 1113. Oddly, the original address was 1131-1139 Broad, despite the fact that it was built mid-block, with lower number (1123) to the north. I was quite confused by the city directories for awhile.

1131 housed Moon's Beauty Salon and Gift Shop, 1135-7 the Broadway Food Center grocery, and 1139 the Broad St. Drug Company in 1948.

In 1952, 1113 had become The Owl confectioners and Repair Shop, a natural combination. 1131 still housed Moon's beauty salon, and Broad St. Drug Co. had taken over 1135-7. Glenn-Crabtree Hardware Co. was located at 1139.

By 1960, 1113, the ever-pliable Owl, had transformed into a record shop and beer shop. By 1965, it became Maitland's Top Hat Tavern. The Rolling Pin Bake Shop was located at 1115. 1137 housed the Broad Street Sport Shop, a pool hall.

By 1970, 1117 (1135) had become the Broad Street Appliance Center, and 1119 (1137) still housed the Broad Street Sport Shop.

In 1975, 1115 was H&R Block, 1117 was Kirby Distributing, and 1119 the Broad Street Sport Shop.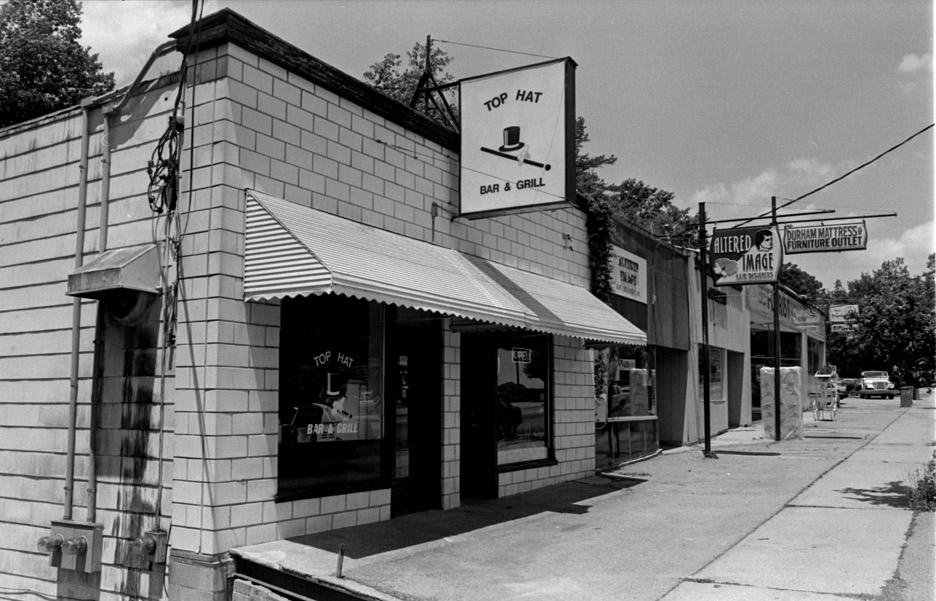 Looking north, 1988.
(Courtesy The Herald-Sun Newspaper)

In 1988, it appears the Top Hat Tavern was torn down. In 1990, the Broad Street Sport Shop became known as the Green Room, after being featured in the movie "Bull Durham," shot in ~1987.

As an aside, Durham has a pool hall culture/history that is largely forgotten at this point. I've hit on a few of these locations: The Union Sport Shop, the Duke Sport Shop, the Brass Rail, the Midway Sport Shop, Murray's Sport Shop, and I'm sure a multitude of others that I'm unaware of . A correspondent who went to Duke in the 1960s but spent more time in Durham becoming a serious pool player passed along these memories of the Duke Sport Shop at Five Points, and some commentary on the Broad Street Sport Shop:

"I spent many hundreds of hours in the Duke Sport Shop, but by the time I started playing pool (early 1965) it was right on West Main, just west of Five Points on the north side of the street. Tons of memories of that place:

---the catcalls you got from the peanut gallery every time you walked by with a woman, or if you were part of an anti-war march. They'd walk right up to the door and let you hear it loud and clear----but they never mentioned it later when you came in to play.
---the clock on the wall that ran backwards
---an old Mynah Bird who greeted the passage of about every ten seconds with a screeching cry of "YOUR MAMMY!!" The players got totally used to it after a while.
---the practice of salting the opening of your beer can to take away the tinny taste; and the habit of stuffing peanuts into the mouth of your Coke bottle to act as a filter of something or other (I never quite figured that one out)
---a rack "boy" who was actually a one armed man in his late 50's who was a dead ringer for Nikita Khrushchev. I still don't know how he could rack the balls so tightly with one hand.
---a local hustler named Tank, who was a Drew Carey lookalike who beat just about everybody but was rumored to cry at times if a road player cleaned him out
---the tobacco farmers who would blow much of the money they'd just made during the auction season, both at the Duke Sport Shop and at the Brass Rail
---and the highlight (to me) of the place, which was maybe the best snooker table in existence, 5 ft x 10 ft with pockets tight as a drum, and a nearly permanent five dollar ring game that anyone could join. If you could run out on that table, you could run out on any table in the world."

"Nice to know that The Green Room is still around. Bull Durham had to have rescued that place from the graveyard, since when it was in its original location across the street in the mid-80's (I was there a few times in 1984-85) it was the sorriest pool room in Durham. Terrible equipment, mediocre players and no action at all. The only reason that they chose it was obviously because at the time the movie was made it was the only pool room left in Durham. It was comical to see how they made it out to be the sort of place that actually had ever had more than five people in there---that seldom happened in real life, at least not before the movie made it into a minor tourist attraction."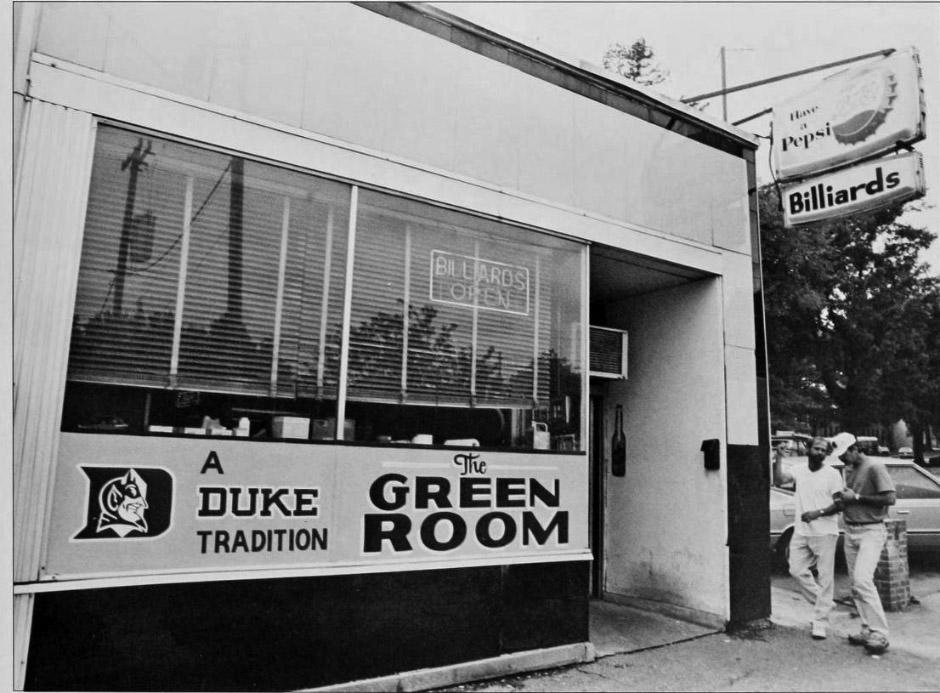 1990

In 1992, the Green Room moved across the street to 1108 Broad, where it remains a fixture as the last real pool hall in Durham.

1113 housed Altered Image Beauty Salon, 1115 the Mattress Outlet, 1117 "Special Flowers", 1117 1/2 Flippers Bar and Grill.

The entire span is owned by the adjacent Clements Funeral Home.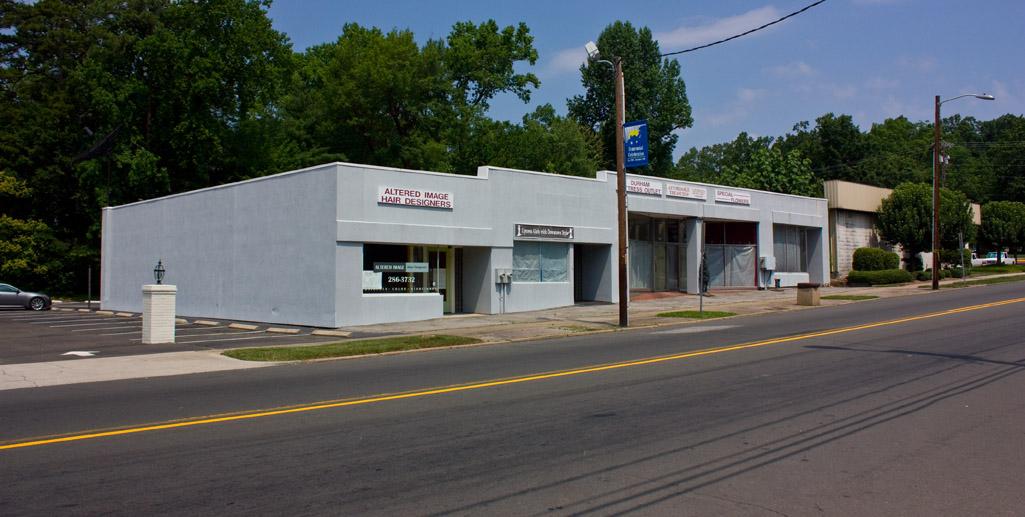 Looking northwest, 07.26.09

You've got me as to whether there are actually any operating businesses in here - it's incredible how moribund these storefronts are compared to the vibrant uses across the street. I don't think I'm assuming too much to think that Clements is only into this for the land/potential parking - and isn't exactly motivated to invest money to improve the appearance of these storefronts or attract interesting tenants. I'm beginning to think that there is some rule in effect in Durham - no active storefront can exist directly across the street from another active storefront. Except at Main 'Street' at Southpoint, of course.

I mentioned the waste of surface parking endemic to funeral homes and churches yesterday, and how damaging this was to the urban environment. We generally struggle with our addiction to immediately available and proximate parking in the urban environment as it is, but these high volume, low-duration uses are particularly problematic. Because parking is primarily a privately-delivered amenity, we end up with each private entity trying to solve its own parking problem, which is an inefficient use of land.

The best the public sector can typically do in practice is to eliminate ordinances mandating required parking, which is helpful in not oversizing private parking beyond what that business demands, but does little to size neighborhood/district parking for total neighborhood/district demand. Beyond publicly-provided parking, how do you get private entities to share their parking? It's unlikely that anyone is going to pay them for it unless land becomes expensive enough that each entity can't go around turning the lot next to them into surface parking.

I don't have a clear answer for this - we're terribly demanding of parking here, in my opinion. I can never believe complaints about having to parallel park and walk a block or two. If you're willing to do that, you'll never have too much trouble parking around Durham, in my experience. If everyone's parking would shrink by 40% at the same time, we'd all be fine, but individual businesses don't dare shrink their available parking too much, lest someone drive down the street to the competing Big Swath O' Asphalt Store.

I'd like to see some kind of incentive system for reducing parking - property tax reduction for ratios less than x/square feet or unit - or something similar. And perhaps entities that have a high probability for shared use - churches, schools, funeral homes, etc. - could trigger a shared use mandate of some kind. Ideas?

Update:

In November-December 2010, these buildings were demolished to better serve the needs of the deceased.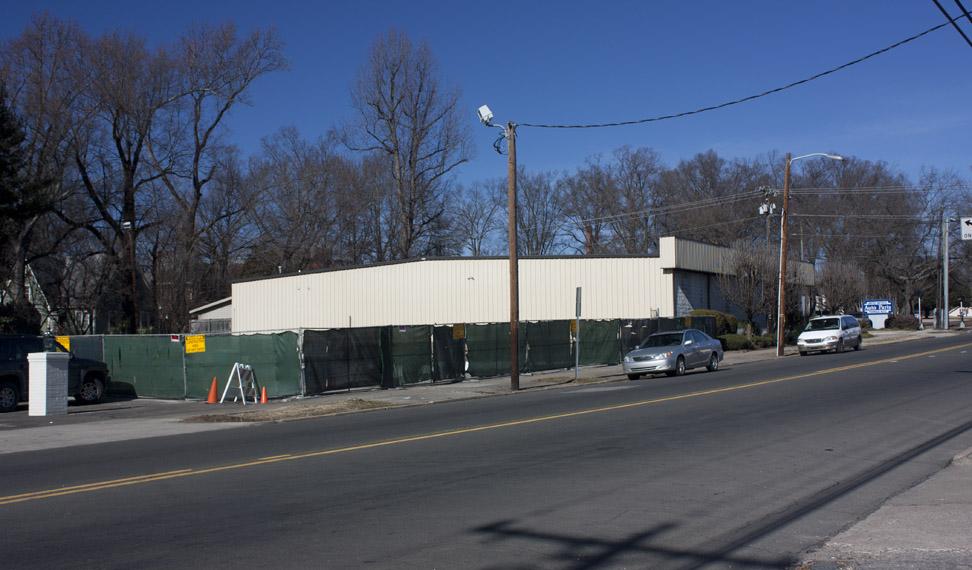 1113-1117 Broad, 01.09.11