SOUTH SQUARE
The newfangled enclosed mall to beat them all in 1974 - a huge amount of concrete and steel that didn't last 30 years.
In tours
This building does not appear in any tours yet.
Last updated
Sat, 04/28/2012 - 1:16pm by gary
Location
United States
35° 58' 2.298" N, 78° 57' 29.9772" W
US
South Square, December 2002
(Courtesy of <a href="http://www.flickr.com/photos/55639700@N06/">Mike Lashley</a>)
South Square was a two level enclosed mall, Durham's first, that opened in 1974. Northgate Shopping Center quickly moved to compete with South Square (and the broader new trend of enclosed malls that would quickly eclipse strip shopping centers as centers for department stores and higher end retail.) The mall had ~100 stores when it opened, anchored by JC Penney, Belk-Leggett, and Montgomery Ward. It also had a movie theater on the southern side of the building, and a food court on the upper level.  
Montgomery Ward closed in the early '80s and was replaced by Ivey's. 
When I was in college in the late 80s/early 90s, it was still the heyday of the enclosed mall. Maybe it still is - I don't know. But the constant presence of the mall as a setting for all of the 1980s movies I loved as a teenager - which doesn't seem to be the case now (or perhaps I just avoid those movies now) implies to me that the enclosed mall's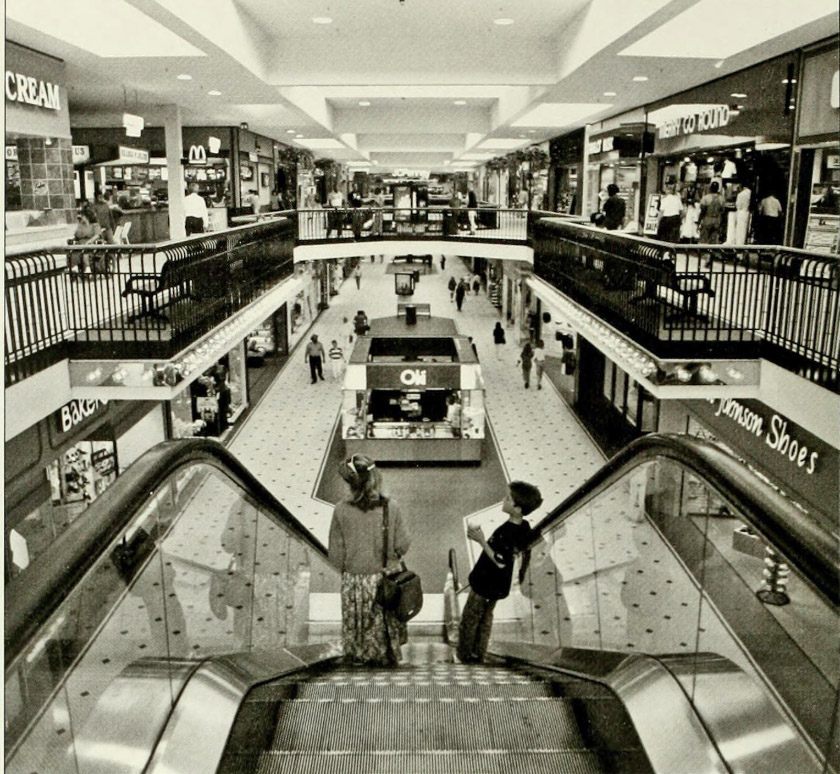 Inside South Square, 1990
I was one of those folks that opposed the rezoning of land for Southpoint. I don't know that I was wrong about that, and I don't know that I was right. Part of what I was concerned about has happened - the de facto urban growth boundary that I-40 represented was breached entirely. I said, thinking I was being a bit hyperbolic at the time, that in 10 years, we'd have big development on the shores of Jordan Lake.
South Square's owners insisted they would be fine if Southpoint was approved. It was shocking how quickly the mall closed when Southpoint opened. Everyone thought they would suffer, and we'd eventually displace all of that growth down into the rural area south of I-40. I'm not sure anyone thought South Square would empty and close in a couple of months. Belk had become Hudson Belk, and JC Penney and Dillards were anchors as well when southpoint opened in Spring 2002. Penney's and Belk closed immediately - Dillard's seemed like the last place with the lights on when they finally gave up in August 2002.
There was some discussion about what to do with the mall - I believe Durham Area Designers got its start in creating a charrette to propose creative solutions for the site that would create some beauty in - to borrow the lingo of my forerunners "this section."
8 months later, the whole mall came down - an amazing amount of material was wrecked and hauled off - to where, I don't know.
04.03.03
(Courtesy <a href="http://www.herald-sun.com">The Herald-Sun Newspaper</a>)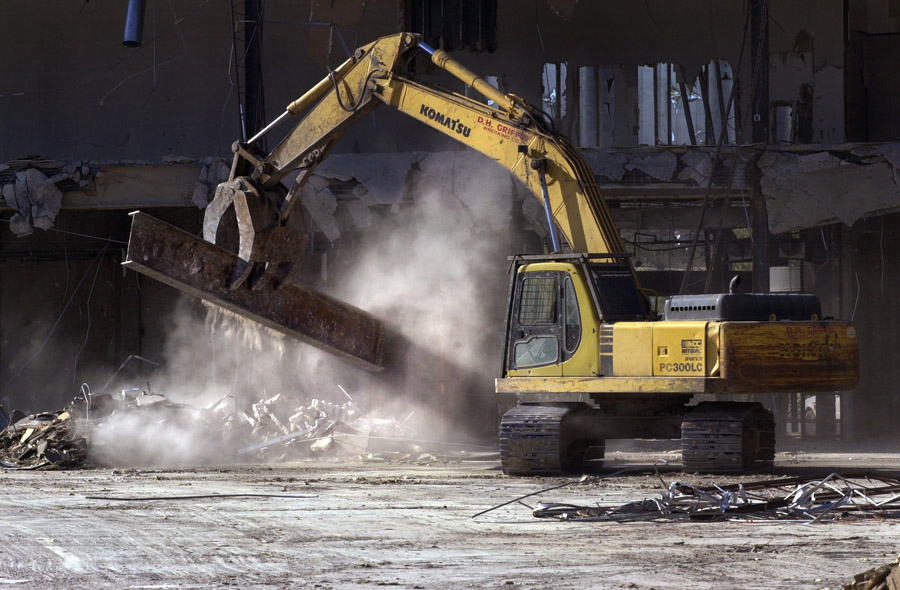 04.03.03
(Courtesy <a href="http://www.herald-sun.com">The Herald-Sun Newspaper</a>)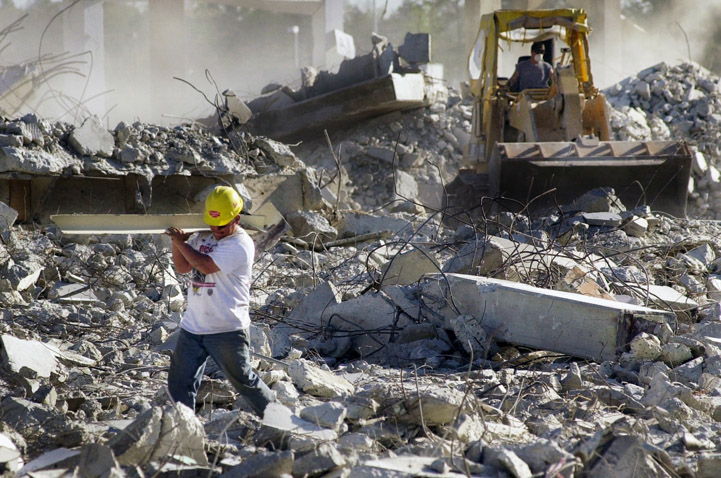 04.03.03
(Courtesy <a href="http://www.herald-sun.com">The Herald-Sun Newspaper</a>)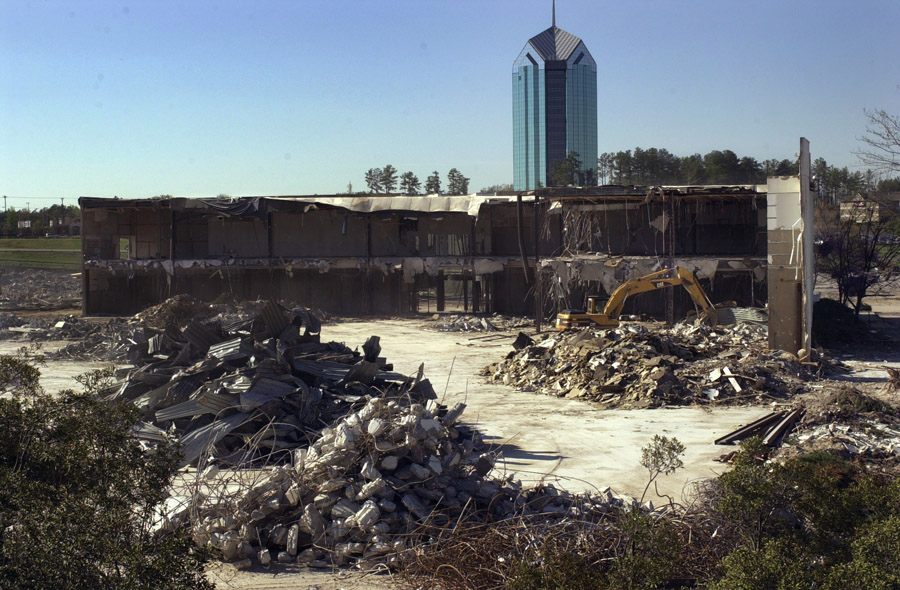 04.03.03
(Courtesy <a href="http://www.herald-sun.com">The Herald-Sun Newspaper</a>)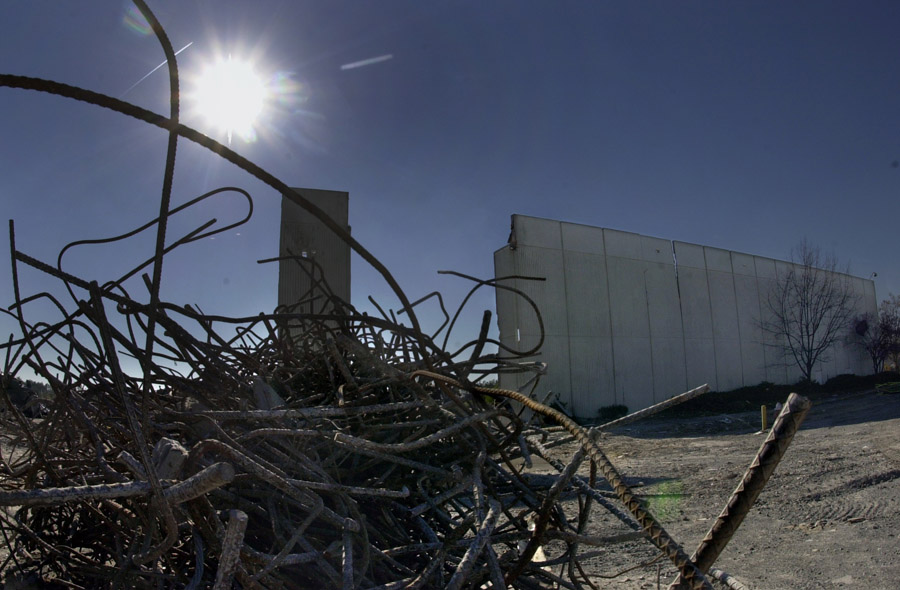 04.03.03
(Courtesy <a href="http://www.herald-sun.com">The Herald-Sun Newspaper</a>)
I never was a fan of South Square's architecture, or just the mallscape in general. But I didn't really imagine that the site could become so much uglier. 

05.29.11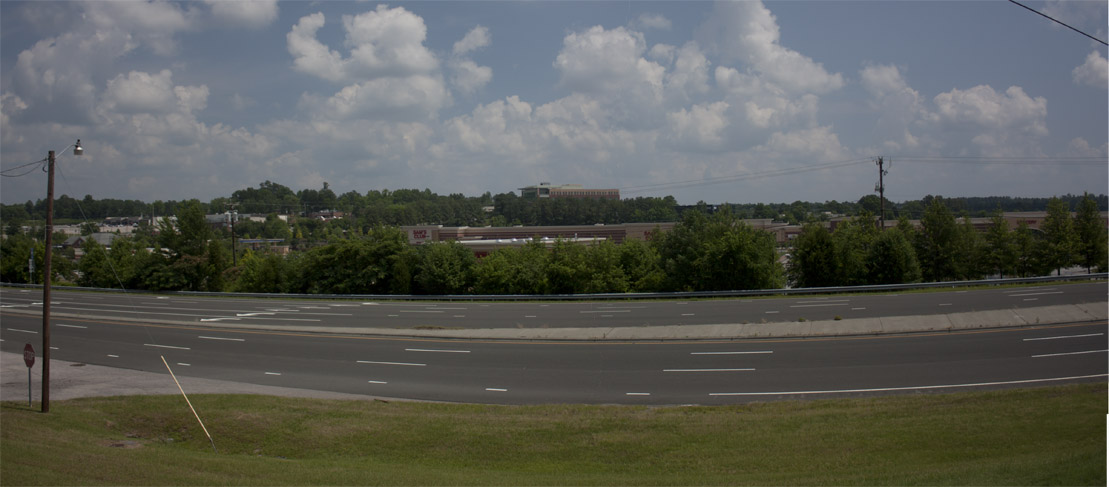 05.29.11
This area used to be a significant retail hotbed - it really seems moribund at this point. Target et al do a brisk business, of course, but it seems like most things around it have struggled since South Square died - the nicer stores have decamped to South Durham, and it's kind of an odd mix of independent establishments and struggling downmarket chains in this area. I hope the University Marketplace project can get out the ground - everything between Academy and Garrett could use a major reboot that includes some walkability and human-scale development.