PEARL COTTON MILL
Built in
1892
/ Modified in
1910-1920
/ Demolished in
1971
In tours
This building does not appear in any tours yet.
Last updated
Wed, 10/04/2017 - 8:09am by gary
Location
36° 0' 18.1044" N, 78° 54' 16.848" W
Comments
Built in
1892
/ Modified in
1910-1920
/ Demolished in
1971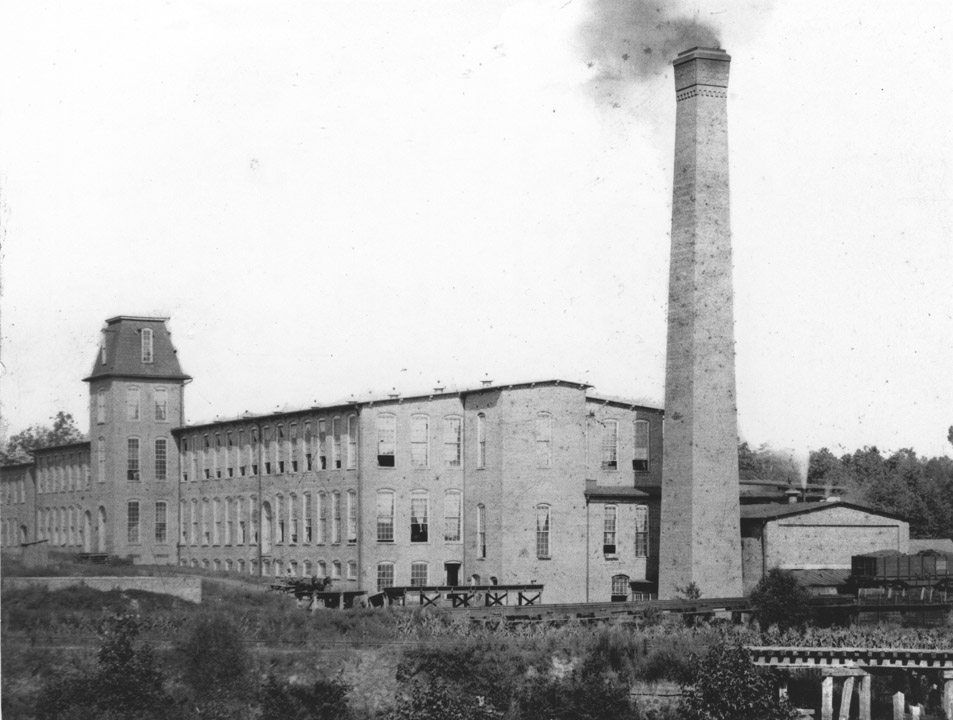 Looking west from near present-day Washington St., 1890s
(Courtesy Durham County Library / North Carolina Collection)
The Pearl Cotton mill was established by Brodie Duke in 1892, named after his daughter Pearl. After Brodie Duke suffered significant financial reversal in the 'Panic of 1893', Washington Duke and his two half-brothers helped him re-capitalize the company, along with George Watts, who became the new president of the company. By 1895, the mill had 200 workers, 10,000 spindles, and 160 looms "for making extra-wide sheeting" and was quite successful.
The mill was managed by William Branson, who also managed the Durham Cotton Manufacturing Company in East Durham, until his death in 1899. Jessie Harper Erwin, brother of William Erwin, who managed the eponymous Erwin Mill (another Duke concern) took over management of the Pearl Mill and Durham Cotton Manufacturing Co. after Branson's death.
The Trinity Avenue Presbyterian Church, one block away at N. Gregson St., was the direct outgrowth of a Sunday School for children of mill workers which began onsite at the mill and met briefly in a house on Washington St. Prior to 1898, a frame chapel, called the Pearl Mill Chapel, was built at the southeast corner of N. Duke and W. Trinity. By 1913, this congregation and structure had become known as the 2nd Presbyterian Church.
It appears that the church may have been moved offsite to Gregson and Trinity in 1917.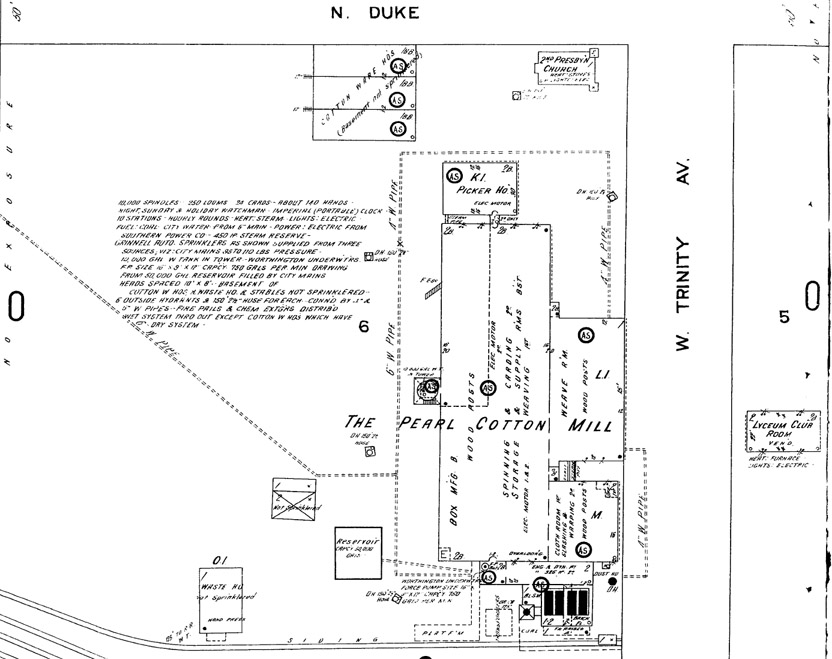 1913 Sanborn Map showing the Mill, 2nd Presbyterian Church, and the Lyceum.
(Copyright Sanborn Map Company)
Owned by Erwin Mills after 1899 , the factory officially became Erwin Mill No. 6 in 1932.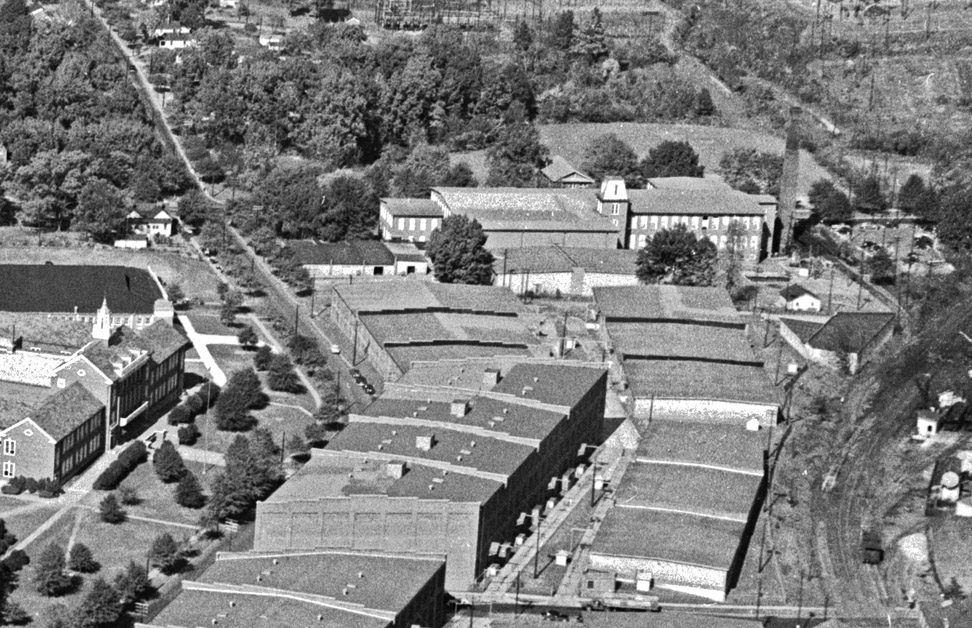 Pearl Mill, looking north from ~ W. Main St., 1950.
(Courtesy The Herald-Sun Newspaper
By the 1950s, the mill was shut down.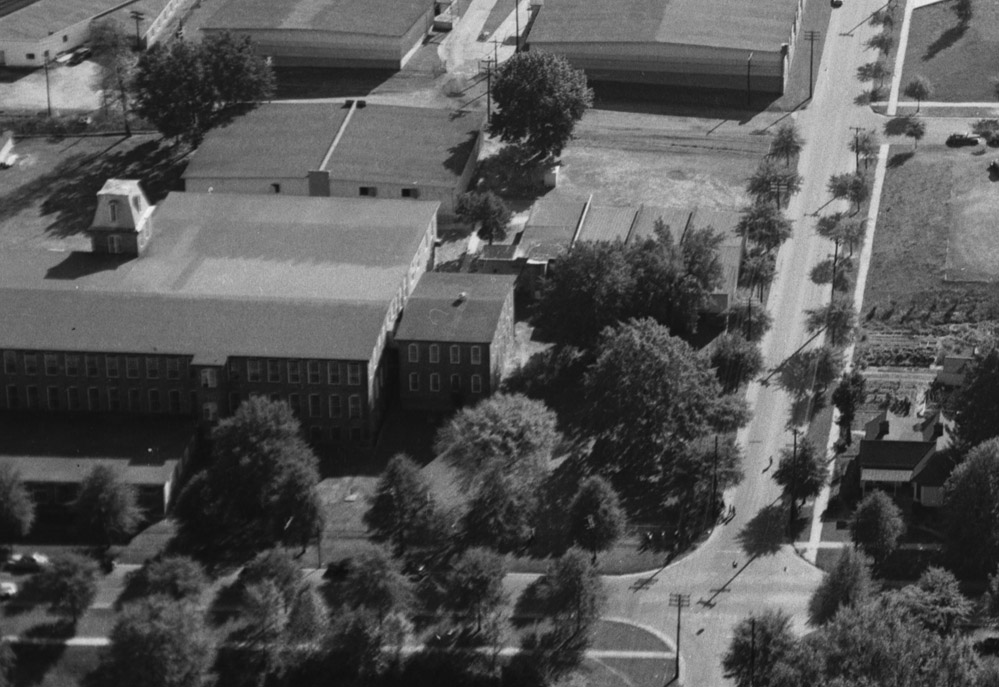 Looking south from ~ Trinity Ave. at a portion of the Pearl Mill, 1950s.
(Courtesy The Herald-Sun Newspaper
The mill was demolished in 1971 to build the Duke Tower apartments, geared towards the Duke diet facility (former YMCA) across W. Trinity Ave. In an odd bit of preservation, the builder decided to retain the original tower and smokestack, but nothing else. In place of the mill, the developer built some of the ugliest apartments in Durham. I can't really express how much I hate the mansard roof on the two-story 1970s apartment block.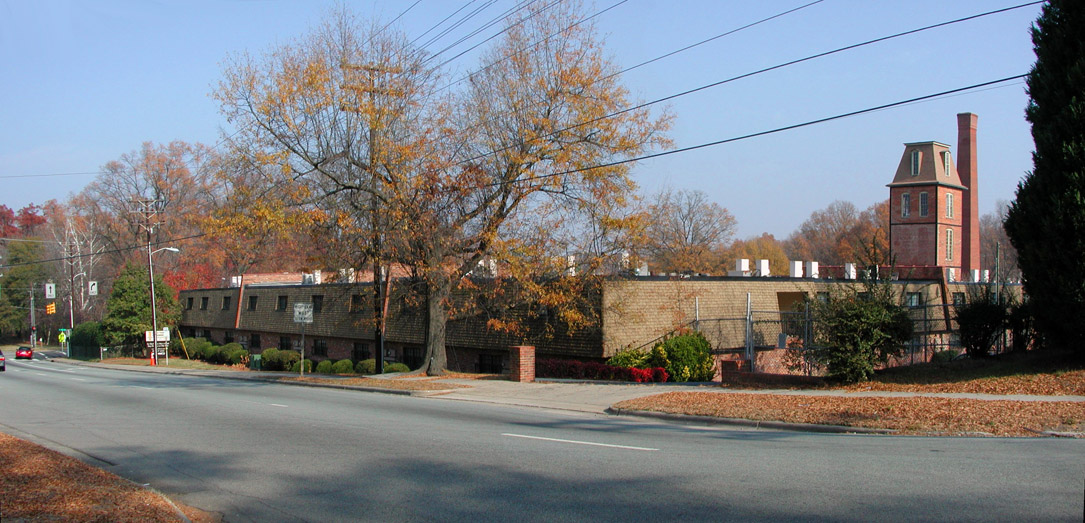 2007 (G. Kueber)
At some point a few years ago, Frank Wittenberg bought this and decided to turn it into condominiums. No word on how successful or unsuccessful that venture has been, but this appears to still be a viable place to inhabit, unlike his efforts on the southerly portion of Duke St.
Update 10.12.08:
The nice folks who currently manage Duke Tower contacted me to let me know that Frank Wittenberg is no longer involved in the management of facility. Val Blettner and Lee Richardson own several of the units and manage the facility, which is now geared more towards extended-stay hotel guests (with some units still for sale.) They let me poke around in the old tower, which they plan to turn into a coffeeshop/breakfast joint. The 'attic' of the tower still contains a very large metal water storage 'container' (it takes up almost the entire 'attic') originally used to provide water for fire suppression.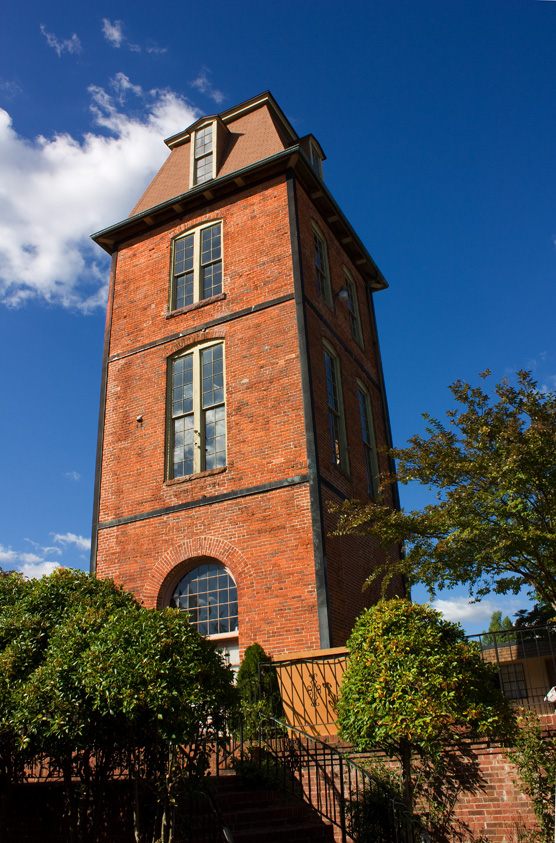 The Pearl Mill Tower, 10.12.08 (G. Kueber)