FRANKLIN HOUSE - 507 YANCEY STREET
Built in
1901
/ Modified in
1971
,
2001-2003
,
2016
Built as a rental house ~1901, this house was owner-occupied by the Franklin family for 50 years.
In tours
Last updated
Sun, 06/25/2017 - 11:16am by gary
Location
United States
35° 59' 37.9284" N, 78° 54' 34.6176" W
US
Comments
Built in
1901
/ Modified in
1971
,
2001-2003
,
2016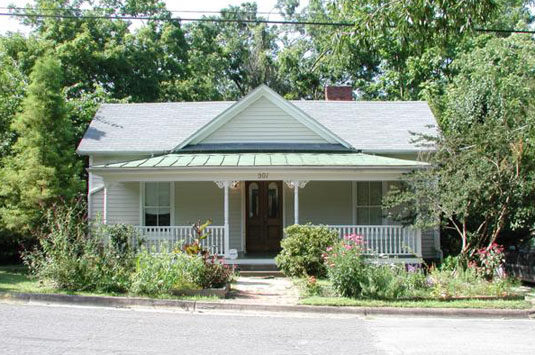 507 Yancey St, 2003
507 Yancey was built in 1901 on land that originally 'belonged' to 602 South Duke Street, the James W. Blackwell house.
James W. Blackwell, brother of WT Blackwell (of Blackwell's Durham Tobacco fame) built his house at the southwest corner of Lee (later Duke) Street and Yancey Street sometime between 1881 and 1887. The house first appears in the City Directory of 1887, which included a map of prominent Durham locations. (#30)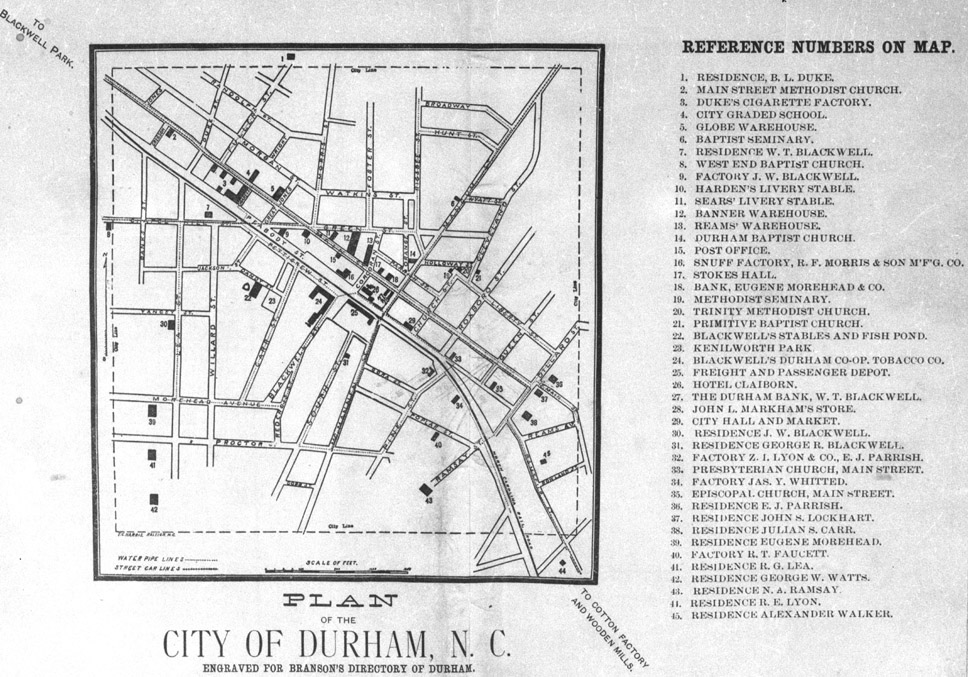 An early photograph, taken sometime in the 1880s from Blackwell's Durham Tobacco Co. (later the American Tobacco complex, looking west, shows the house sitting at the edge of the developed area southwest of the center of town.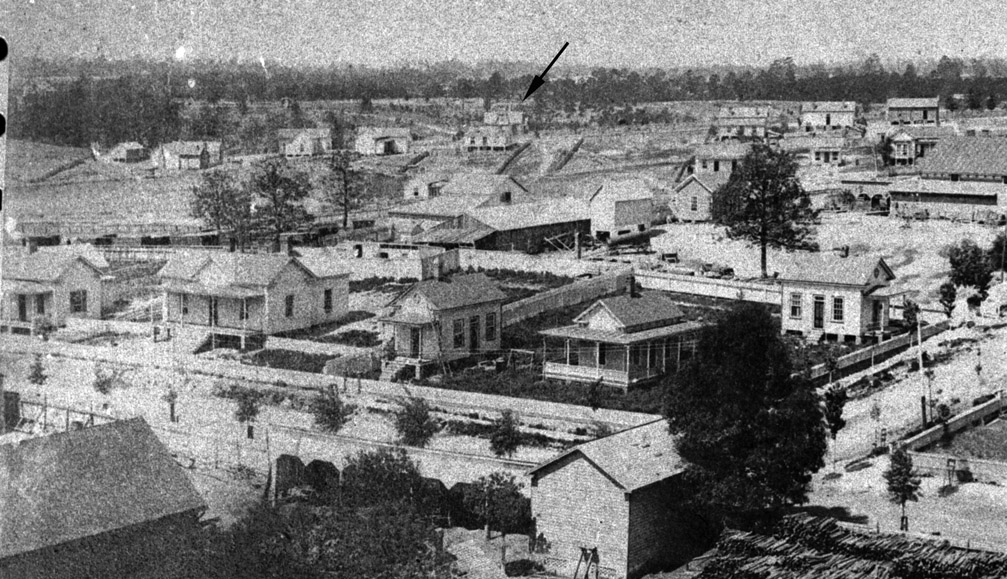 Looking southwest, 1880s. I've noted 602 South Duke with an arrow. 507 Yancey was later built on the empty land behind it.
(Courtesy Herald-Sun)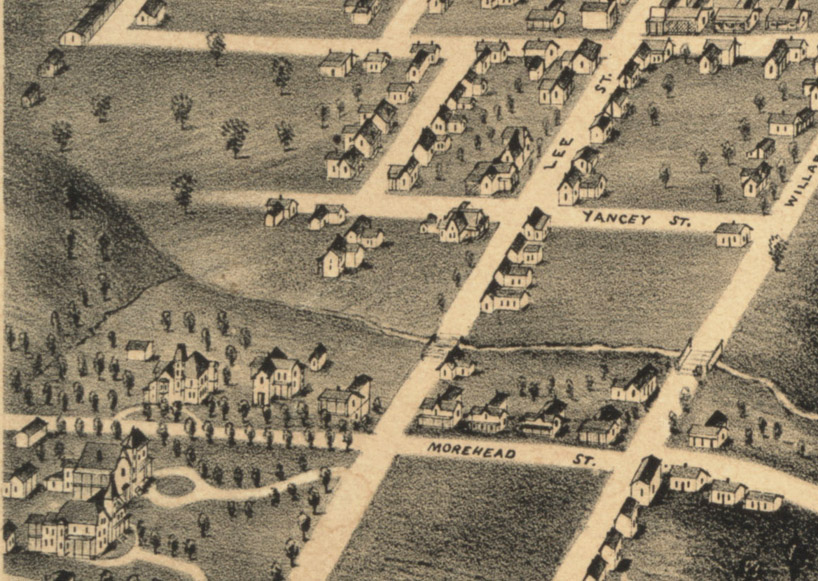 602 South Duke, with unusual trapezoidal gables and cruciform layout, is visible on the 1891 Bird's Eye of Durham, above. There are other houses to the west of it in this Bird's Eye, which do not conform to the layout of 505 and 507 Yancey
(Courtesy Duke Rare Book and Manuscript Collection)
Blackwell had a number of careers, including work with the tobacco company, head of the Builder's Manufacturer's Supply Co., and a cashier for the Durham Water Company. He also bought and sold real estate, and later lived at 701 Jackson St. after selling 602 South Duke in the 1890s.
In 1901, the house was owned for a time by HN Snow, who subdivided the large lot that the house was on, building 505 Yancey, 507 Yancey, and 604 S. Duke on the original lot. 
505 and 507 Yancey built as similar, triple-A roofline cottages, hall-and-parlor style, with a two room wing extending back from one of the rooms. The center hall exited onto a rear porch that extended the length of the wing, and provided access to those rooms to maximize bedroom space.
507 Yancey was built with a set of 24" french doors (48") opening; the grade provided room for a full basement under the wing, which was used as a kitchen per Gene Franklin, who spent time in the house as a youth. In gutting portions of the house, it became apparent that much of the framing lumber was salvaged from an earlier dwelling (or several.)
The house was rented to a series of tenants over its first ~17 years. On March 6, 1918, 505 and 507 Yancey were sold to Durham Realty and Insurance Company. On June 18, 1918 DR&I resold the property to Liggett and Myers (with 505, as a single parcel.) Liggett evidently rented out the houses - I assume to their employees.
However, just 3 years later, Liggett decided to dispose of the various properties they had purchased in 1918. They sold the properties to First National Trust in February 1921. First National Trust divided 505 and 507 into individual houses/lots. On October 14, 1921, 507 Yancey was conveyed to Minnie Beck Franklin. Franklin and her husband Otho lived in the house for 30 years; Otho was a tool grinder, Minnie worked at Liggett and Myers.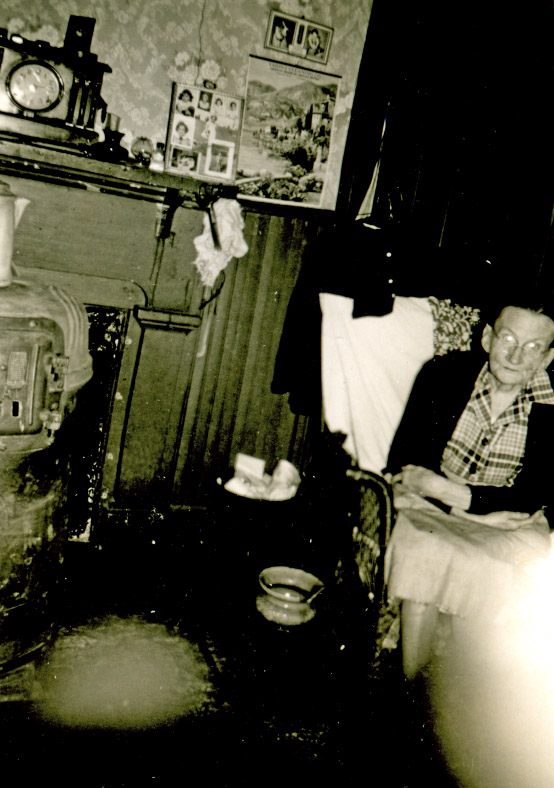 Minnie Beck Franklin in 507 Yancey St. (Gene Franklin)
On June 30, 1951, Minnie conveyed the property to her daughter, Nora. Nora worked at the Durham Laundry Company.
The character of the surrounding neighborhood changed dramatically in 1967-1968. Construction of the Durham Freeway severed the 500 and 600 block of Yancey from Morehead Hill and the West end to the west. Urban Renewal demolished the entirety of the neighborhood to the east of the 500 block of Yancey (east of South Duke Street.) The intent, if not the action, was to convert the small remaining residential area to commercial/institutional use (the zoning implemented after the demolition and Freeway construction.)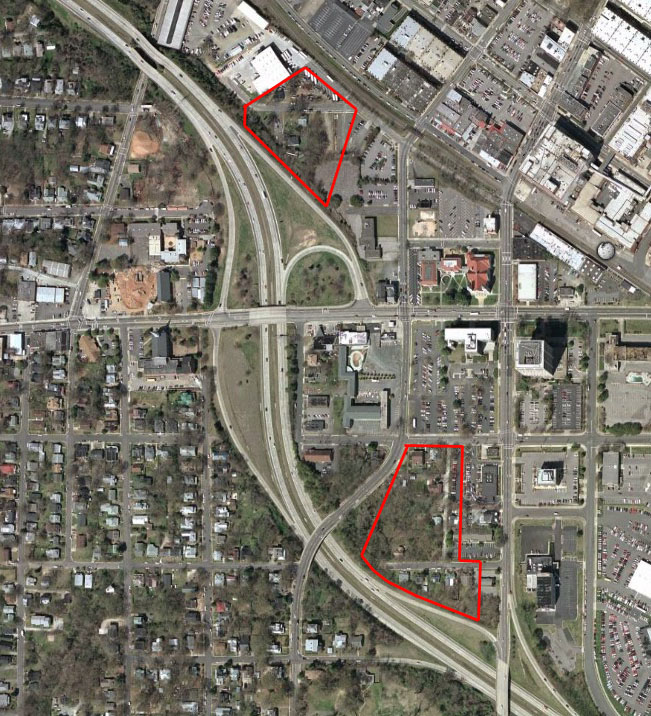 The southern (lower) of the two areas outlined in red is the small residential pocket containing 507 Yancey Street. The former connection with the neighborhood to the west is still apparent . 
On October 1, 1971, Nora conveyed the property to WInston Moore not long before her death, ending 50 years of Franklin family owner-occupancy at 507 Yancey.
Moore removed almost everything interesting from the house in turning it into a duplex. The two 24" doors were removed, most of the front porch was enclosed, windows replaced, etc. The house was rented as a duplex for 12 years.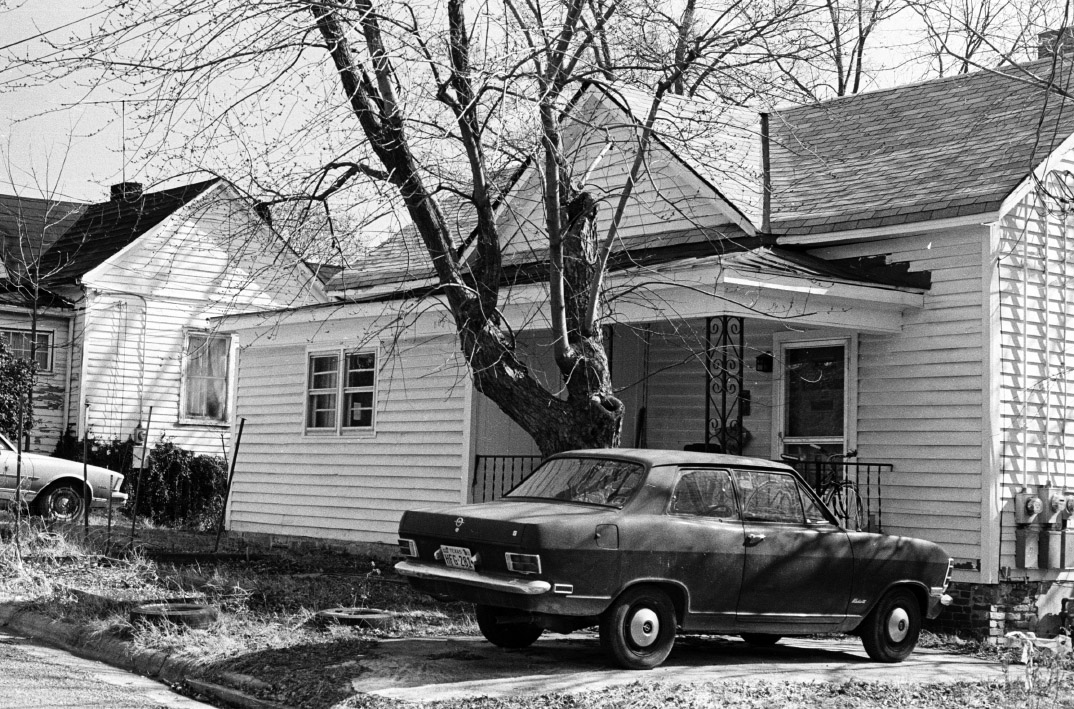 507 Yancey, 1979 (SHPO)
In 1983 tenants William and Katherine Pfieffer purchased the house. They added a rear addition in 1989.
In 1997, the house was purchased by Gary Kueber.
The first week in the new house, May 1997. (G. Kueber, Sr.)
from 1997-2003, Kueber restored the original features of the house, and undid much of the Home Depot-style renovations done from 1971-1990. (I.e., big holes in siding filled with globs of paper towels and caulk.)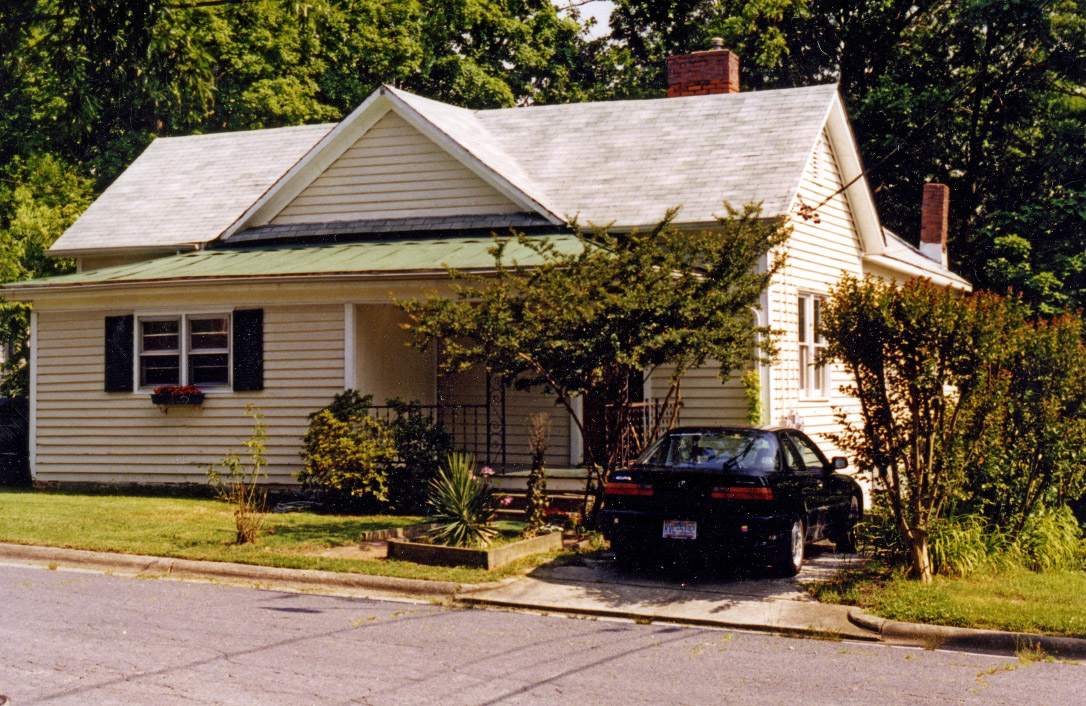 Summer 1998. (G. Kueber)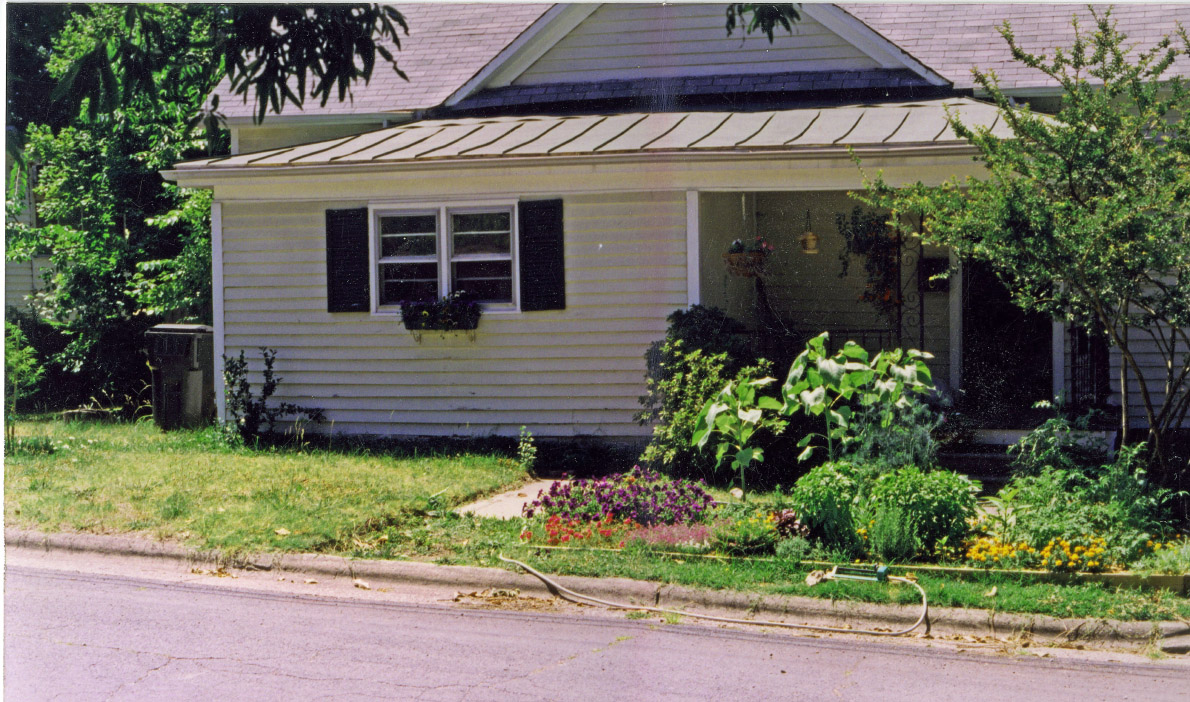 Summer 1999 (on the extreme left you can see the baby cypress that came up from New Orleans.) (G. Kueber)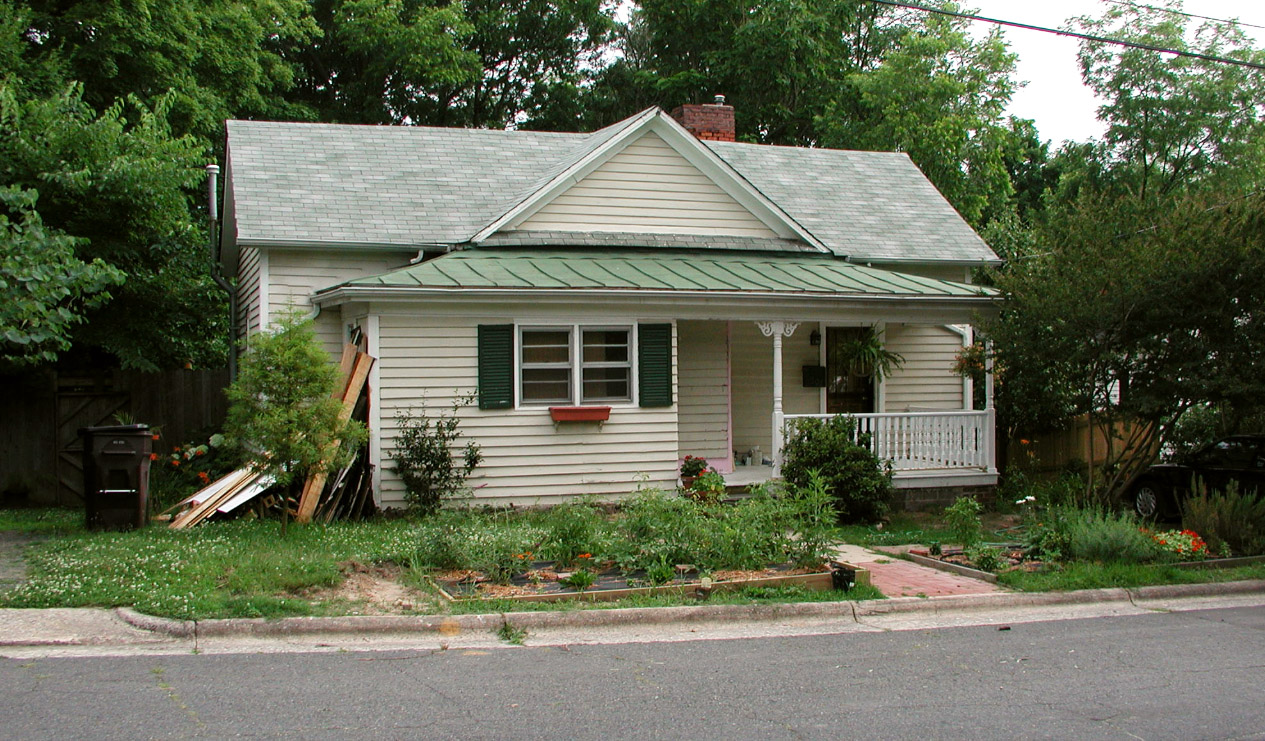 Summer 2001. (G. Kueber)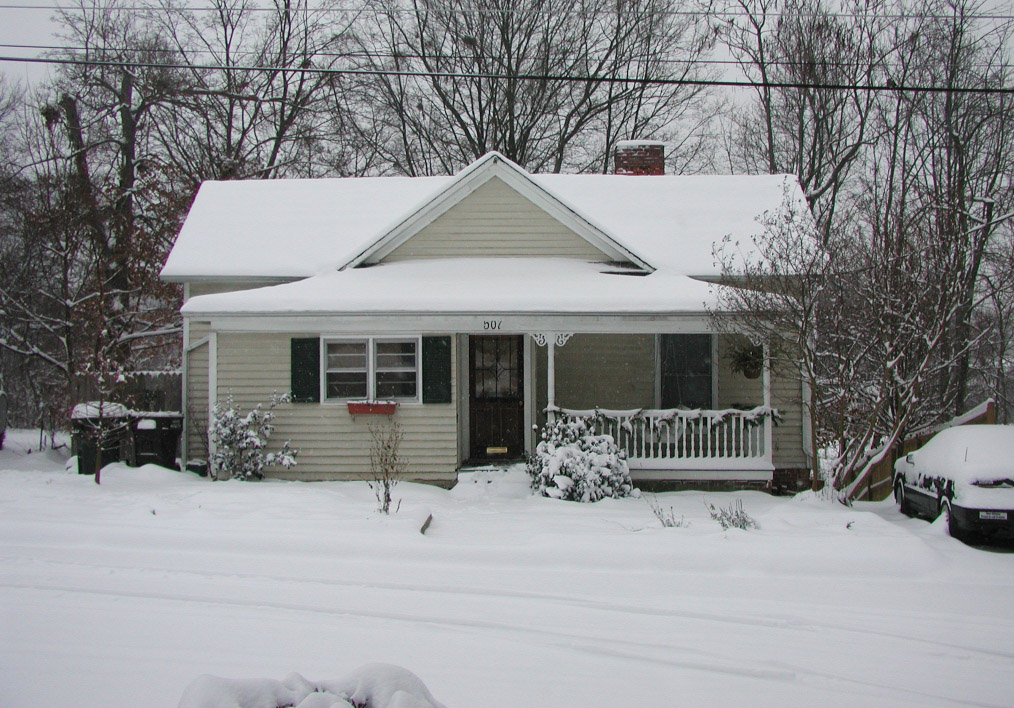 01.03.02. (G. Kueber)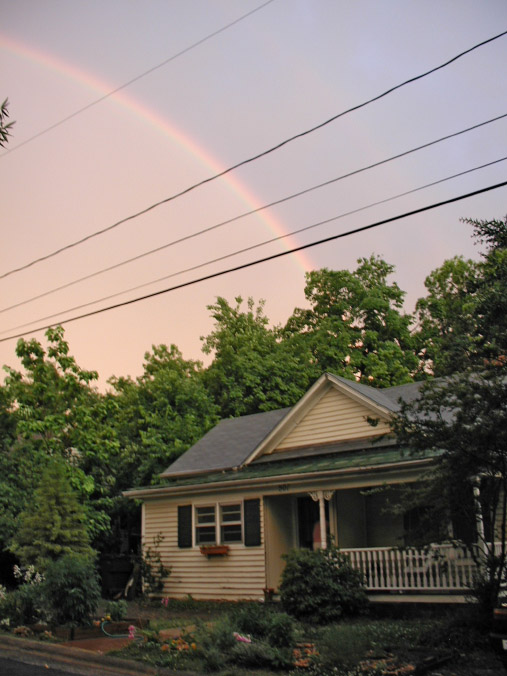 July 2002. (G. Kueber)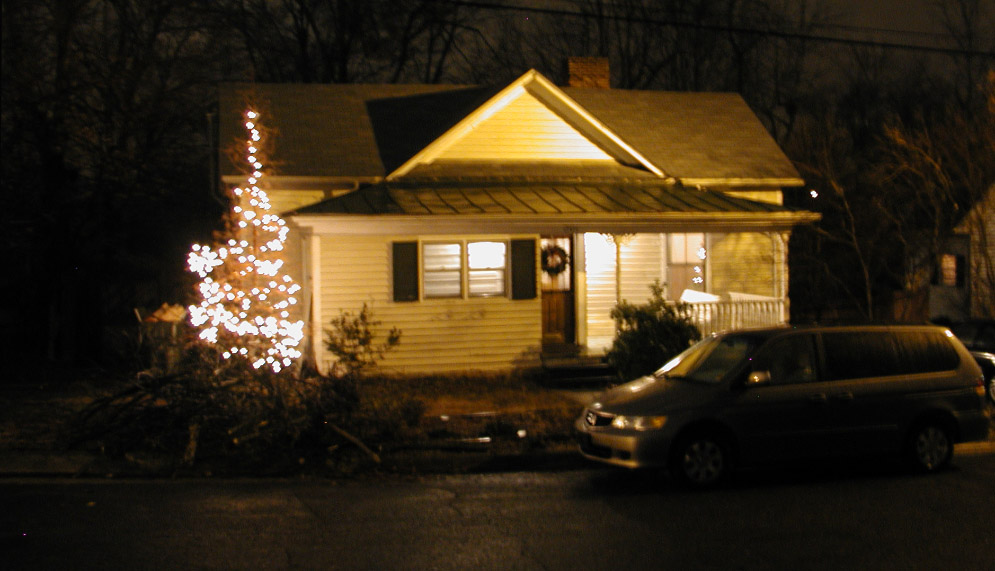 12.24.02 (big pile of ice storm limbs out front.) (G. Kueber)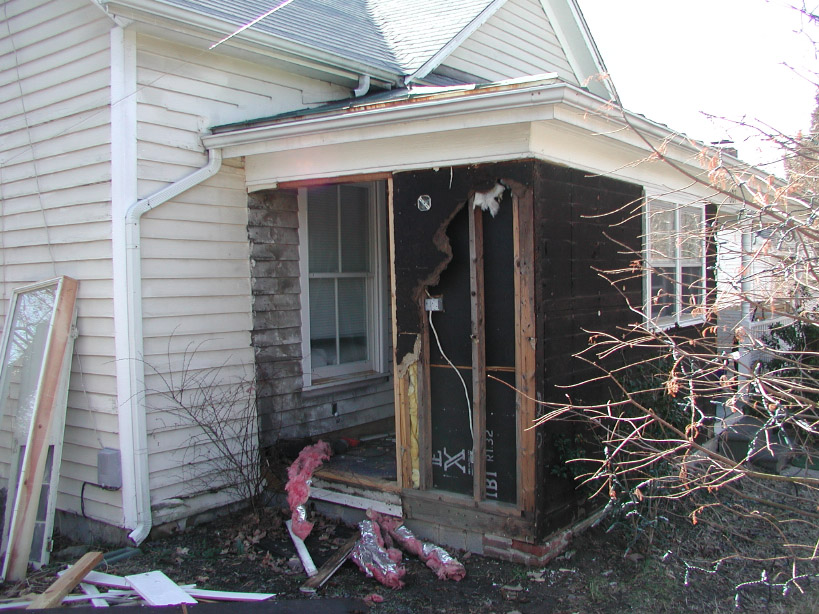 Early 2003. (G. Kueber)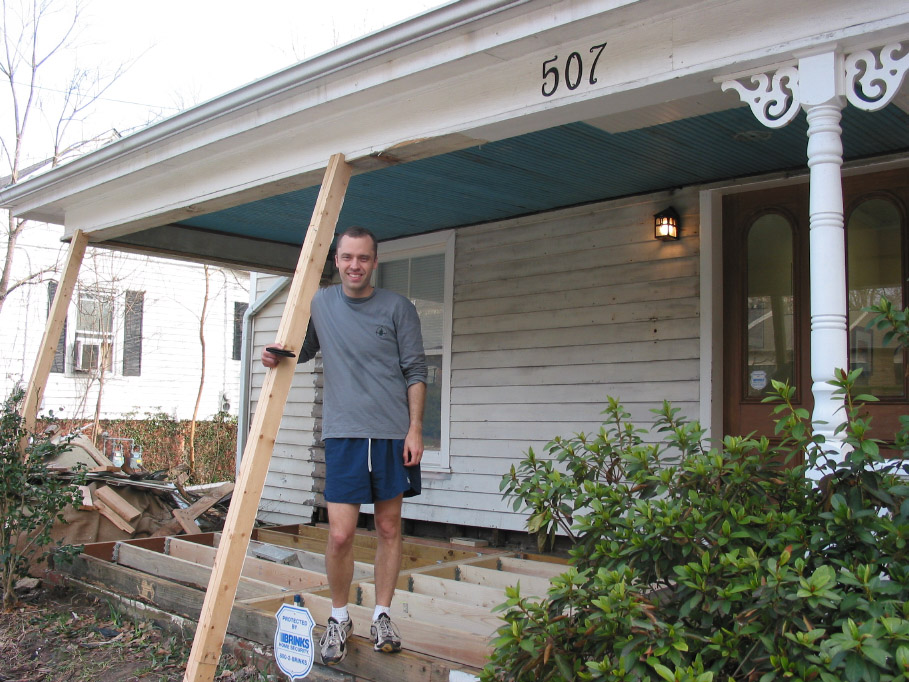 Early spring 2003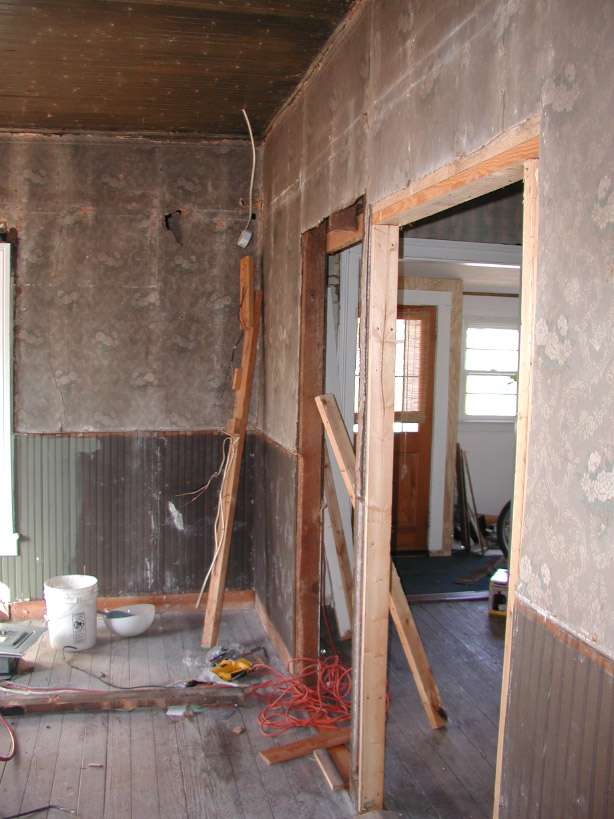 Stripped back to the original interior - early spring 2003. (G. Kueber)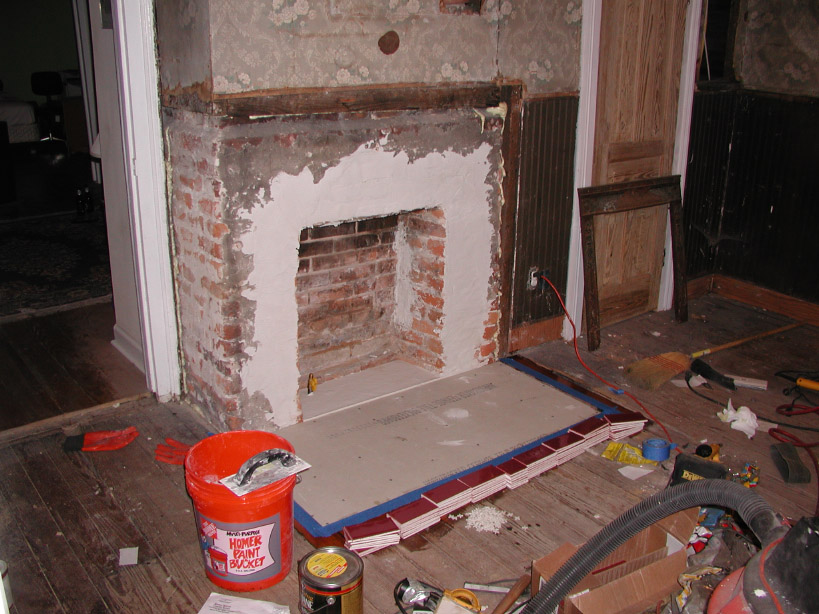 Rebuilding the bricked-in, sheetrocked-over fireplace, Spring 2003. (G. Kueber)
In 2003, Kueber won a Pyne Preservation Award from Preservation Durham for his restoration of the house.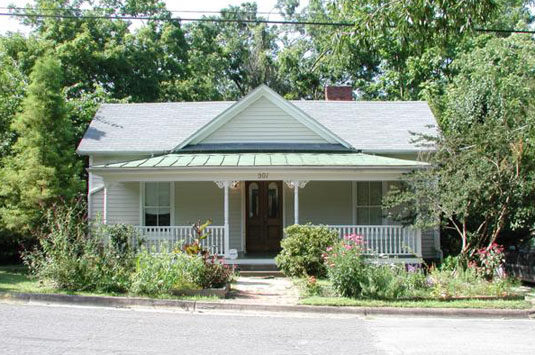 507 Yancey St, Summer 2003 (G. Kueber)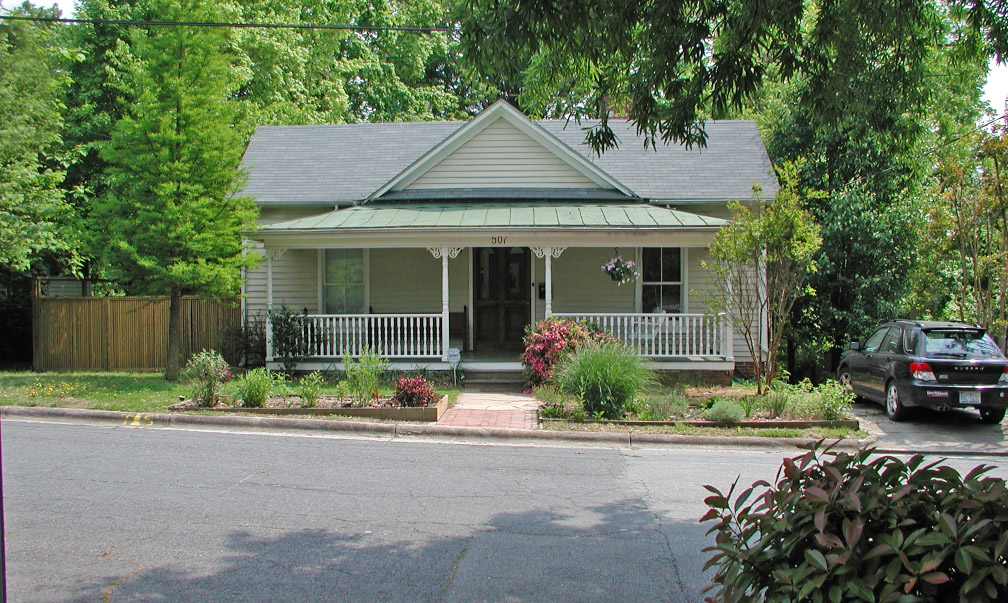 05.19.06 (G. Kueber)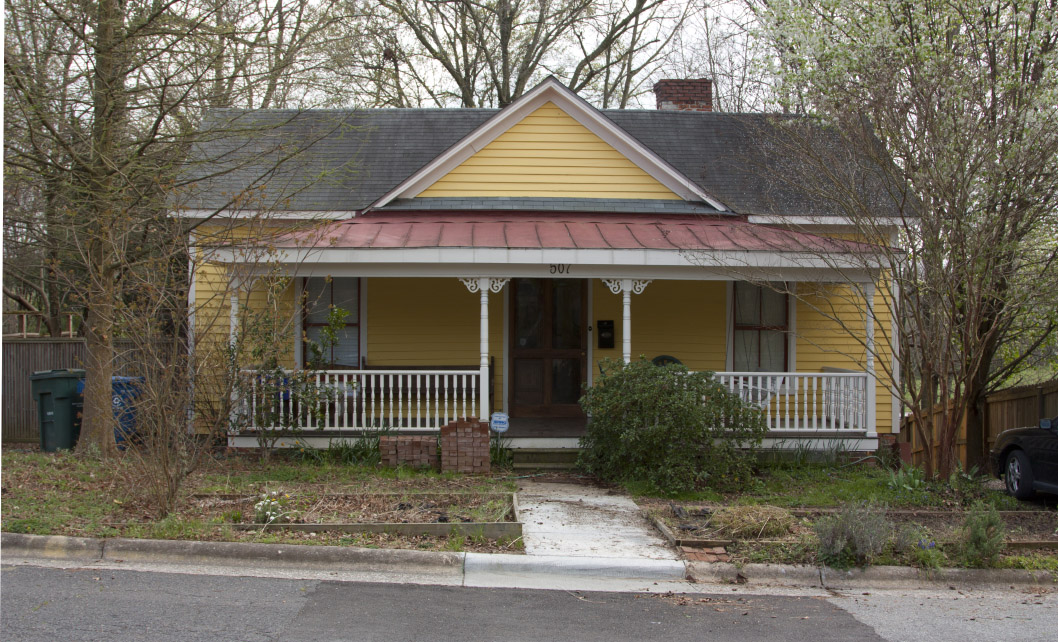 03.18.12 (See my cypress tree!) (G. Kueber)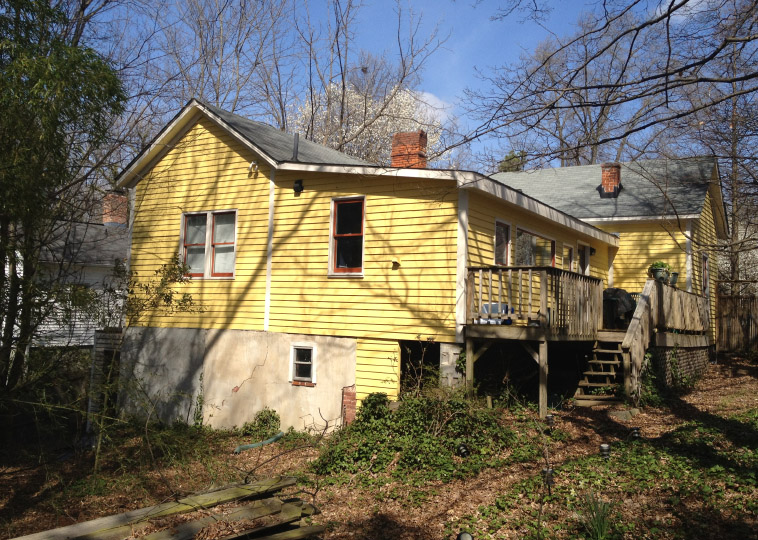 03.18.12 (G. Kueber)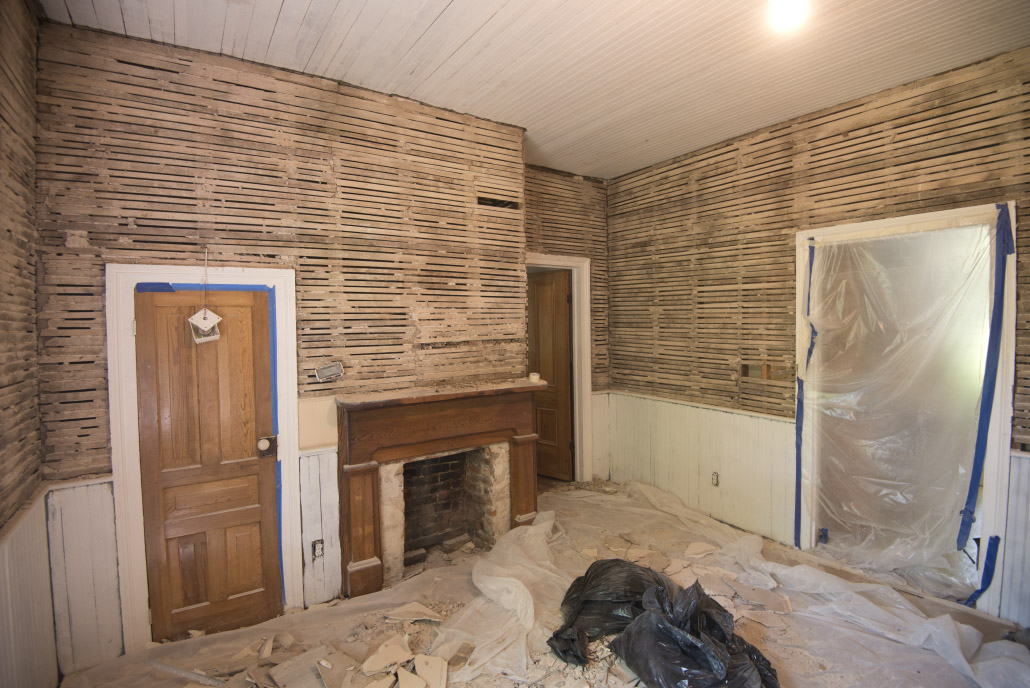 06.10.14 (G. Kueber)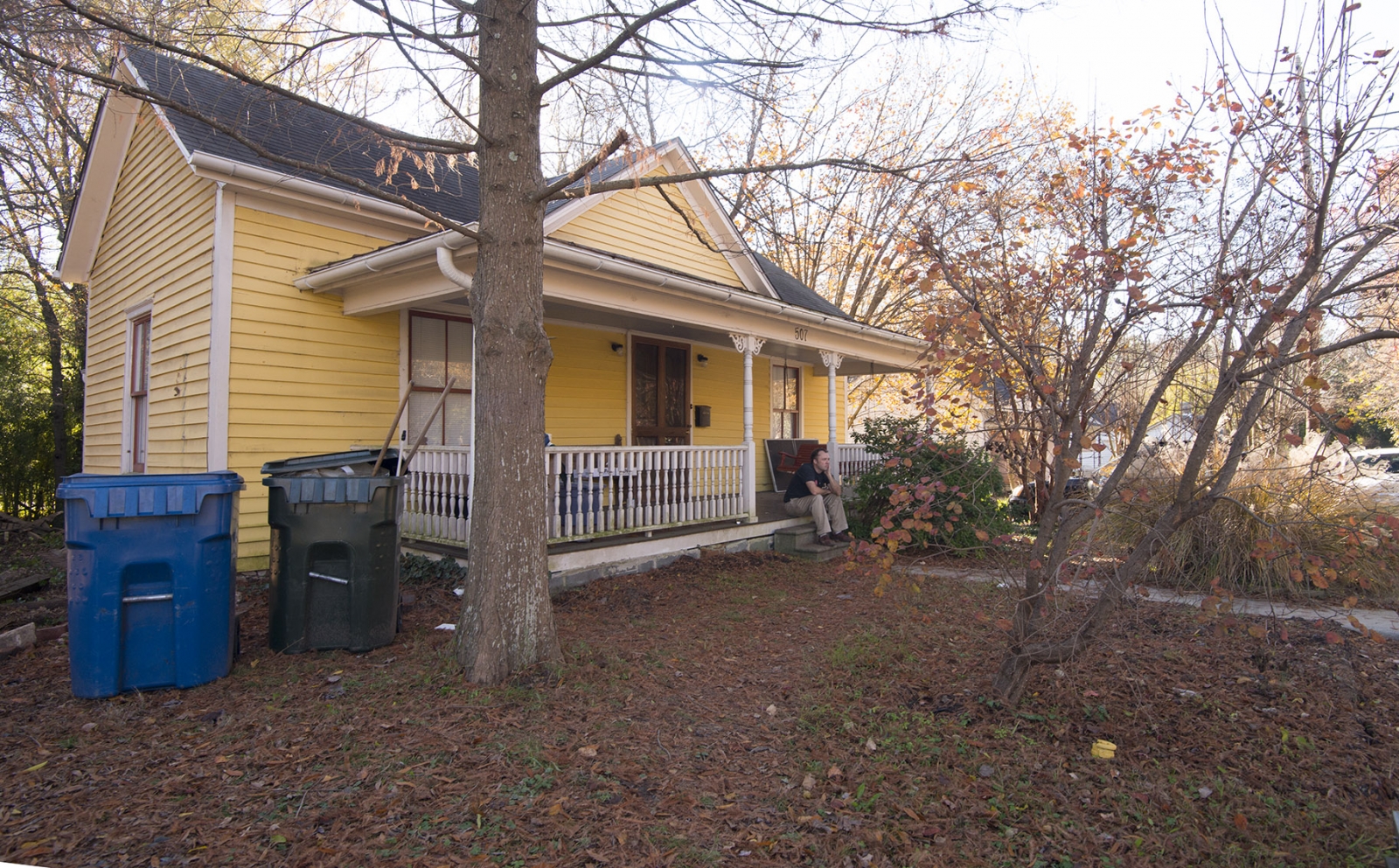 12.05.2015 - Kueber's last day in the house - semi-recreation of the May 1997 picture, 19 years later.
In 2016, Gary moved this house to 803 Vickers Avenue.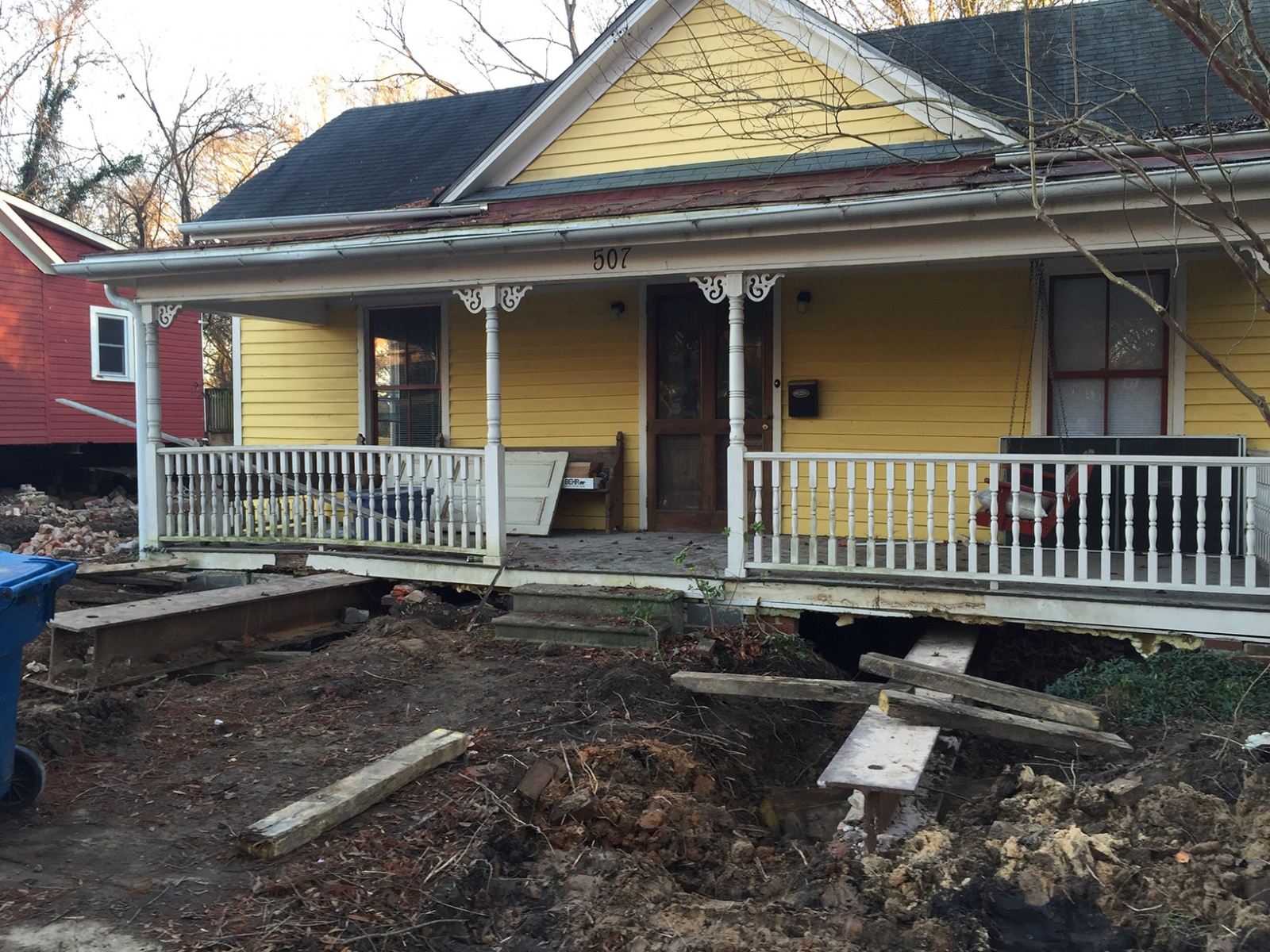 12.15.2015 (G. Kueber)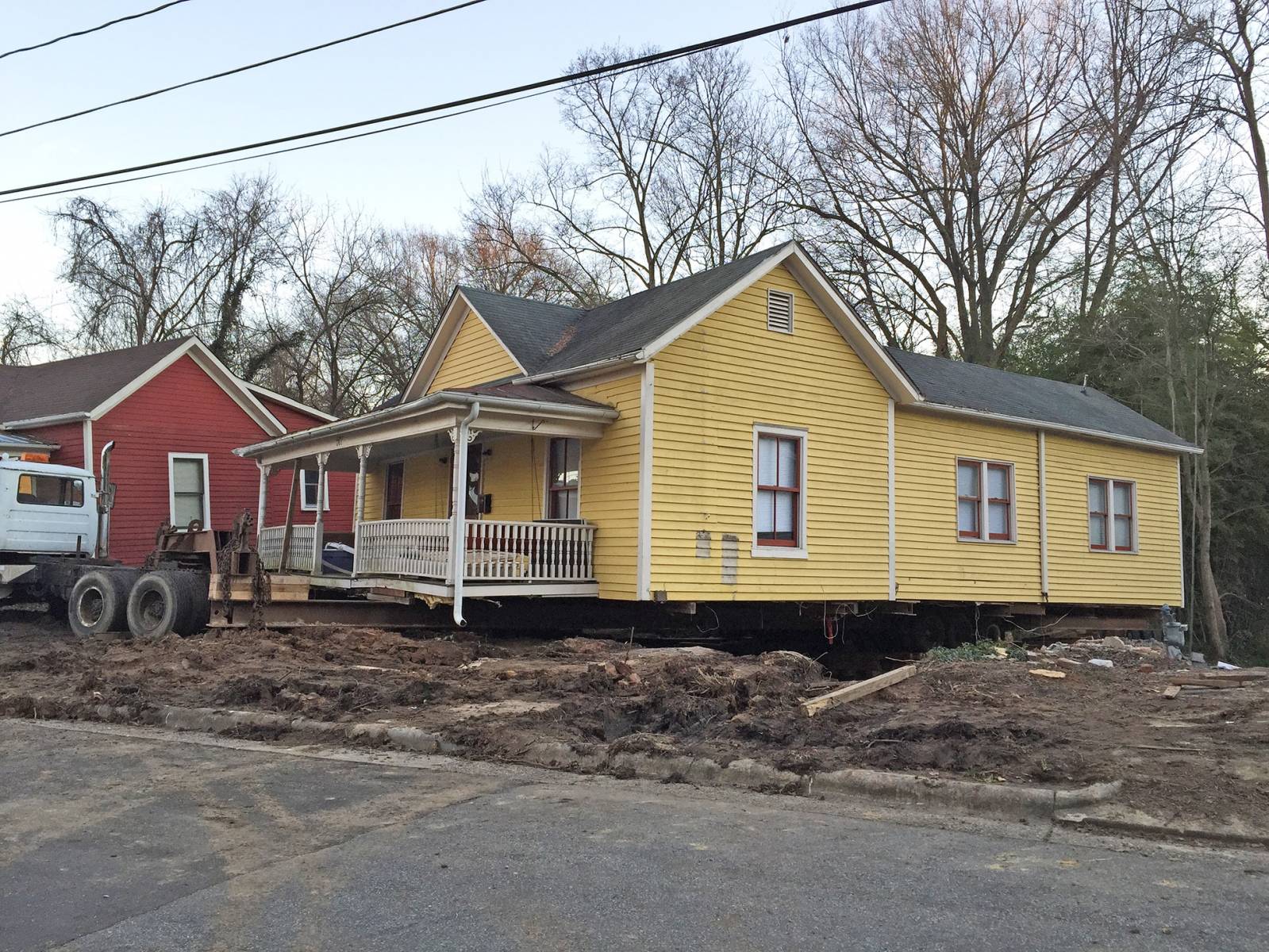 01.11.2016 (G. Kueber)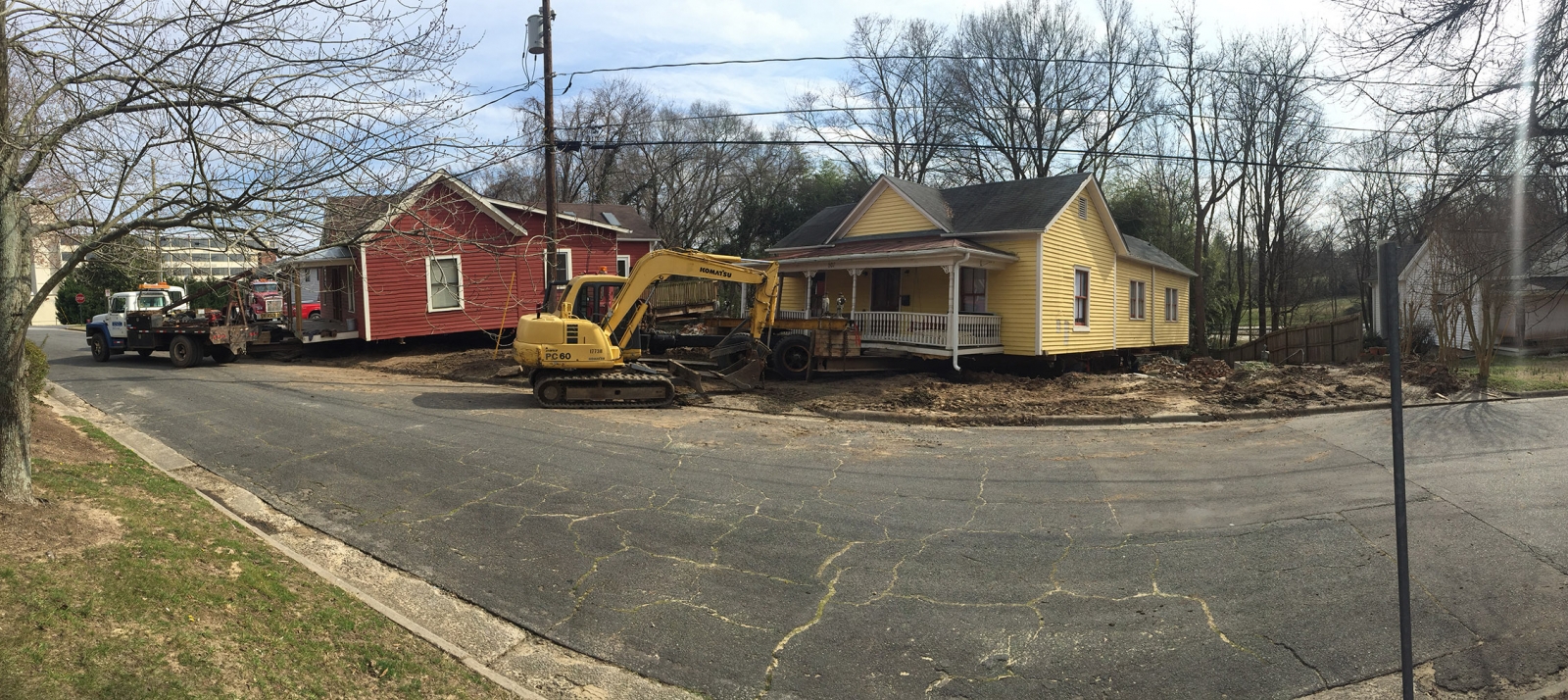 505-507 Yancey, 03.05.2016 (G. Kueber)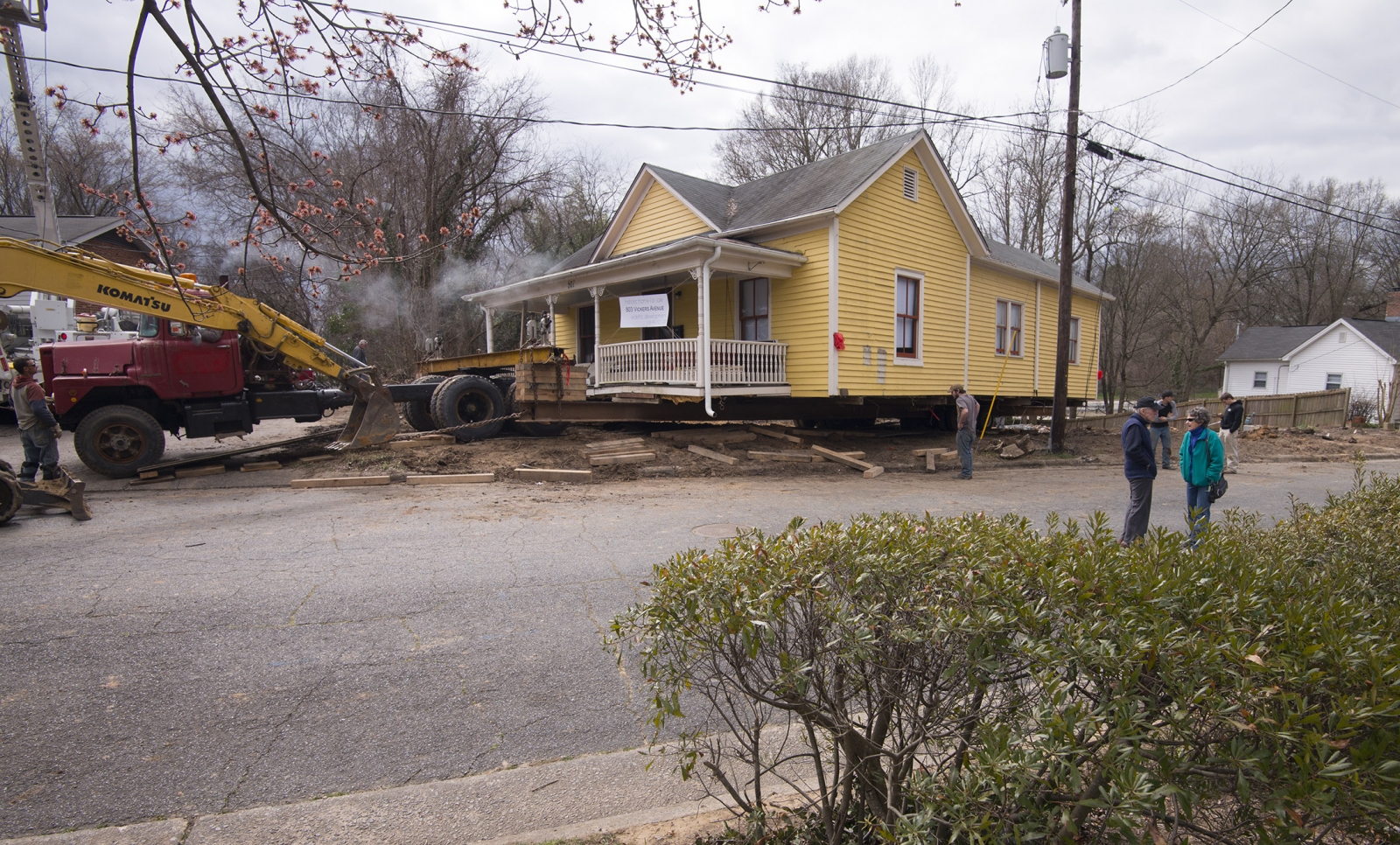 03.06.2016 (G. Kueber)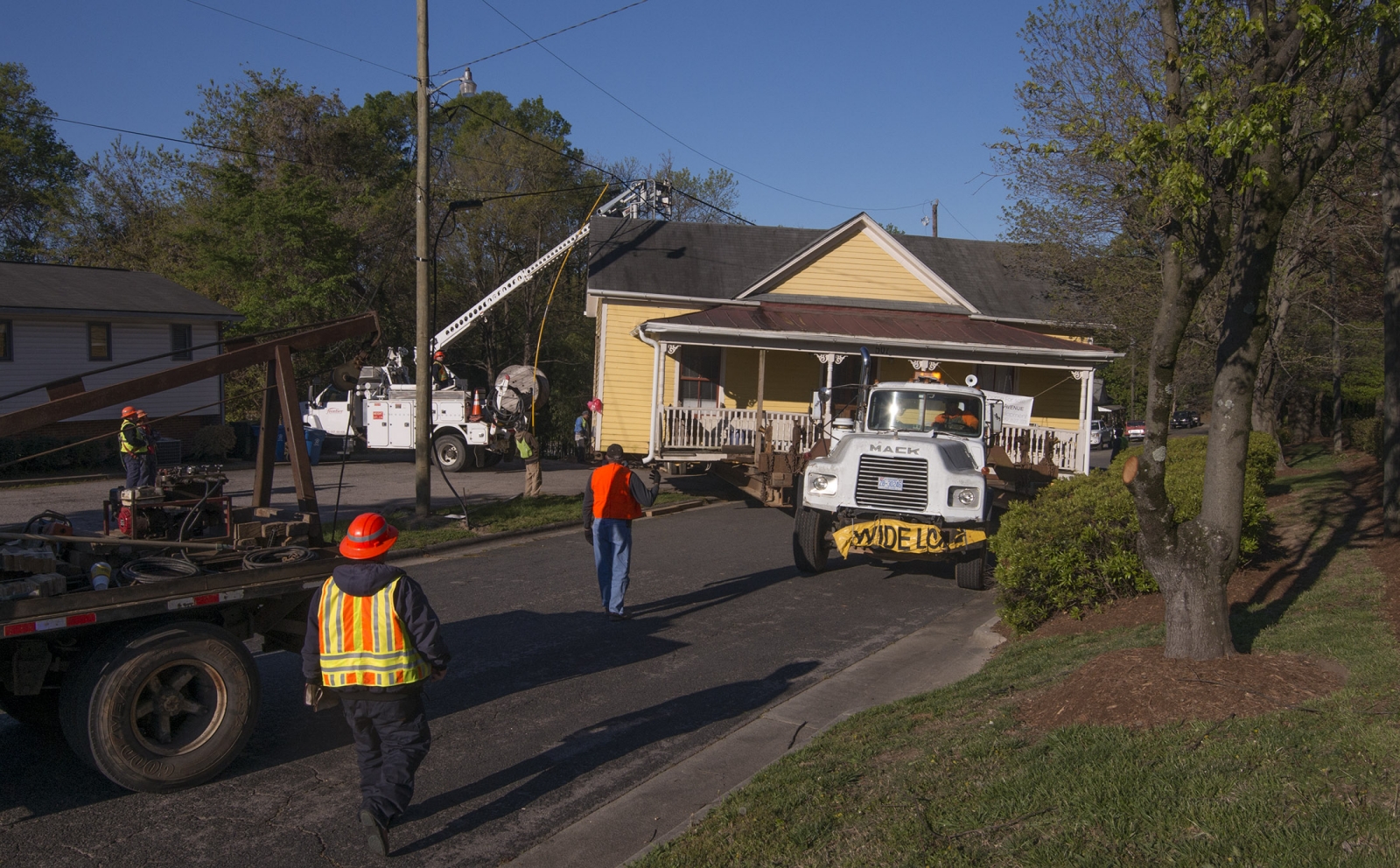 04.10.2016 (G. Kueber)
04.10.2016 (G. Kueber)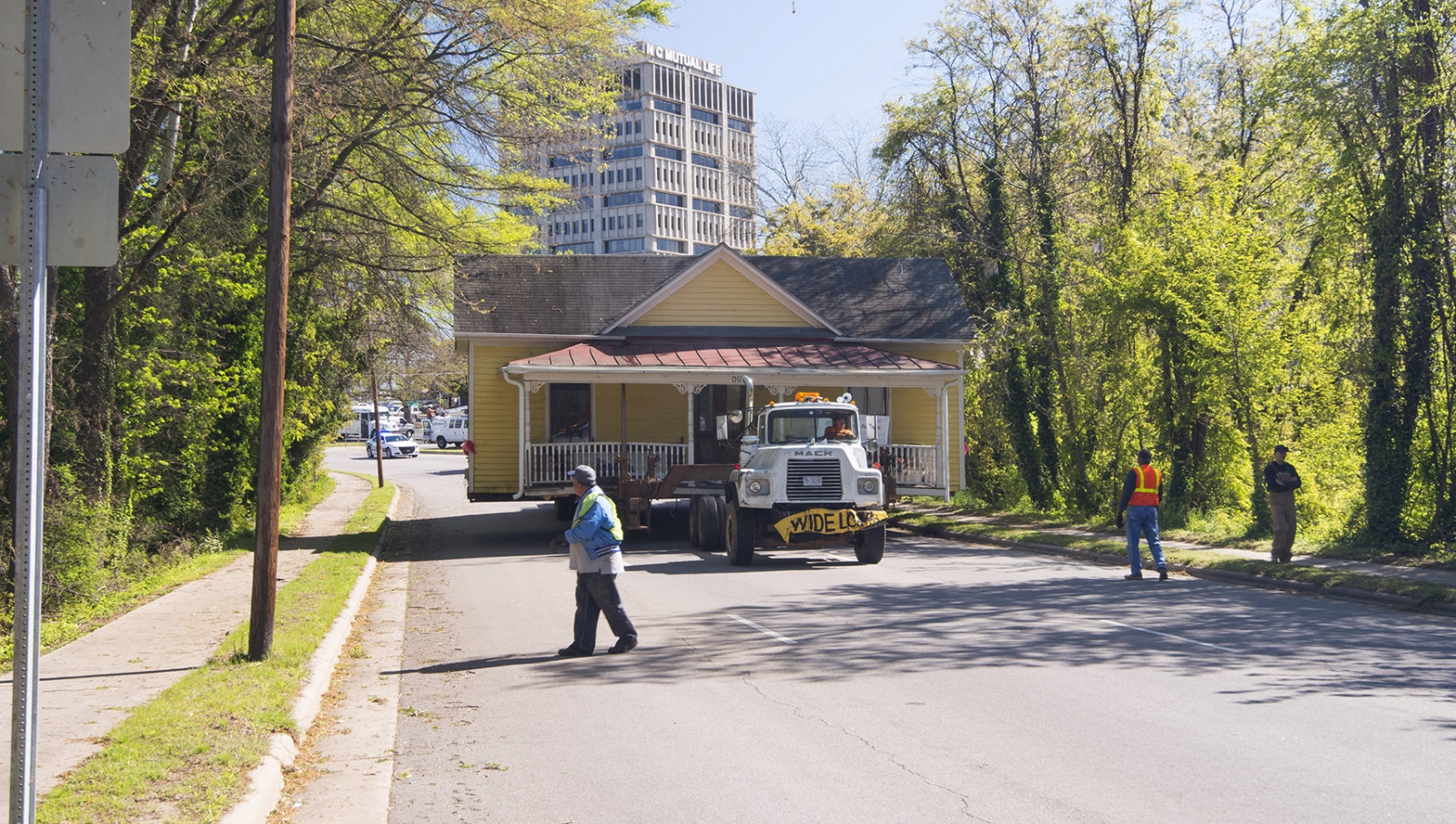 04.10.2016 (G. Kueber)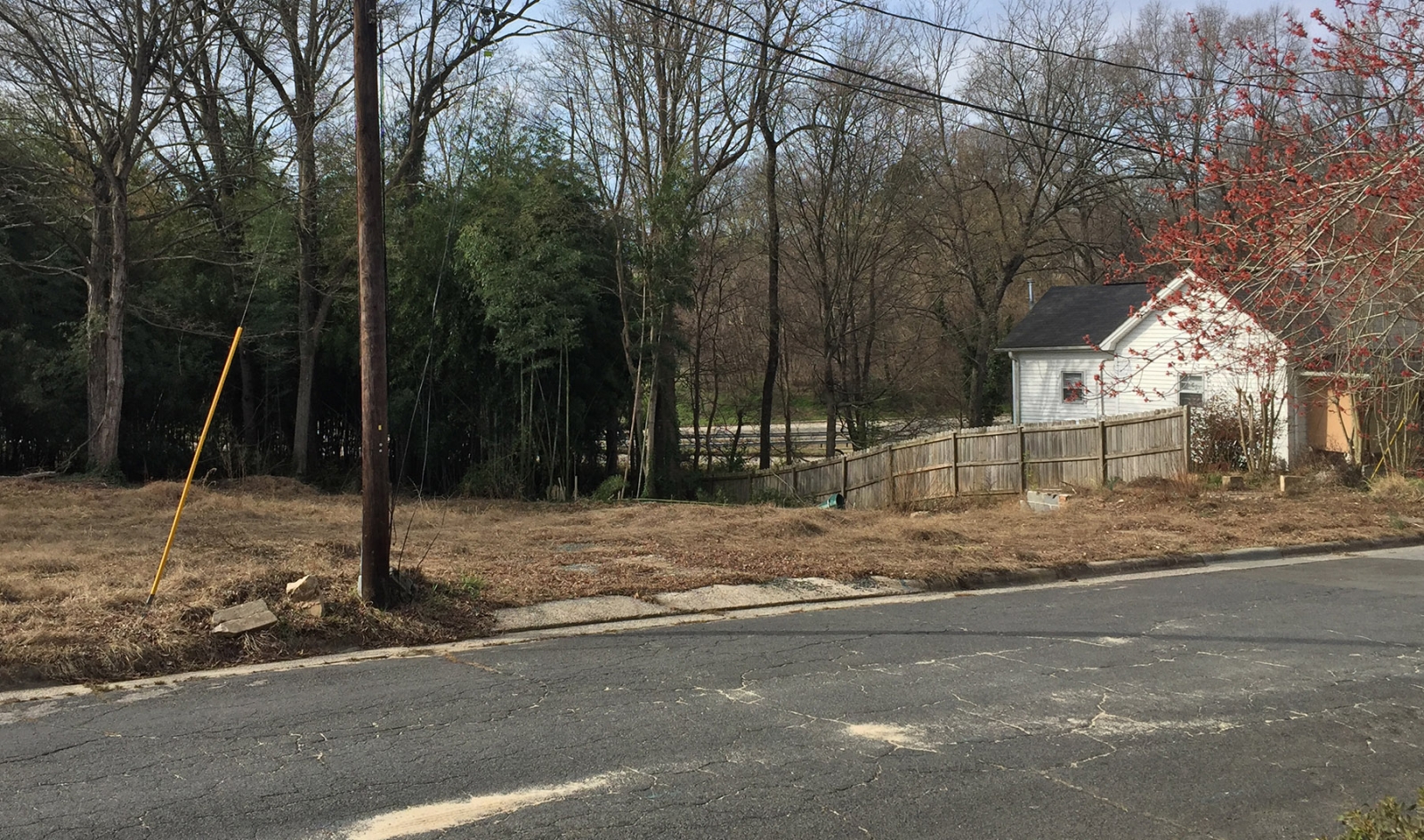 03.07.2017 (G. Kueber)
Read the rest of this house's story here: 803 Vickers Avenue.