COX-POPE HOUSE
Built in
1880-1887
/ Modified in
1980
In tours
This building does not appear in any tours yet.
Last updated
Sat, 01/14/2012 - 3:33pm by gary
Location
United States
36° 6' 28.5408" N, 78° 54' 28.9872" W
US
Comments
Built in
1880-1887
/ Modified in
1980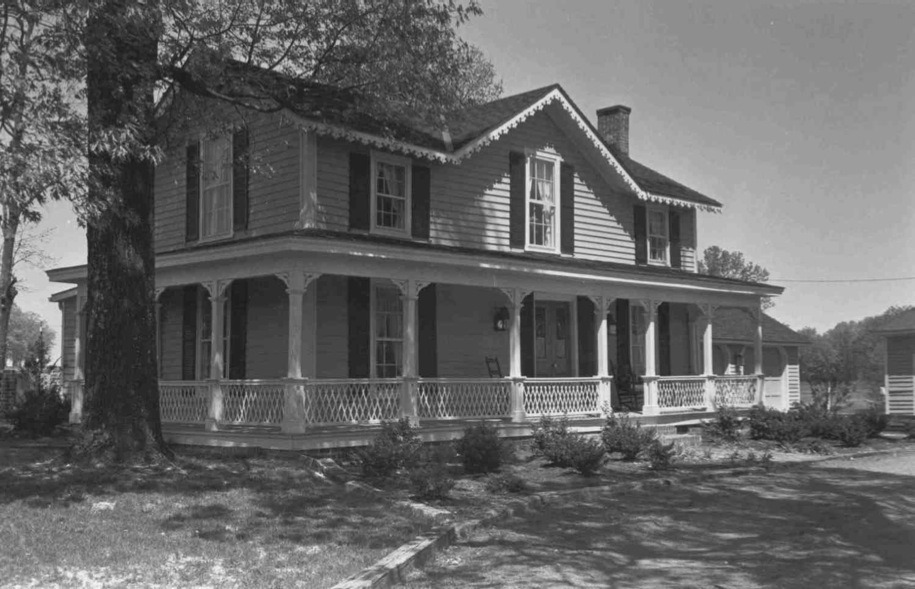 A. G. Cox, superintendent of the cotton mill at Orange Factory purchased a portion of the Lipscombe Plantation in the 1880s and constructed a frame tri-gable I-house with Gothic Revival detailing. A low roof with bargeboard decoration on the eaves, a wide and prominent center gable with an oversized window, a single end chimney, and a unique wrap-around porch that has a latticed railing of steel bands from cotton bales distinguish the dwelling from its late- nineteenth-century contemporaries, and it is the only dwelling remaining in Durham County that closely emulates examples illustrated in Andrew Jackson Downing's Cottage Residences. In 1887, shortly after the farmhouse was completed, Issac Emerson, inventor of Bromo Seltzer, purchased it and 162 acres of land for his sister, Anna. With her husband, Jack Pope, she moved her family to the country to avoid an epidemic of measles in the town of Durham, eventually adding a short two-story rear ell and a tenant house and log barn nearby. Since Anna and Jack, three subsequent generations of the Pope family have lived in the house. A daughter-in-law enlarged the dwelling in the mid twentieth century with an extensive ell and one-story tri-gable wing, and a great- granddaughter and her husband have recently enlarged the kitchen area and added a breezeway and garage. The interior of the main block has a center-hall plan and many original features remaining; post and lintel mantels are in place, the staircase has a square newel and turned balusters, and walls are plastered over wainscoting or sheathed with wide boards. 
Over the past 100 years, the Popes' descendants have improved the farm, constructing dwellings in popular styles of their particular times and adding many outbuildings. They have thus created an important built record of the preferences of prosperous Durham County farmers during that period. South of the farmhouse, a son, James Dennis Pope built a frame pyramidal cottage with a hip roof porch and interior chimneys as his residence in 1916, and an extensive complex of dairy and tobacco barns and dependencies in the 1920s on the farm. In turn, his son, James Emerson Pope, added a dwelling south of his fathers, building in 1938 a brick Tudor Revival cottage with a gabled and arcaded entry porch and chimney off-center on the front facade. He modernized selected farm buildings, and constructed several storage sheds and a fine barn for his Tennessee Walking horses. In the 1960s and 70s, his daughters, Anna Andrews and Charlotte Tippett, with their husbands, constructed brick ranch houses at the northern edge of the farm.