529 HOLLOWAY ST. - LYON HOUSE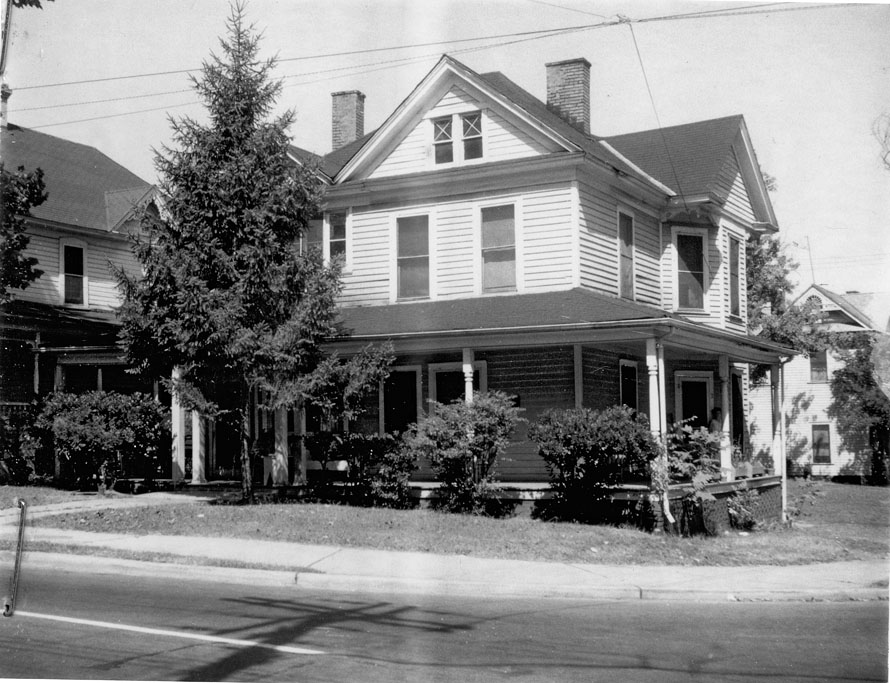 Above, 529 Holloway in 1964
529 Holloway is another of the early 20th century large Victorian houses built along the Holloway ridge line. Through the 1970s, the neighborhood had large shade trees, and neighborhood-scale streets (i.e., two-lanes, undivided)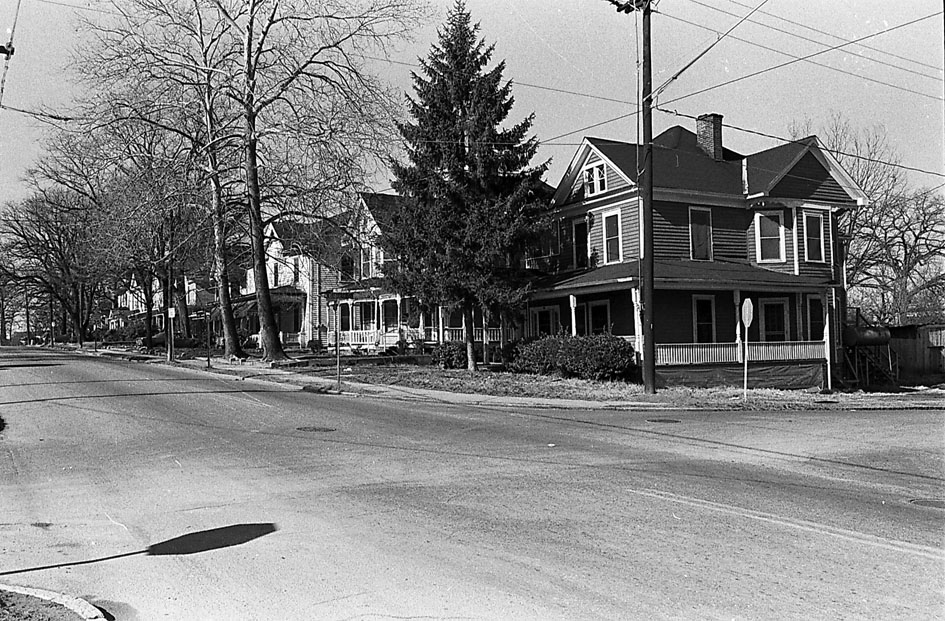 529 Holloway and the remainder of the north side of the 500 block of Holloway St., 1970s.
During the 1970s, Elizabeth St. was widened to Ridiculous Size and connected with newly Ridiculous-Size Fayetteville St. Something also happened to most of the shade trees on Holloway - whether natural or human-induced, I don't know. (Despite our "Tree City USA" designation, I'll take the latter.)
The location on this newly-busy corner was not kind to 529 Holloway, and the house fell into disrepair. Durham Tech students described the house as follows in 1981:
a large, early 20th Century, weatherboarded, two-story, five bays wide and three rooms deep, Victorian house resting on a brick pier and infill foundation. Two interior brick chimneys rise out of the asphalt shingled, high hip roof which has boxed cornices, a narrow frieze, and front, back, and side projecting gables with the gable on the south elevation projecting over a two-story, three-sided bay with scroll and pendant cornice brackets. The attached, wrap-around, hip roof porch has turned posts, missing balusters and rails, a beaded sheathing ceiling, and a small projecting pedimented gable over the front steps which is supported by two pairs of posts. The house has undergone several changes, the most obvious of which are many of the original windows that have been inappropriately replaced, windows that have been made into doors, and a two-story rear porch that has been enclosed as living space.
From the National Register nomination:
W. R. Lyon was the long-time owner of this spacious early twentieth-century two-story frame house. He moved here in the early 1910s when he was city timekeeper and purchasing agent; around 1920 he worked as a salesman for Taylor &Phipps Hardware, and shortly thereafter em- barked upon a career with the Durham Public Service Company. The house is irregularly shaped, with a two-story gable-roofed wing extending from each side of a cubical hip-roofed core. A porch supported by turned posts wraps around the east, south and west facades. The house is divided into apartments.
Back when I devoted many volunteer hours to Preservation Durham, we had an option to purchase this house for ~$85,000 - it was owned by a developer, and it had been gutted inside. We couldn't find a buyer. Eventually, the developer re-did the house himself, and sold it to someone who lives in Wake Forest, but leases it to Freedom House Recovery Center as "a ten-bed halfway house that provides up to six months of recovery services for alcohol/drug addicted men, and those who are dually diagnosed."
The neighborhood recently attempted to fight the Board of Adjustment rezoning of this house to accommodate 10 people rather than the existing 7-person designation. They did not succeed.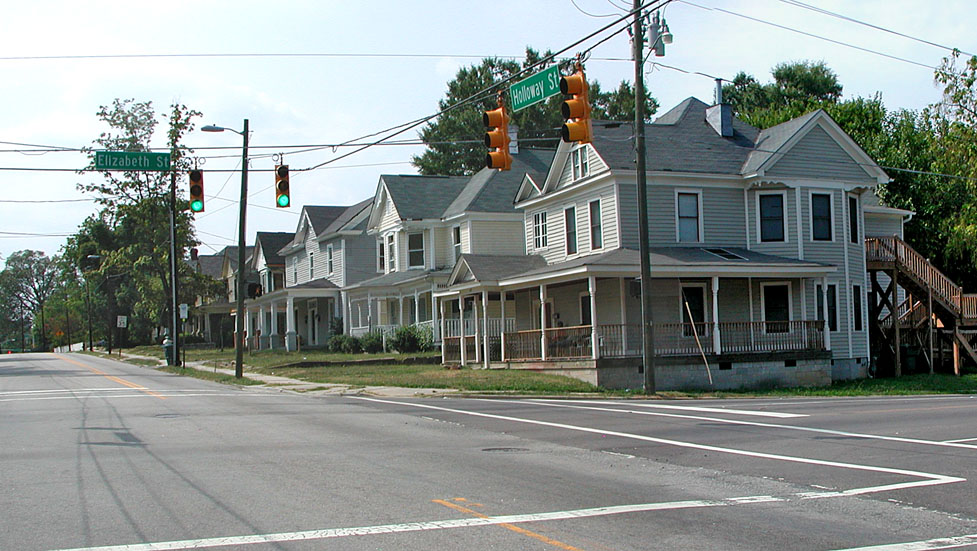 529 Holloway and the remainder of the north side of the 500 block of Holloway St., 2007.