In tours
This building does not appear in any tours yet.
Last updated
Sun, 08/21/2011 - 10:30pm by gary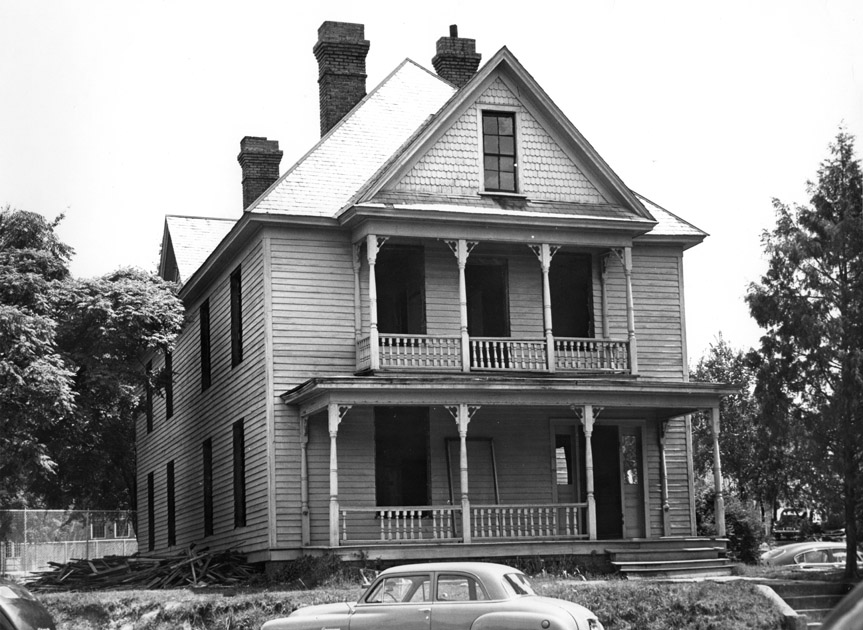 ~1952, looking southeast from the corner of N. Mangum and Wyatt Sts.
(Courtesy Duke RBMC - Wyatt Dixon Collection)
The early history of 420 N. Mangum is a bit sketchy, as the deeds are complicated by the mess of the Redevelopment Commission combining parcels, and its address doesn't appear on the early Sanborn maps. I can understand the source of their confusion to some degree, as one of the things that made 420 N. Mangum interesting was that it faced the corner of N. Mangum and Wyatt Streets on a diagonal; I'm not aware of another residential property in Durham that was or is like this. A tall house, it sat on a promontory, thus towering over its neighbors.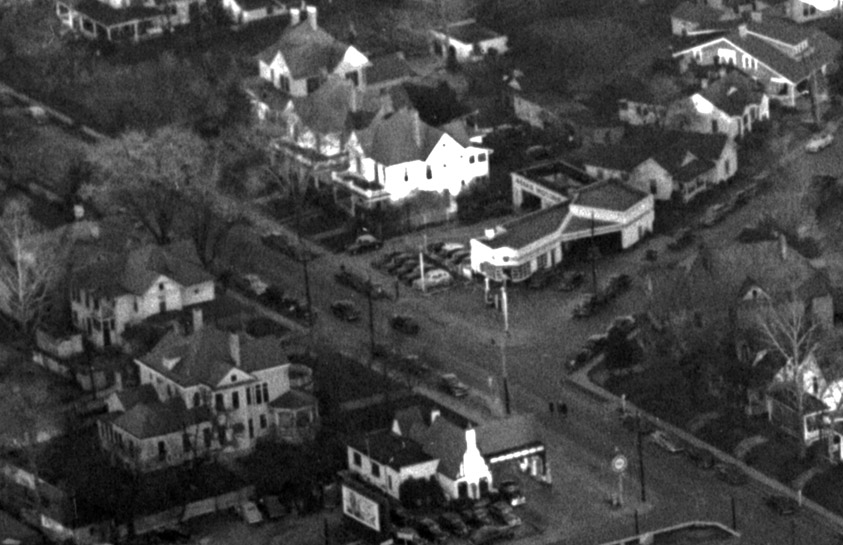 1948 aerial of the intersection of N. Mangum and Wyatt streets. As it sits in the shadows, I didn't notice 420 N. Mangum when I first looked at this picture, but when I suddenly noticed it, I was amazed that I had missed it, given how big it is in relation to its neighbors.
(Courtesy Herald-Sun)
City directories show Ludelia Whitehead as the occupant in 1919, and the directories seem to indicate that she was running a boarding house; she was running a different boarding house in 1915. HW Knight is listed at the house in 1928, Henry C. Jenkins in 1934, James Massey in 1939, and Nannie Breedlove in 1944.
By 1952, the house was demolished - in progress in the top photo. It was replaced by a single story commercial structure - the M&G Finance Corporation.
During the early 1970s, this land was taken by urban renewal, and Wyatt Street was realigned to connect Seminary and Elliott. The land was sold by the Redevelopment Commission to Yorkshire properties; since 1994 it has been owned by the County. It is currently the parking lot for the Durham Convention and Visitors Bureau.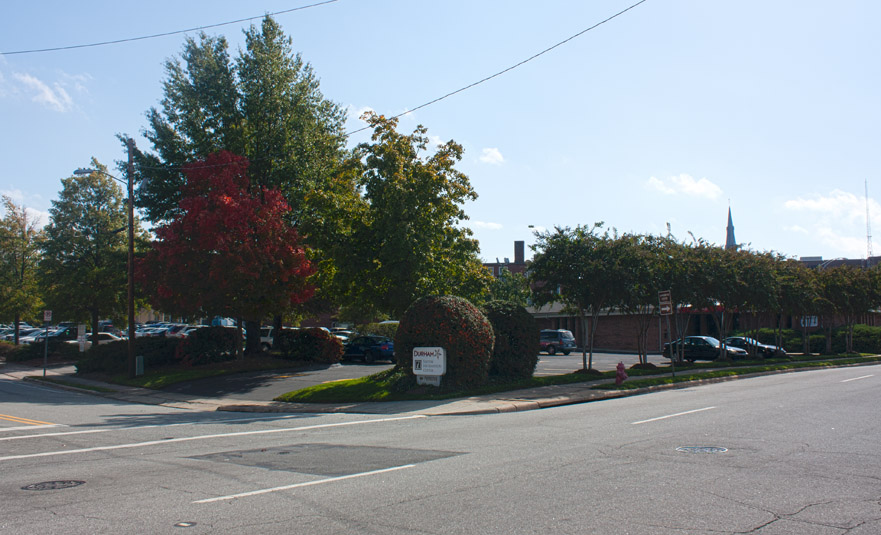 Site of 420 N. Mangum, 10.27.10
I'll take the opportunity to note that, although I'm a fan of all the folks at DCVB, I really do not like this building for them. Architecturally, it reminds me of a welcome center at a state line rest stop - not the kind of architecture that gets you excited about the special character of a place. It's compounded by the Loop and the silliness of Rotary Park, of course - the building feels much farther away from East Chapel Hill St. than it should. Regardless, I hope someday to find the DCVB (or the DCVB finds themselves) in a more urban piece of architecture