1123 NORTH ROXBORO STREET - MCKISSICK HOUSE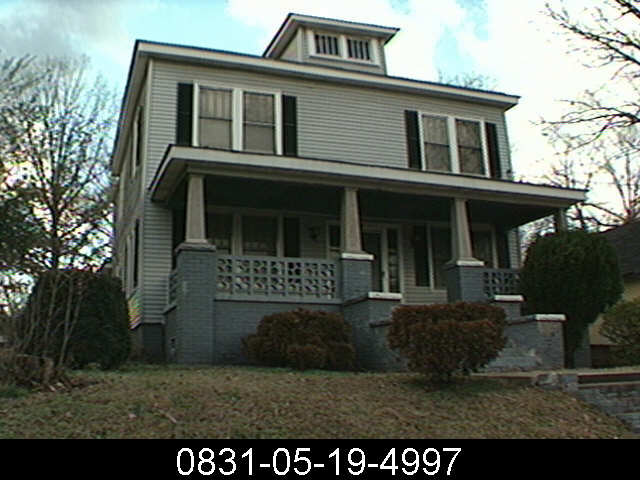 From the Durham Herald-Sun, 02/04/12
DURHAM – Affectionately called Freedom House, the house at 1123 N. Roxboro St. owned by the late Floyd B. McKissick Sr. and his wife, the late Evelyn McKissick, was home to more than just the McKissick family in the 1950s and '60s, but the Durham civil rights movement, too. Thanks to a Preservation Durham project documenting often-overlooked African-American historic sites, the McKissick House is on a National Register of Historic Places study list, a precursor to nomination on the registry.
It was the McKissicks who sued to desegregate Durham schools and picketed regularly outside segregated stores. Floyd McKissick Sr. spoke at the 1963 March on Washington. Regular visitors to their home included NAACP leader Roy Wilkins and CORE leader and Freedom Ride organizer James Farmer. It was common for Evelyn McKissick to prepare dinner for 20 guests. Young Floyd McKissick Jr. shared his bunk bed with CORE field secretary and Freedom Rider Ike Reynolds. 
"It was Grand Central Station for the civil rights movement here in Durham," N.C. Sen. Floyd McKissick Jr. said. Now 59, he was a toddler when they moved into the Roxboro Street house.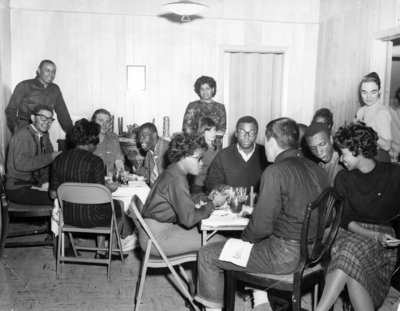 Above, Christmas at the McKissick home on Roxboro Street, with CORE staff and volunteers, in 1964  
They were the first African-American family in the neighborhood, said his sister, Charmaine McKissick-Melton. 
The McKissicks moved to New York in 1966, and Floyd McKissick Jr. became owner of the house after his father died in 1991. McKissick-Melton, a professor at N.C. Central University, owns the family home in Soul City. McKissick has rented out the Roxboro house over the past 20 years, most recently to a man who does missionary work, he said.
McKissick Jr. and McKissick-Melton are both pleased with the proposal of their childhood home being recognized and someday being used to further socially redeeming work.
McKissick doesn't want to sell the house, but would welcome a nonprofit coming in to use it for scholarly African-American research, or as a mini-museum detailing who stayed there.
"It takes some financial resources to make it a reality. If there's a group to take it on as a cause or mission, I'd embrace it quickly," he said.
McKissick said he has fond memories of camaraderie, but also less pleasant ones of bomb threats by phone and letters from the Ku Klux Klan. Threats were so frequent, he said, that they had armed people from the community sitting on the front porch with shotguns and rifles from dusk to dawn to scare people away. McKissick was in elementary school at the time.
McKissick-Melton said that when she and her brother's older sisters, Andree and Joycelyn, would have male friends over to visit, young Floyd and Charmaine would meet them at the front steps with NAACP memberships. McKissick and McKissick-Melton also stopped by to picket the segregated Royal Ice Cream on their way to church choir practice. She was never shielded from the realities of racism, hearing firsthand about what her sisters went through at Durham High and Carr Jr. High.
"We grew up in a family where I don't remember not knowing about race," McKissick-Melton said. Their house was the home of Durham civil rights, she said. "Many of the greats came through our house," she said.