1005 MORNING GLORY
Built in
1916
/ Modified in
2010
In tours
This building does not appear in any tours yet.
Last updated
Sun, 02/03/2019 - 2:12am by gary
Location
35° 59' 21.588" N, 78° 53' 21.3576" W
Comments
Built in
1916
/ Modified in
2010
1981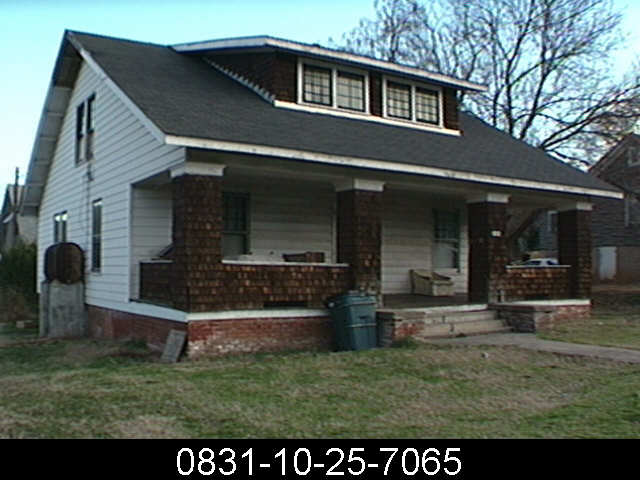 Sometime ~1920, the Golden Belt Manufacturing Co. expanded the original mill village with the construction of 6 bungalows on land, as seen on the above 1913 Sanborn map, that had been left vacant during the original mill village construction.
The reasons for leaving this land vacant during the original construction are unclear; perhaps because it was the low land between the factory and the higher ground moving towards Alston and East Main, perhaps because the company originally planned more of a buffer between the factory and the housing (this seems unlikely - our obsession with such buffers is a distinctly post-automobile innovation,) and perhaps because they did not originally own this land. The deeds are a mess to figure out - because the entire mill village and factory were essentially one parcel until 1954, and the deed metes and bounds from the early 20th century are wont to use descriptions such as "from the iron stake next to where Miss Valinda Venable's cow was standing on Saturday east 20 degrees south 100 feet to Mr. Rigsbee's large rock, thence...." - I'm at a loss to figure out whether parcels acquired in the 1910s and in 1930 by GBMC match these.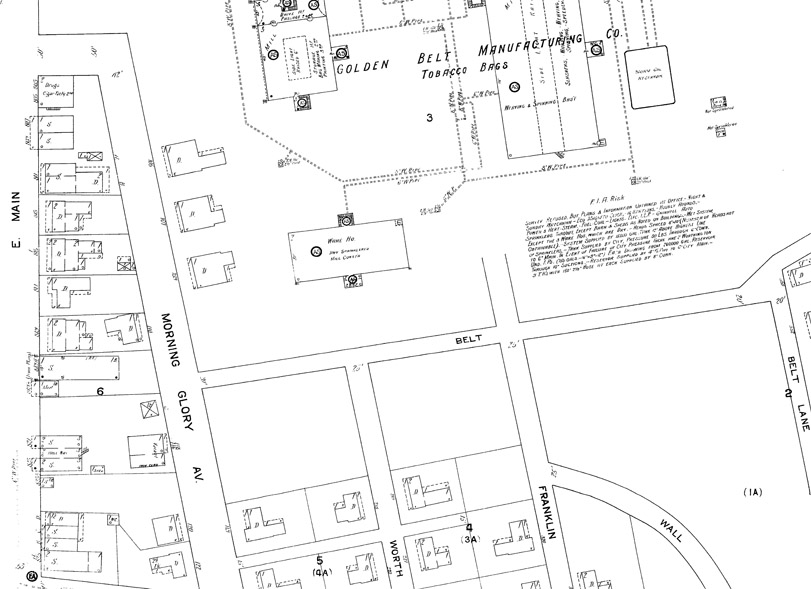 1913 Sanborn Map, showing vacant land between the mill village and the factory.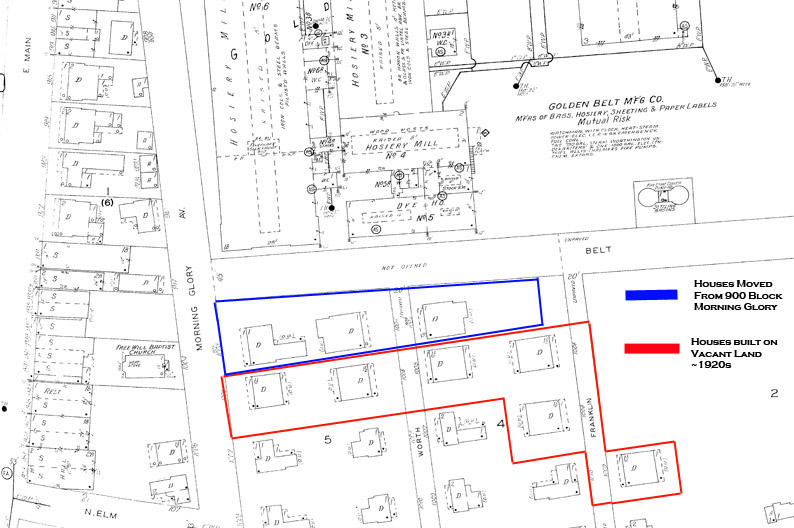 1937 Sanborn map, showing houses moved from the construction of Building 6 at Golden Belt (blue) and 6 new bungalows.
The bungalows were identical, but distinctive in character. Each had 12 over 1 windows, a dormer with 12 pane casement windows, large shingled columns and a shingled wall/rail surrounding the front porch.
I spent awhile trying to find other representative examples of these houses in architecture books, websites, etc. before realizing that there was another batch right here in Durham; they are identical (in floor plan as well) to the houses at 1001 and 1003 W. Trinity, 1002 W. Trinity, 1004 W. Trinity, and 1002 Minerva.
1005 Morning Glory was the southernmost of the bungalows - from the 1920s through at least mid-century, it was home to the Ives family
Above, left-to-right, Winston Ives with twins Jacqueline and Pauline in 1929, Frank Ives with adult children and first grandchild early 1920s, and Brittie Ives in ~1940.
(Courtesy Paula Walters via the Golden Belt Neighborhood Website)
Below, a bird's eye view of the neighborhood from 1957 showing the 6 bungalows.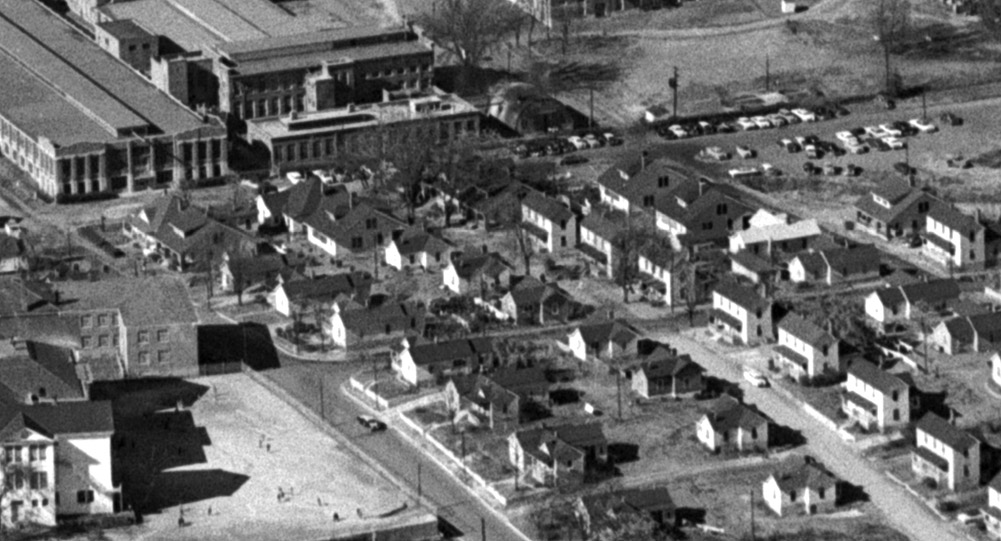 (Courtesy Herald-Sun)
The bungalows stayed fairly well-preserved through the late 20th century; likely in the 1970s, 1009 Franklin was torn down to expand the parking lot for Golden Belt, but in the early 1990s, the others were reasonably intact.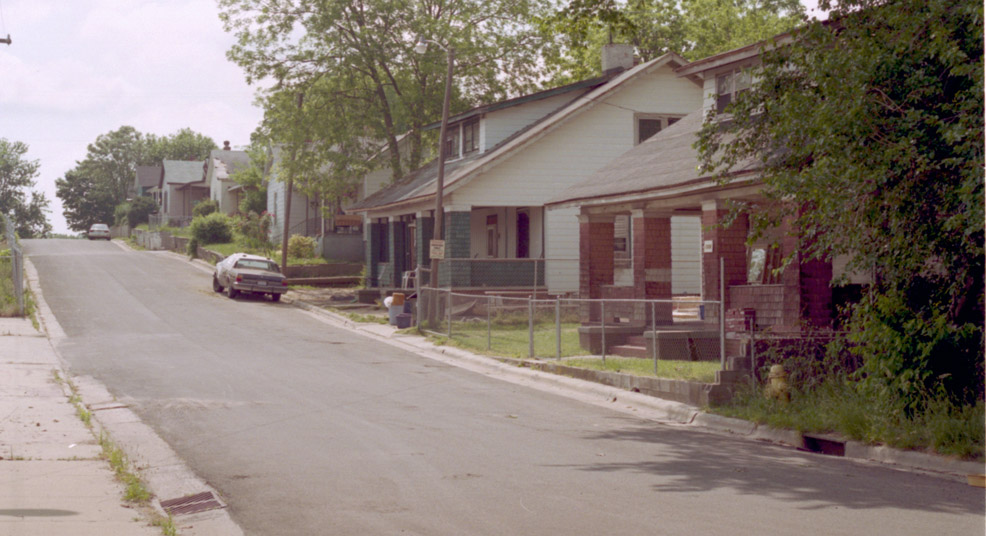 1000 block of Franklin Street, looking southeast, early 1990s - 1006 and 1008 Franklin are to the right.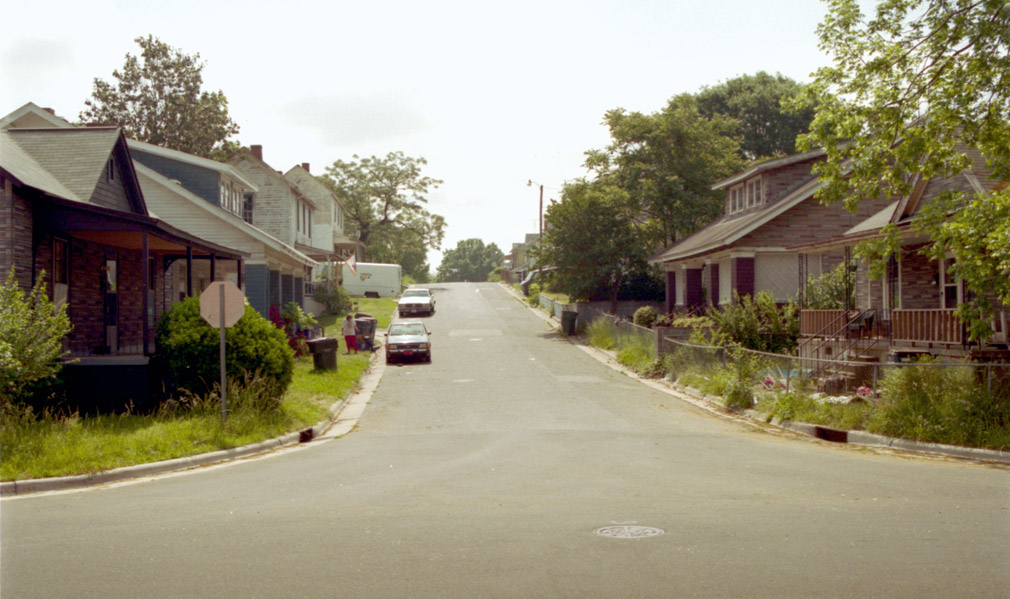 1000 block of Worth Street, looking east, early 1990s. The second house in on the left (north) side is 1005 Worth, the second house in on the right (south) side is 1006 Worth.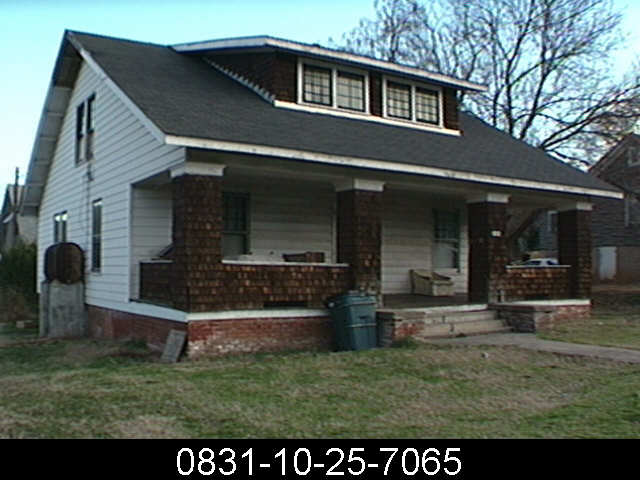 1005 Morning Glory, early 1990s.
The Morning Glory / Golden Belt neighborhood, buoyed by the presence of the Golden Belt Manufacturing Company until 1994, fell precipitously onto hard times after the closure of the company. The late 1990s and early 2000s saw the rapid progression of teardowns, fires, and general house abuse from escalating crime. Both 1006 Franklin and 1005 Worth were severely vinylized - and 1005 Worth, at least, was done in the name of lead abatement.
A short aside on this. I don't minimize the deleterious effects of lead on human health, particularly that of children. But like any issue that becomes a source of government grant funding, it is sometimes distorted/magnified in ways that serves the interests of those that seek to take advantage of the funding. Having used the city's lead abatement program on one occasion, I can attest that the work done was ridiculously shoddy for the amount of the city's money spent - through no fault of the city, which simply had to spend way too much money to have a "certified contractor" do just about the most minimal scraping job/bad priming job I've ever seen. I think their preference would have been to rip everything off and replace it with vinyl.
Lead frequently seems to be raised as a convenient way to excuse house demolition - or at least, it's a way to purposely steer the argument towards an unassailable rationale. I'm always curious about the disconnect on this when lead is invoked as the reason to destroy a house - what do people think happens to all that paint when you bulldoze a house? Or it goes to the landfill?
Anyway - 1005 Morning Glory survived much of that, had some vinyl applied and its casement windows taken out, and went through a tax foreclosure auction in 2003, when it was purchased for ~$10,000. It was rented as a duplex until ~2005, when it suffered a fire and abandoned.
When I first encountered the five remaining bungalows in 2007, 3 were owner-occupied and 2 (1005 Morning Glory and 1008 Franklin) had suffered fires and were abandoned.
1005 Morning Glory: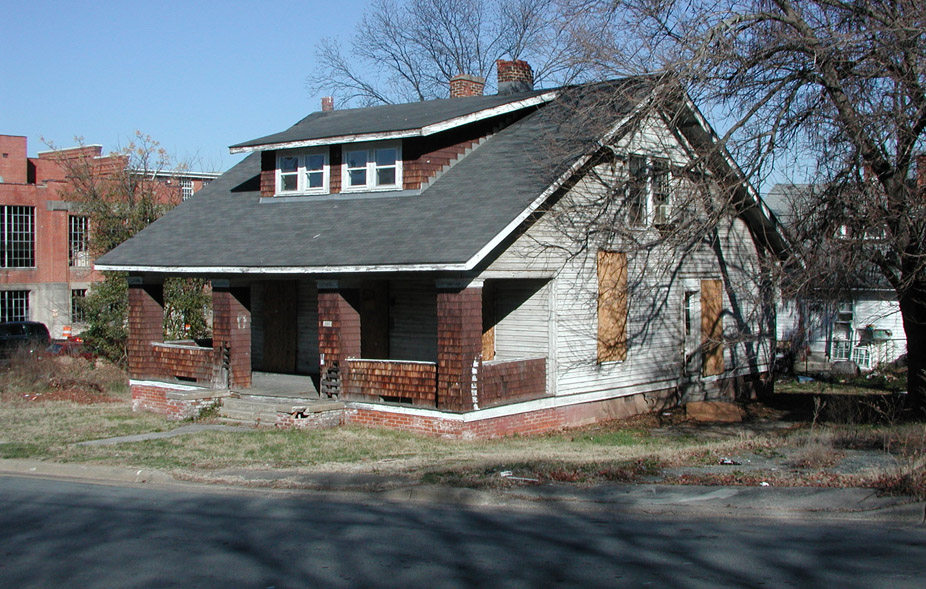 01.03.08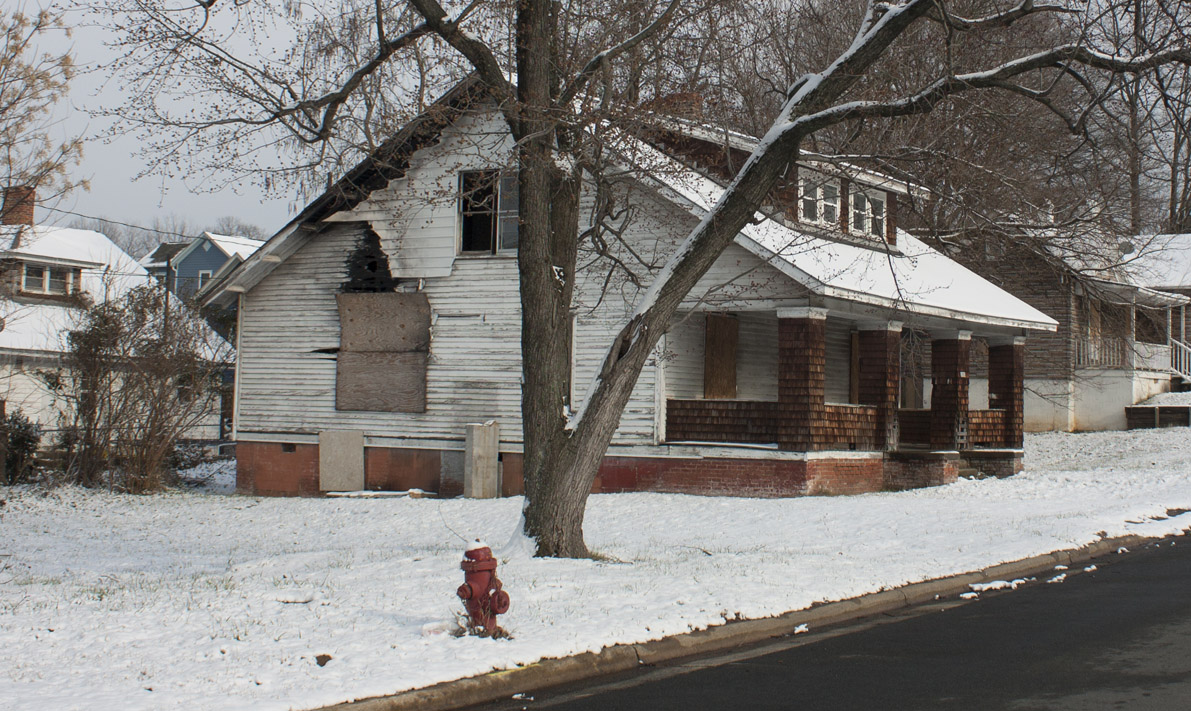 1005 Morning Glory, winter 2009. You can see the fire damage, including the melted vinyl siding.
In my day job role at Scientific Properties, I began talking to the owner of this house, who told me that it was worth $150,000 because of the way the neighborhood was going to come back. I cannot tell you how many people I've talked to like this over the ~10 years I've been involved in historic preservation work in Durham. I explained that the neighborhood couldn't come back if everyone with an abandoned, fire-damaged house was going to wait around for someone to pay $150,000 for a $20,000 house.
It took me ~ a year and half of calling her to get her to agree to sell the house to Scientific Properties for $40,000. We proceeded to do what I call a 'shell renovation' of the house, done by Jon Fish and Acanthus Construction. We/he rebuilt the porch, replaced the roof, replaced the fire damaged siding/framing, rebuilt the windows, pulled off the metal siding, replaced the front door, gutted fire damaged floor and sheetrock from the interior, and painted the exterior.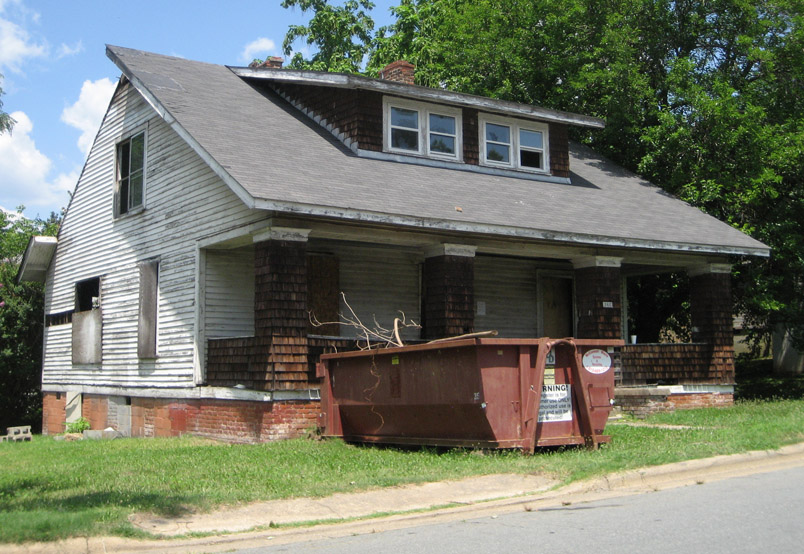 Construction, 06.29.09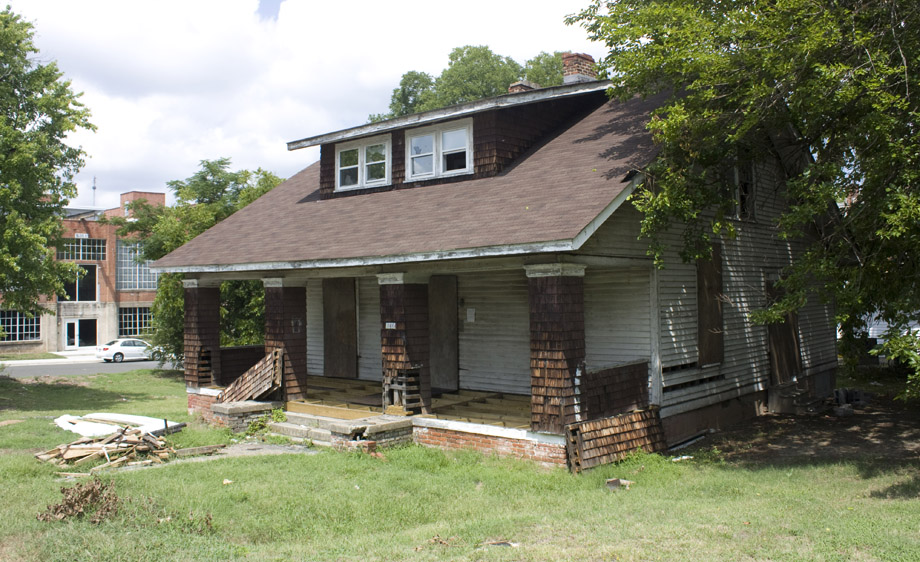 Construction, Summer 2009.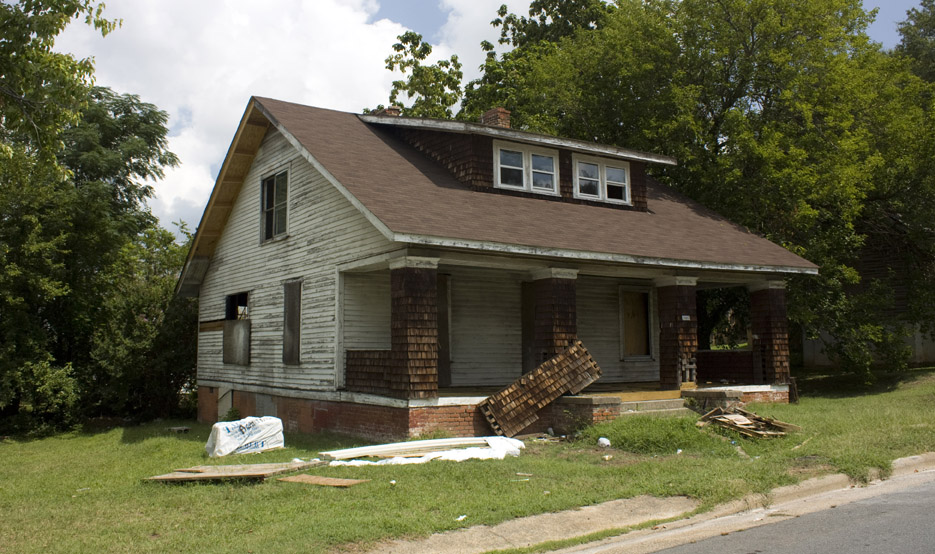 Construction, Summer 2009.
10.21.09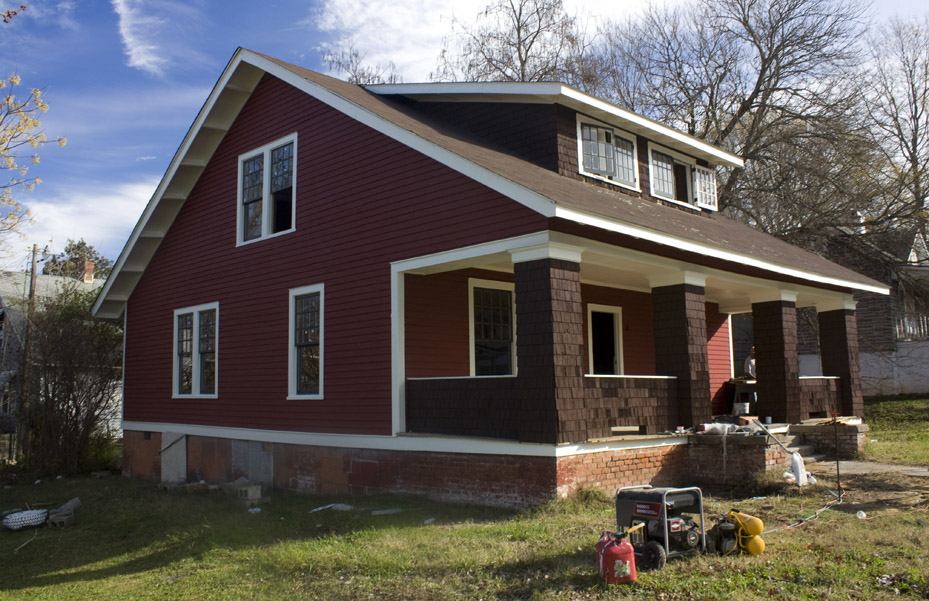 Near the end of construction.
We spent ~$30,000 and left the interior like this: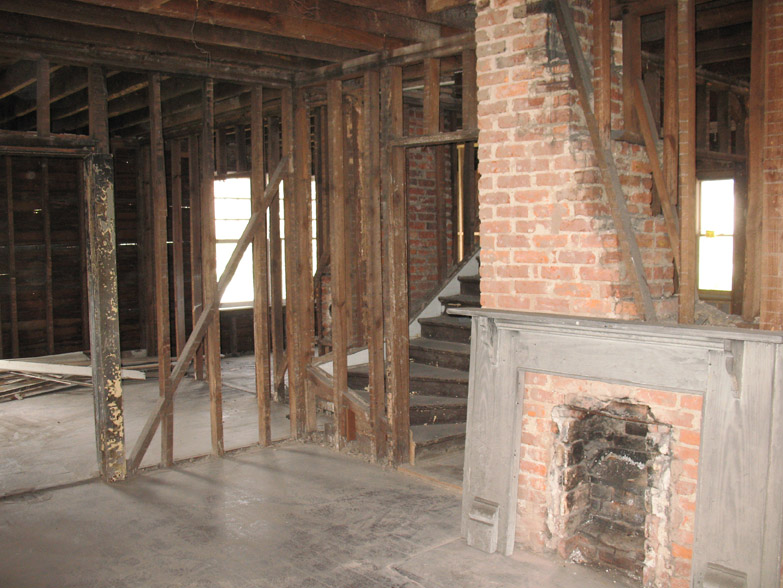 We sold the house at a little bit under break even for us to John Martin, whose house-saving exploits I've previously featured. John took on a full restoration of the interior, which is now beautiful.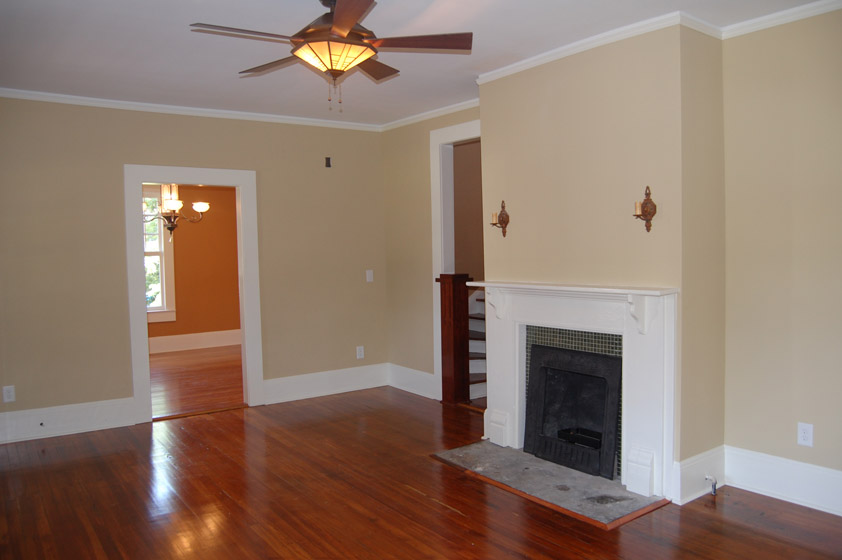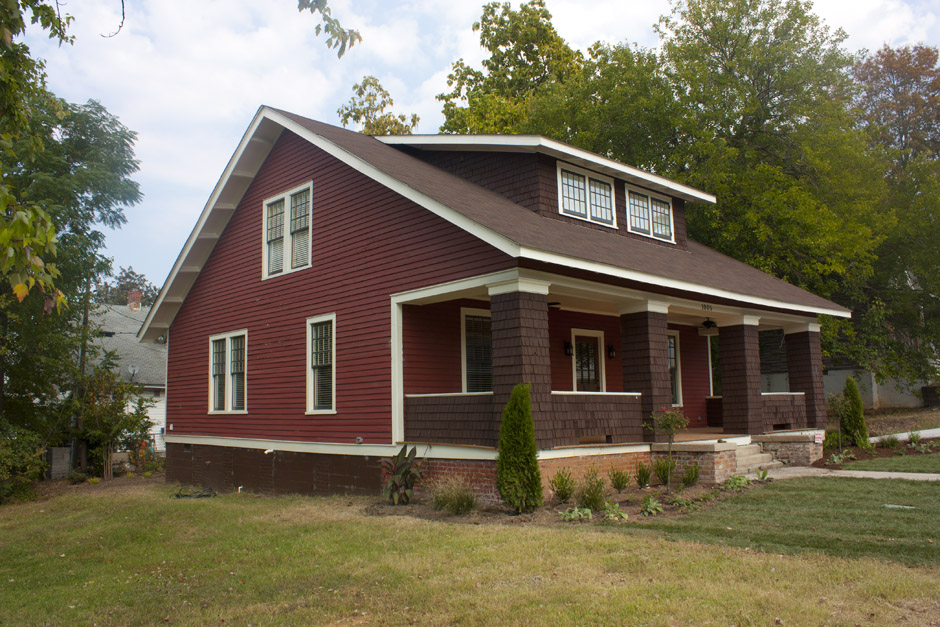 1005 Morning Glory, 09.22.10