Liberty Warehouse: Heading for a Fall
Submitted by

gary

on Mon, 05/13/2013 - 11:41am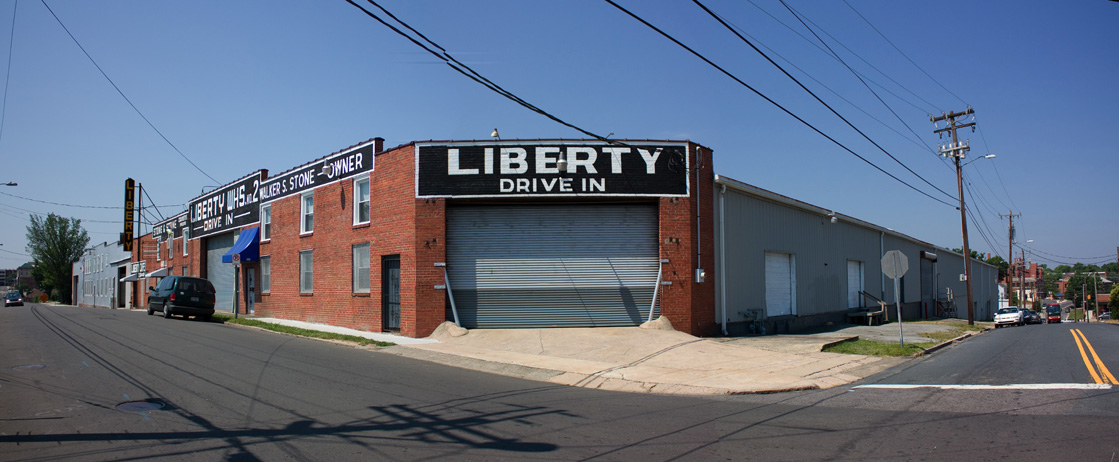 Liberty Warehouse 06.07.08. Photo copyright Gary Kueber.
The Durham City Council will decide to remove the landmark status from the Liberty Warehouse - the last standing auction warehouse in Durham - on May 20th, 2013 (next Monday.) I think it's a foregone conclusion that the status will be revoked. Perversely, the reasons have very little to do with the historical significance of the structure.
Tobacco auctions were an integral part of Durham's social, cultural, and economic heritage. It's a heritage that we do an abysmal job of recognizing and celebrating. Yes, it's tobacco, but that's just a shoddy excuse to be lazy about history. The Duke Homestead folks do yeoman's work in recognizing the auctions and harvest tradition every year, but it's hardly integrated into our near-daily celebration of Durham's awesomeness. As I've pointed out before, we have farmer's markets, a near obsession with locally sourced produce, and the product thereof - well, that's become Durham's new identity. It's not a stretch to tie these to our traditional harvest festival.
There were once many warehouses where auctions occurred - the entire area from Morgan Street to West Corporation that we now consider Durham 'Central Park' was covered with these immense structures, dotted with skylights to illuminate bundles of tobacco being sold by rock-star auctioneers featured in national TV ads for Lucky Strike and Chesterfield during the 1950s. Musicians and merchants gathered outside to hawk other wares and to draw farmers with wads of cash southward towards the "exciting stores" of Main Street.
You won't hear much about this on May 20th. I doubt most of the folks involved in the push to tear down the structure have taken the time to learn much about it. You may hear a throwaway line about putting up a wall of photos in a new structure to take the place of the Liberty.  Because that's supposed to be an adequate replacement. Consider it the thrown bone.
I don't harp on the above because I think the whole Liberty Warehouse (no. 3) has an economically viable path towards rehabilitation. I harp on the above because I think the importance of the building to Durham's history is being given short shrift in what should be a difficult decision. There are compelling reasons why Liberty has very little viable future as an intact structure (or re-intact if the roof were permanently fixed, at least.)
The unfortunate fact is that most of the building is quite ugly, and very poorly suited to the kind of adaptive reuse that has driven projects like Golden Belt, AT, West Village, Brightleaf, etc. It's mostly a giant shed with skylights - it has one attractive facade, on Rigsbee, and that likely would be saved. Federal and State historic tax credits have made work on the projects I just cited economically viable. But they compel the would-be developer to keep the structure very close to intact - and close to its original architecture. When this aligns with a present-day economic use, such as at Golden Belt, with big windows, beautiful brick, good column spacing, etc., things work very well. When the original was a giant shed - that's difficult to turn into apartments, etc.
The other complication with the development of the property is that the floorplate (the size of one floor of the structure) is ~200,000 square feet. That's huge, and, again, severely hampers the ability to repurpose the structure as-is. (Unless Costco or Target are going to move there, which I doubt.) The kind of small office/retail/apartment uses that have economic viability right now do not work well, as only a thin veneer of spaces would have an exterior wall - even if you could cut in some windows. Everyone else would be buried in the middle of a vast space.
200,000 sf is also massive for any kind of history museum, even if a museum could get funding in this day and age. That's a dicey proposition in a good economic climate. Today, our fledgling history museum is a bootstrapped endeavor in a little former-bus- waiting-room, and our state historic sites (like Duke Homestead) are threatened constantly with more budget cuts.
Combine the above with the decay / collapse of the building, and you also lose the wait-and-see option. Buildings want to decay over time, and Liberty has definitely decayed. I don't know the status of any repairs to the roof done by Greenfire, but I'm sure it's not a long-term solution.
This is the conundrum - the economic future / development prospect for the building is very bleak. It's an essential part of our history. What do we do?
I personally think the most feasible outcome that tries to address the concerns is to preserve part of the warehouse. If I had my druthers, we'd preserve the eastern 1/2-1/3 of the warehouse and build a new facade on Foster (and part of Corporation and the park.) I'm not a huge fan of preserving terrible streetscape design, and the existing Foster streetscape is just ugly.
But, amidst a plethora of opinions, how do we decide the 'right answer' on something like that? This is a complication for preservation-minded folks. If we advocate to preserve the whole thing, we're seen as crazy and unreasonable. If we begin to compromise, there's nothing to guide the decision of what is a reasonable compromise other than opinion and leverage. There's no consensus that some portion of the interior, or some quantity of the structure is 'okay' to demolish, because it's more or less important.
This is why we have a Historic Preservation Commission (HPC) - to help decide these matters. A citizen board with experience have to come to a consensus opinion about modifications to a landmark structure, or to "contributing structures" in a local historic district. This commission's power is limited - they can't prevent anyone from tearing down a landmark, or a contributing structure. They can delay them for a year. Yet nothing in their power permits them to disallow the demolition of the Liberty warehouse.
But they can guide the design of a new structure in a local district / that incorporates part of a landmark. And that's what the city council vote on 5/20 is really about. It's another round in the current spat between city council and one of its appointed boards. The city does not want the HPC telling Roger Perry (the Liberty developer-du-jour) what he can or cannot build.
And this is really a recapitulation of Durham's chronic low self-esteem problem. Despite the great strides we've made in pride-of-place, we still act like a desperate tween with a oh-my-god-I-could-die crush that considers his/her world near-over when the object of desire doesn't text back in 10 seconds. So with the breathless mention of Roger Perry - developer of Meadowmont - we hurl ourselves in his general direction for fear that he may not choose to develop something downtown.
Nothing against Roger - I don't know him at all. But, wearing only my developer hat for a moment, we hate delays and boards and approvals. Developers are always going to resist more process and time. Delays kill deals, a fact that preservation-only hat-wearers often seem to forget or misunderstand. It isn't only - or likely even mostly - about a hatred for preservation on the part of these developers, or of the HPC, or planners, etc. There is real money at stake, and people on the private sector side are charging us by the hour. Bank and equity commitments expire. The market shifts. I.e., when opportunity is presented, the leisurely developer is not rewarded.
The trouble right now is that our city council, and our downtown booster groups, are seeing only the latter. I'm glad they care about development, since it keeps me fed, but from the city's perspective, there is plenty of developer interest in downtown. There's no need to prostrate ourself before one developer or project in particular if it involves subjugating our other values. The city certainly owes developers a timely, predictable, and fair process. It also behooves us to present developers with good customer service. Antagonism or bureacratic ineptitude don't further our local economy.
But we can provide these and also strongly articulate that our history matters. Clearly, preservation matters, since it's driven all of our current economic success. (A fact that seems lost on many.) And we, as citizens of Durham, deserve to have a process that articulates that value in the context of development decisions, whether made by the city or the private sector.
And my concern in this rush to remove the landmark designation is that we're seeking to avoid that process - because it is seen as an impediment to the developer, and to the expeditious redevelopment of the Liberty Warehouse. It is in the city's best interest to make a careful decision here - once Liberty is gone, it is gone forever, and the last vestige of the tobacco auction market is gone forever. That's a very big deal, and not one we should take lightly because of the frustrations of a few out-of-town developers and the join-in-the-chorus by DDI. I'm sure the HPC's process can be improved, and that process is underway. But if the city is seeking to do an end-around because the process may be contentious - well, there's good reason to argue over the fate of history as important as the last tobacco auction warehouse.