Carpenter Site Headed for a Bad Decision by City of Durham.
Submitted by

gary

on Mon, 06/10/2013 - 2:08pm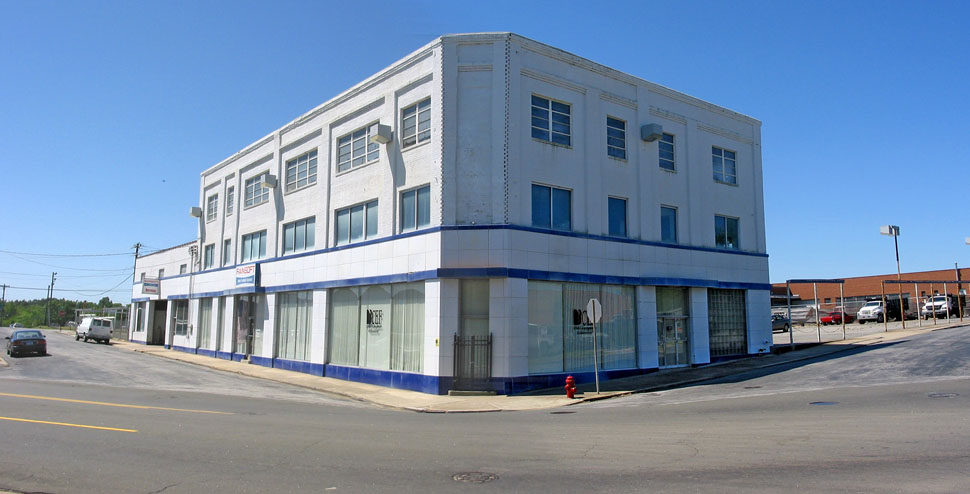 Folks may have read the news as of 2013 that the City of Durham police department is looking to leave their headquarters in the former Home Security Life Building on West Chapel Hill Street and to construct a new headquarters building. At the point that the department and city General Services began to seek public input, the potential new locations had been narrowed down to two: the former Fayette Place Site on Fayetteville Street (just to the north of the Stanford Warren Library) and the former Carpenter Chevrolet site in the 600 block of East Main Street.
I have trouble believing that these are really the two best sites for development of a new police department. Given the abundance of fallow land in and around downtown (and the police department wants to stay downtown,) why are the only two sites under consideration either very challenging or have significant downsides? Implicit in the choice is the notion that there is significant "developer interest" in the West Chapel HIll Street site. Unless there is a commitment on the part of a developer, I don't see how this idea should affect the decision.
Putting aside the relative merits or de-merits of the Fayette Place site (and it has its own issues,) I want to focus on why the Carpenter site is a particularly poor choice.
In full disclosure (not that I make an attempt to hide it,) but this choice overlaps what I think is good for Durham generally and what is good for my day job. Golden Belt, my largest development to date, is kitty-corner across Fayetteville Street from the Carpenter site. But I wouldn't advocate against this choice unless I thought doing so was in the best interest of Durham in general.
The Carpenter site is a great potential redevelopment site, were it priced reasonably. Although it is not currently on the National Register, I am confident that it could be listed on the National Register, and thus be eligible for Federal and state historic tax credits.
It is also the only viable private development site in the blocks between Golden Belt and 310 East Main Street. Thanks to Durham County's really unfortunate decision to demolish the entire 500 block of East Main Street for a surface parking lot in 2008, there is a gulf of institutional / government bleakness between ~Roxboro and Fayetteville. I often make the point that those small structures would be home to incremental growth of startups and entrepreneurial enterprise from downtown at this point if they hadn't been demolished. It's often hard to get people to see beyond the present use of a place or structure to what it could be.
I know this area isn't on the radar screen for most people, because there aren't any food trucks that park here. But we have so much asphalt and institutional infrastructure between ~Church Street and Fayetteville Street that there is limited opportunity for 1) the economic success of downtown to spread eastward and connect the area around Golden Belt to the core of downtown as a cohesive whole, and 2) entrepreneurial growth eastward in general, as government continues to gobble up private building opportunities.
Institutional Land uses on the east side of downtown and Carpenter site.
This is what municipal/county governments tend to do. Despite the fact that the downtown master plan advocated spreading out services 10 years ago, local government seems to always gravitate back to building massive 'government centers' and believing that they foster economic development.
They simply don't. In city after city, they are always sterile, 9-5 places, and since the 1960s, they've had a slavish devotion to bad modernism / post-modernism. See the city hall / former police station / fire station #1 concept from the 1960s - did that spark any economic development?
The thinking hasn't changed. Here's the initial site plan rendering for the development.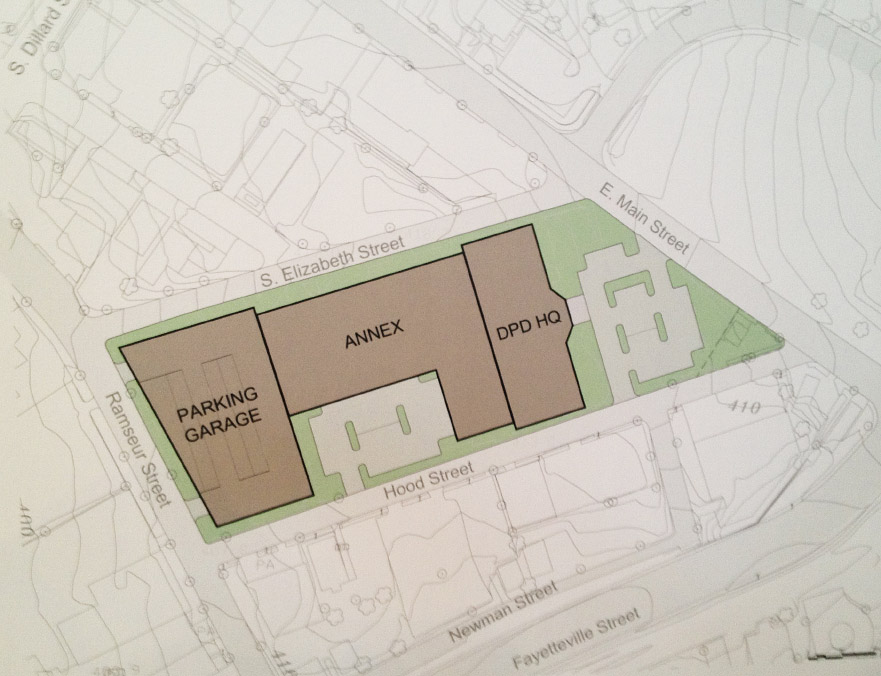 To be clear, where the original historic structure is, the city has drawn a surface parking lot. In front of the new building. Directly on Main Street.
It honestly is exhausting and boring to still have to write about why this is bad design. I've written about it again and again and again. I'm not sure why we're still thinking this way, but it's clear that the folks making the location / infrastructure plans for Durham haven't gotten the memo for the last 20 years.
We need to fill in the gaps on East Main Street, not create new ones. We also need private development to mix with all of the churches, government offices, and DHA housing on East Main in order to create an activated, 9a-9p, 7 day a week safe street. The police headquarters will not provide this. In 16 years of living one block behind the current police department, I have never seen a police officer walking along the Chapel Hill Street frontage. The current hq did not create any economic development in the area around it. It didn't make it safer (or worse, to be fair.) Why do we think this one will be different? Officers will do what they do now - exit the rear of this structure into the parking deck and get into their cruisers to leave. I don't mean this as a criticism of the officers or the department. It's just what happens.
And, we're facing the loss of yet another historic structure in downtown. It's depressing - so close on the heels of the Liberty Warehouse decision - how little this city understands that the only reason that downtown has been successfully redeveloped over the past 10 years is the repurposing of its historic architecture. That's it. No historic structures, no historic tax credits = no West Village, no Brightleaf, no American Tobacco, no Venable, no Baldwin, no Rogers Alley, no Golden Belt.  Historic spaces are where entrepreneurs want to go. These are the kind of spaces people want when they move into downtown from the suburbs. But we're still treating the historic redevelopment like the aberration we've put up with so we can get back to good red-blooded, 'mercan, new construction.
That's not to say that we can't support new construction downtown. But given the amount of fallow space we have, destroying our historic architecture is deliberately shooting ourselves in the head. We're capping (pun intended) the potential of downtown. People are not coming here for generic apartment complexes. That's not what gives downtown its identity. If they are moving into the generic apartment buildings, it's to live close to the historic stuff and what's inside it. Why is this not obvious?
Carpenter could be a pivotal renovation for the east side of downtown. It could create more success not just for Golden Belt, but for the area around GB. Demolish it, and you deepen the moat. Why hasn't that redevelopment happened? Timing for one - the recession. Location desire has yet to catch up with the east side, despite Golden Belt. And the owners want too much money for it. This is a problem without a clear solution, but the solution is not to bail them out with taxpayer dollars.
The point I've made at the community meetings is that, if the Police Dept. insists on being in this neighborhood, why not develop the county's two surface parking lots, adjacent to this site, into decks, buildings, etc. Those spaces are already dead - buildings of any sort would help. And you wouldn't be taking more private property off the tax rolls. That development could actually help urbanize this part of the street, and help leverage development of the Carpenter site. Although I've presented this idea to the heads of General Services, Economic Development, the Police Department, the City Manager, and some city council members, I don't know that anyone is taking the suggestion seriously.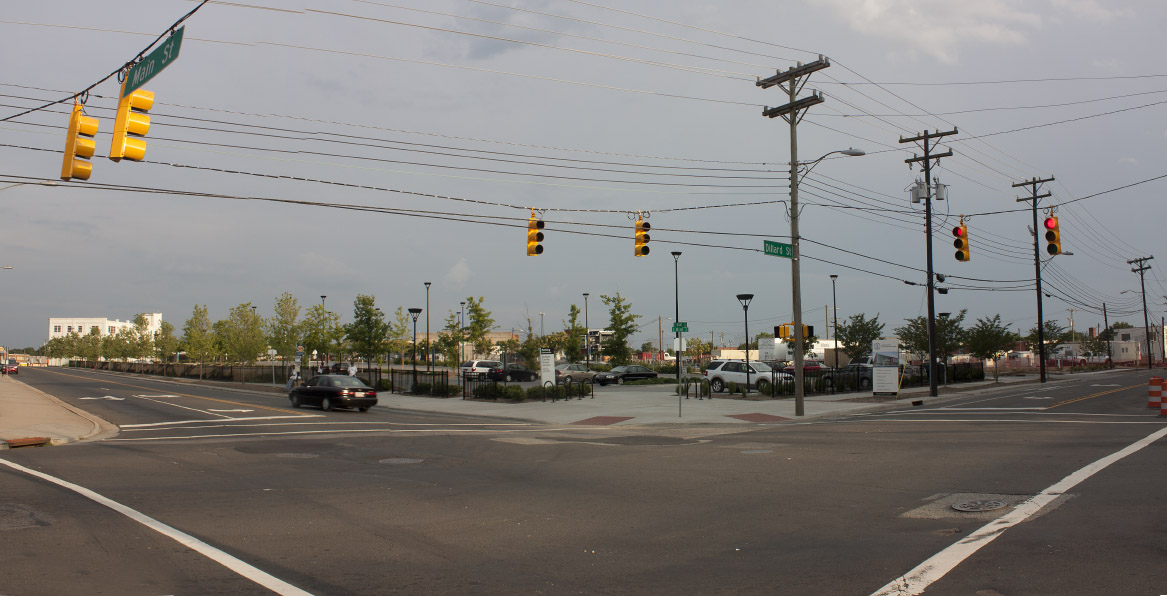 Making lemonade from lemons - a great site for a new police department in the 500 block of East Main (looking east from Dillard - Carpenter site is white building in the distance.)
It seems like inertia is moving in the direction of the Carpenter site. I don't hold out much hope for a creative solution that actually benefits the 'east side,' because it's certainly extra work and easier to follow the path that has been laid out. But institutionalizing the Carpenter site is a mistake, and one that the consultants who picked this site cannot understand as well as those of us who have lived and breathed development in the area for the last 5 years.
Thanks to some architect friends, I'm posting some renderings of how the police department program fits on the current 500 block surface parking lot (with some demonstrated redevelopment on the Carpenter site that retains the existing historic structures.)
Semi plan view - Main HQ shown in yellow.
Looking ENE from Dillard.
Looking east from N. Dillard St.
Looking west from Golden Belt.