How to Add or Modify Content on Open Durham
Step-by-step instructions on how to create content on Open Durham.
To submit your house, or another house that you know the history of, log in to Open Durham (www.opendurham.org.) You may need to create a login if it's your first time.
Then click "Create Content" at the top of the page.
If you want to write about a house, then click on "Building." If you want to write about the personal history of someone who lived in your neighborhood, then click on "Person."
You'll see a screen to create your entry with a number of boxes and fields to fill out.  Fields include:
Title: - name of house or address.
index card Summary: One to two brief sentences describing the house
Body: The whole history of the building. You can insert pictures by clicking on the little picture-in-frame icon at the top of this section. Browse to the file on your computer and then insert it in the body as follows (a short video to follow along with is below the list):
Move the blinking text box cursor to the part of the text you would like to insert your image.
Click on the icon of a picture in a frame at the top of the "Body" section
Click on the "Upload" tab on the "Image Properties" window
A file browsing window will open. Select the image on your computer that you want to upload.
Click "Send it to the Server".
The upload tool should switch back to the "Image Properties" tab. You can adjust the size here if you'd like.
When you're ready, click on "Ok" in the file dialog to insert the image into your post.
Once your image is inserted, you can cut/copy/paste it like text, or double-click it to edit the size.
     NOTE: We find it easiest to enter all of your text before adding images.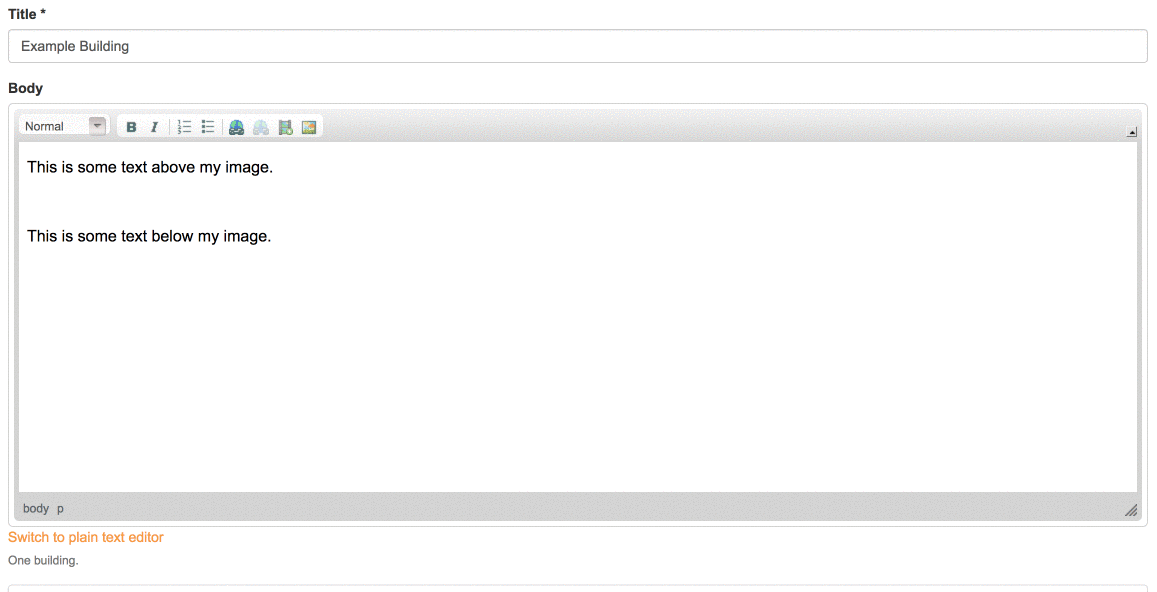 Address: Number, Street (include full street name I.e. Chelsea Circle,) and cross street if it's on a corner.
Location: You can choose 'Automatically' if you entered an address, or choose 'Manually' if the automatic location is not accurate. If you choose 'Manually' pan and zoom through the map and click on the exact location of the house to place a 'flag' at it's exact location (latitude and longitude.)
Building information: You can fill in what you know: names of architects and builders should be Last Name, First Name. If year built etc. are unknown, give a range (I.e. 1920-1925)
People/Businesses: If you've already written up the personal history of someone who lived in your house on Open Durham, you can 'associate' that person's history with this house in this section.
Vocabularies: Describes the building so that it is searchable by these categories:
Type= Residential, Commercial, School - This is what the structure was built for.
Neighborhood = This is the name the neighborhood typically goes by. You can hold down the control or option key and select multiple neighborhoods if it is on a border and sometimes considered part of more than one neighborhood.
National Register = What National Register district it is in, if it is a contributing structure in that district.; 
Local historic district = What local district it is in, if it is a contributing structure in that district;
Construction Type: I.e Masonry, Brick, Stucco, Frame, Shingles, Half-Timbering, etc.;
Use = its present use and past uses. I.e. a Residence. If a house was now being used as a business, you would type Residence, [business type];
Architectural Style: I.e. Tudor Revival, Colonial Revival, Neoclassical, etc.
Hit "Save" at the bottom and you're done!
If you are editing an existing entry:
1) Click on the title of the entry.
2) At the top of the page that comes up with the 'index card', you'll see a series of grey tabs that say "View Published | Edit Draft | Revisions"
3) Click on the tab that says "New Draft"
4) You'll see the same fields as in creating a new entry, above, but there will already be information in some of them.
5) Add or edit the information you want to add or edit.
6) Click "Save" at the bottom.
7) After you click Save, your saved draft will appear. At the top of the draft is a yellow bar with "Moderation Status" with a default of "Needs Review." If you are ready for your changes to be reviewed for publication, click "Apply." If you'd like to come back and work on it again before the changes are reviewed, don't click on this, and you can leave the page.
If you've applied the "Needs Review," your new drafts will not appear right away. They will be queued for review by an administrator (me,) and published once I review them.