CECIL B. THOMPSON HOUSE
1 ½-story front-gable Tudor Cottage with stucco walls, 9-over-1 sash windows, and an interior chimney. The main entrance is on the left side between stuccoed buttresses. This is said to be a spec house built by New Hope Realty Co. Cecil B. Thompson, department manager at Goodrich Silvertown Inc., was the occupant in 1930. 
In tours
This building does not appear in any tours yet.
Last updated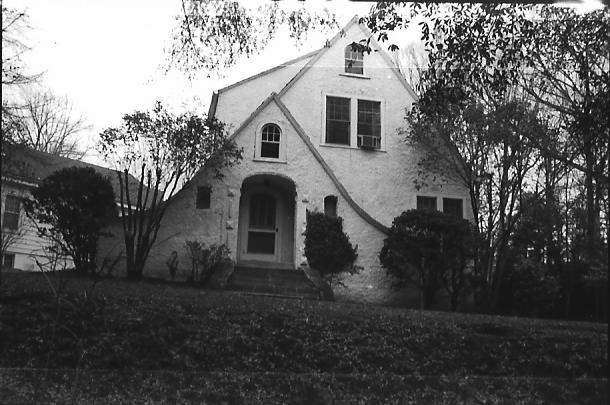 Photograph taken by the NC HPO on 11 March 1981
From the National Register nomination form of 2005, completed by M. Ruth Little
1 ½-story front-gable Tudor Cottage with stucco walls, 9-over-1 sash windows, and an interior chimney. The main entrance is on the left side between stuccoed buttresses. Other features include 9-over-1 sash windows; metal casement windows; a shallow gabled entrance bay with an arched opening with a decorative concrete surround and recessed arched door; side-gable dormers with casements, and round-headed windows in the front gables. This is said to be a spec house built by New Hope Realty Co. Cecil B. Thompson, department manager at Goodrich Silvertown Inc., was the occupant in 1930. [Carr interview, 1930= CD]