2111 DUNCAN ST. – LEROY B. & CATHERINE FRASIER HOUSE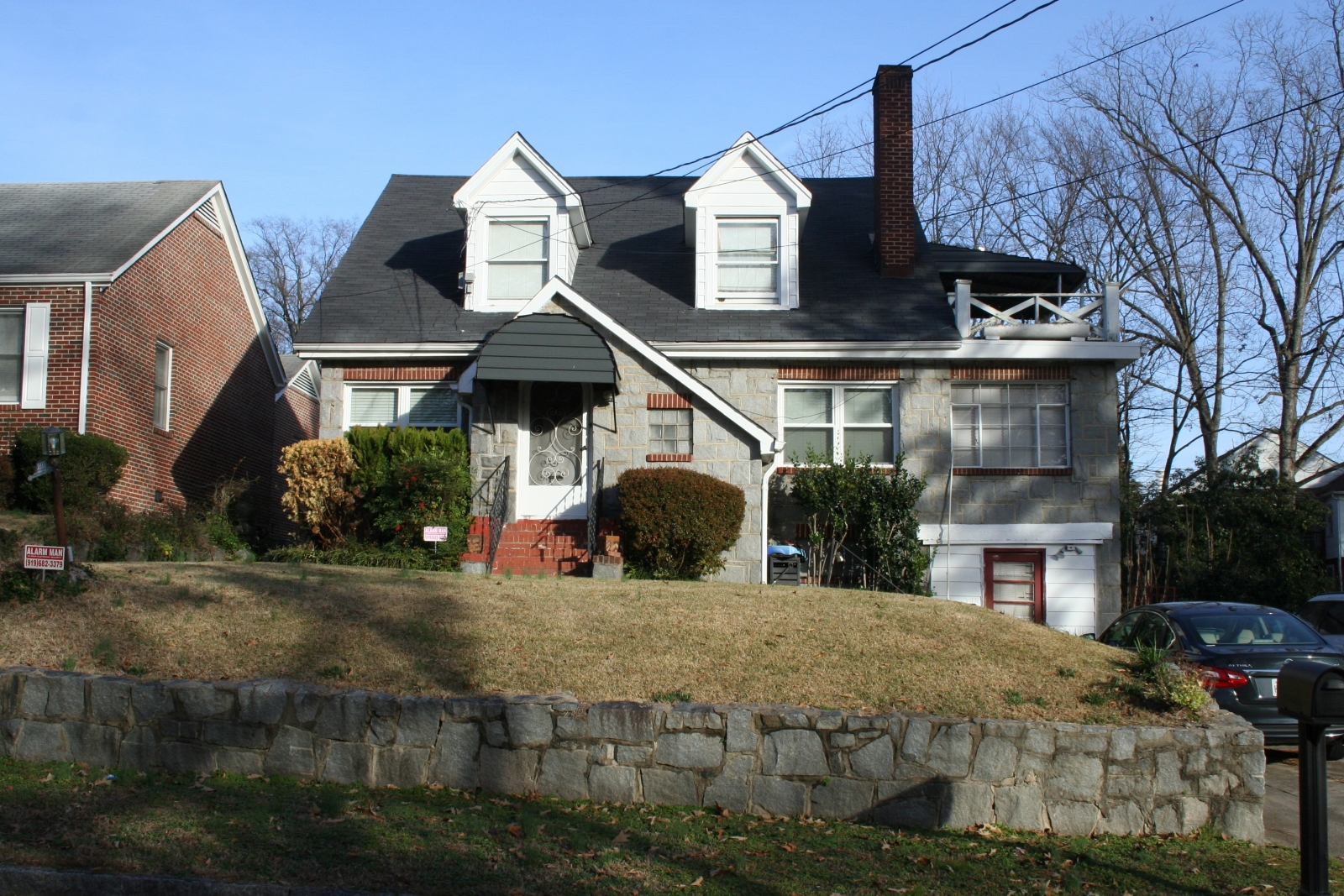 From the National Register Historic District description:
One of a small number of stone houses in the district, this one-and-a-half-story, side-gabled Period Cottage has a flat-roofed wing on the right (south) elevation, flush with the façade, and an asymmetrical, front-gabled entrance wing centered on the façade. The house is four bays wide with a granite foundation and first floor and vinyl siding in the gables. Most of the windows are replacement vinyl windows, though an original sixteen-light metal-framed window remains on the façade of the flat-roofed wing. All of the windows have soldier-course brick lintels and rowlock brick sills. The entrance wing is two bays wide with an arched batten door with three lights on the left, sheltered by an arched aluminum awning, and a glass block window on the right. There are two gabled dormers on the façade, each with vinyl siding and a single vinyl window, and an interior brick chimney. There are two windows in the left (north) gable and an inset bay at the left rear (northeast) has been enclosed with vinyl siding. A single entrance in the right gable is sheltered by a shed roofed awning on square posts and opens to the roof of the flat- roofed wing on the right elevation, which has a wood railing at the roofline. The flat-roofed wing has a basement level garage opening on the façade with a wide wood header that has been enclosed with a pedestrian entrance and vinyl siding. The wing has two pairs of vinyl windows on the main level of the right elevation with a single vinyl window at the basement level. A wide, shed-roofed dormer with vinyl siding extends across the rear (east) of the house. A stone wall extends along the front of the property and along the north side of the driveway. County tax records date the house to 1948 and the earliest known occupants are Leroy B. Frasier, an executive at NC Mutual Life Insurance Company, and his wife, Catherine Frasier, in 1950.